Touring troupe gives its all to keep live theater alive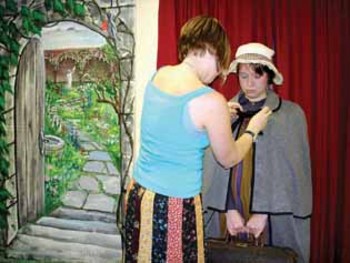 Considered by some to be one of the Granite State's best-kept theatrical secrets, the Hampstead Stage Company and The Hampstead Players — its touring group of actors — have spent nearly a quarter-century ensuring that a passion for theater continues throughout the country in the hearts of today's young.
Now they're also working hard to promote the support of their theater company right here in the Granite State and are hopeful the future construction in the Lakes Region of a replica of Shakespeare's Globe Theatre will shine more light on the importance of keeping live theater vibrant.
For 13 weeks in the fall and spring, pairs of actors from The Hampstead Players leave the old Barnstead farmhouse that is home to the Hampstead Stage Company with small technical teams to tour the United States, visiting schools, libraries and other community venues – often in the most underprivileged regions – to perform literary classics, from "Macbeth" and "Hamlet" to "A Christmas Carol" and "Oliver Twist." Each pair is prepared to perform two plays, and each actor is charged with bringing to life between five and seven characters per production. Detailed sets and colorful costumes created by New Hampshire artisans aid in the metamorphosis of each actor.
"Our goal is to entertain and educate about theater," said Michael Phillips, executive director and artistic director of The Hampstead Players. "We want to play anywhere, anytime, to go where people want to see us and need to see us, we've even done Shakespeare in Spanish."
The company works hard to create material true to the original story but understandable for its audience. Any reservations that the material may be too difficult for youthful viewers were quelled when after a performance a 1st-grader discussed with Phillips perceived parallels between "Hamlet" and "Star Wars" protagonist Luke Skywalker.
"We've learned we can bring the audience up to us rather than having to talk down to them," said managing director Angie Hansen. "Our productions transcend time and relate to today — that's what makes a classic a classic."
Often The Hampstead Players are performing for children who would never get to experience live theater, something that makes their work even more rewarding.
"These kids need us more than anybody else," said Hansen, who began acting with The Hampstead Players in 1993.
Role of the arts
While the Hampstead Players have made a name for themselves around the country by bringing to life the fantastical worlds of classic literary characters in 2,000 performances annually, the business of keeping their art alive is undoubtedly real-world.
Escalating travel costs, ongoing cuts in educational funding and a continued commitment to maintaining affordable performance fees – between $450 and $500 per show — have Phillips and Hansen examining the business side of their craft.
The Hampstead Players recently became a nonprofit entity in hopes of securing grants for the work they do. Marketing strategies — including the introduction of promotional vehicles — are currently being considered. But the pair is most excited about plans to build a replica of Shakespeare's Globe Theatre.
"This is our long-term goal. It would be a place for us and other theater groups to perform and for aspiring actors to learn." said Phillips, who began working with the Hampstead Stage Company as an actor 20 years ago.
While Phillips, Hansen and the others at Hampstead Stage Company clearly share a passion for the work they do, promoting theatrical arts is much more than just a means of making a living doing what they love. All believe the arts play a special role in the lives of everyone – young and old. They also believe theater arts are one of the first things to be affected when money gets tight – especially in schools.
"Theater is dying — there just is no money for it," said Kathy Gordon, who owns The Hampstead Stage Company with her husband Gordon. "But if we can convert one child per school into a theatergoer there will be an audience in the next generation, theater will continue to live on."
Phillips and Hansen are hopeful New Hampshire business leaders embrace this philosophy and realize the benefits of having a vital arts community travel beyond the classrooms of our local schools.
"Studies have shown when corporations are looking for a community to settle in, one of the things they look for is culture and theater," Phillips said. "Live theater and our own Globe Theater would really help our community commercially. Investing in local theater just makes good business sense "
Despite the changing demands of maintaining the vitality of The Hampstead Players, Phillips and Hansen have no doubts that what they are doing is important. A random conversation on a flight to London drove this home for Phillips when he was seated next to a young man making the trip to pursue his own acting career. When Phillips asked the young man what prompted him to follow this non-traditional path, the young man shared the story of falling in love with acting after seeing a small group perform at his school when he was a child.
"That play changed my life," the young man said to Phillips. After a bit more discussion it became apparent to Phillips and the young man that the life-altering performance had been put on by The Hampstead Players.
"So often we leave never knowing what kind of an impact we make, but it's conversations like this that make us all realize just how important live theater can be to people."