Tough times elsewhere, but BAE expanding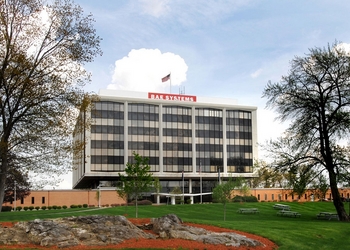 Businesses in most other sectors may be torn between wage cuts and pink slips, but not BAE Systems, the biggest manufacturing employer in New Hampshire and Nashua's largest employer.
BAE, owner of what used to be Lockheed Martin – and, dating to 1952 in Nashua, Sanders Associates – isn't just holding steady, but is expanding its 4,700-person work force by another 200.
Still, even BAE has some concerns. Tom Arseneault, president of the company's Electronic Solutions unit in Nashua, worries about the "flattening" of defense spending.
In figures recently released, the company measured its 2008 economic impact in New Hampshire at $606 million, down slightly from last year's $630 million. And the amount spent on local subcontracts – still an impressive $105 million – is almost a third lower than the previous year, although the company said the numbers from each year may not be comparable.
Still, it's a sign of the state of the rest of the economy that some 1,500 people flocked to a recent job fair promoting those 200 positions. It's also a sign of a lack of engineers that BAE could hire only about 50 for the highly skilled positions, which develop everything from sophisticated electronic airborne detection systems to insect-like robots that alert soldiers to situations on the ground.
Those high skills translate into good pay.
Last year, BAE had a payroll of a little more than $500 million in New Hampshire – an $82 million increase from two years ago.
That would be enough to make BAE an economic powerhouse in itself. But the company also boosts the state's economy, contracting with 383 companies in some 67 municipalities last year.
While about three-quarters of that amount – $75.2 million – and all but 140 companies are in Hillsborough County, the company also dropped some $13.9 million worth of work into Rockingham County, $7 million into Belknap, $3.4 million into Cheshire and $3.1 million into Strafford.
Indeed, one contractor noted that defense work can be its own stimulus package.
"That's what they did in the Reagan years to stimulate the economy during the last big buildup," said Bill Tufts, director of sales at LNX Corp., a Salem company that did about $1.4 million worth of business with BAE.
The firm makes multifunction assemblies, converters and digital equipment for BAE's various electronic warfare systems.
"They represent a good 25 percent of our business," Tufts said. "They are our largest customer."
But Tufts, echoing the fears of many of BAE's contractors, worries how long this will last. Much of the defense industry is "imploding," he said, and while defense work may seem steady compared to the rest of the economy, that doesn't mean things aren't, or couldn't be, slipping.
"I anticipate a downturn," Tufts said.
Bracing for budget cuts
With the stimulus package and financial-assistance program putting pressure on the budget, and the Iraq war winding down, defense spending is bound to suffer, Tufts said.
"How much of that package is going to be spent on weapons systems?" he said.
Tufts already sees some "wrestling matches" within the defense establishment about which weapons systems will survive: the Joint Strike Fighter or the F-22 Raptor. Once upon a time, Congress would have freely opened its wallet for both, but now "can we live with both kinds of weapons?" Tufts asked.
LNX isn't the only company bracing itself for a slowdown. BAE's Tom Arsenault told NHBR, "We are anticipating a flattening of the budget."
And in anticipation of that, the British-based company merged some departments, announcing last October that Nashua would no longer officially be the headquarters of its electronics division, now named Electronic & Integrated Solutions.
But that managerial shakeup, Arsenault emphasized, really didn't change things much on the ground in southern New Hampshire, which will still do most of the electronics work at its new "Electronic Solutions" divisions on Spit Brook Road in Nashua, the Information Warfare line in Merrimack and the Electronic Protection line on Canal Street in Nashua.
And Nashua-based Electronic Solutions will still oversee other lines in San Diego; Johnson City, N.Y., and Wayne, N.J.
"The business that remains here is exactly the same as before," Arsenault said. "It just happens that when you go one layer up, now that handful of people are actually now going to be headquartered near Washington."
The consolidation will have "very little impact" because the divisions being combined have different "geographic footprints," he said.
But while the company is "very interested in how the defense industry fares in all the budget pressures that we are experiencing," that won't translate into changes very soon, Arsenault added. The company has a backlog of projects that would last for years, he said.
Market repositioning
Arsenault said defense would remain BAE's bread and butter, so don't expect the company to try any massive shift to grab some of that stimulus money.
"We have for some time and continue to look at homeland security as an adjacent and very familiar market for our technology," he said, "but beyond that, that's not something that the electronics business is trying to do. So, we are not focusing on the stimulus package."
Some homeland security operations are electronic defenses against ground-to-air missiles that might be aimed at commercial aircraft and a communications system that would enable first responders from different localities to talk across different communication networks.
But the major shift has been on the type of military technology on which BAE will focus. The company will continue to develop electronic detection systems for fighter aircraft, although perhaps a different kind.
The company is shifting into work on the Joint Strike Fighter, which Arsenault predicts will result in "probably one of the largest quantity of fighter aircraft to be built in history. We are at the center of that. We will be working on that for decades."
But, he said, "The front edge of the battle today are the individual war fighters and their vehicles."
That includes little spy robots, sophisticated night goggles and "Check Six" – the military version of a camera embedded in taillights so the driver of a Bradley tank can see behind the vehicle when he or she backs up.
However, all of these technologies, and their batteries, must be carried, so BAE is working to make them more energy-efficient – not so much to be green, but to lessen the weight and the amount of recharging necessary.
As BAE tries to reposition itself within the military market, so do its subcontractors.
"You have got to get lined up with programs that are going to live," said Tufts, of LNX. "It's a little bit of luck as to who will survive."
But many of the subcontractors are old hands at the game, since they were spin-offs of the old Sanders in the first place.
Precision Grinding and Manufacturing, of Rochester, N.Y., for instance, bought Sanders' Machining Center in Manchester in 2000 when Sanders was part of Lockheed. At first, nothing really changed. PGM of New England did most of its business with its own company.
But it has been striving for diversity. While BAE still accounts for about half of its $9 million in sales, the company – which has 59 employees in Manchester – also is selling to other defense contractors.
"We've been expanding," said Nick Baldassara, general manager of PGM of New England. "Only a couple of a percent – we were hoping for 6 percent. Right now, we are keeping the same work force, but mid- to late summer we are definitely going to be hiring."
The head of RF Logic, Phil Lausier, is also a former Sanders employee. The Hudson-based provider of high-quality coaxial cable assemblies had to reduce its staff to about 80, but it's gearing up, thanks to becoming a preferred BAE supplier. BAE is responsible for a third of its business.
"It's a big shot in the arm," Lausier said. "2009 is going to be a great year."
Ray Anderson, vice president of Knappe & Koester, of Keene – which also goes back to the Sanders days – isn't sure what those "fussy and critical parts" that he makes for BAE are used for. But with the commercial aerospace business slowing down, he's thankful that BAE is giving him $2 million and keeping 100 employees busy.
"They are a great company to work for," Anderson said. "Sometimes I see the owners of other businesses as I walk down the street and I'm kind of embarrassed to ask how things are going."
Bob Sanders can be reached at bsanders@nhbr.com.