Top Shelf: Ultimate dinner parties go beyond simple dining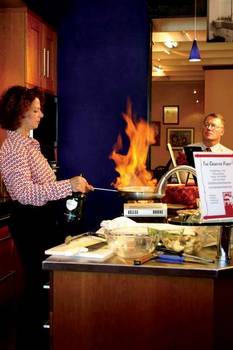 With the weather warming up, we're crawling out of our hovels to get together with friends. There's no better way to do that than sharing a meal. But if the thought of having six or eight people over for dinner sends you running for a pizza delivery phone number, hold the pepperoni and read further.
According to event-planning professional Mary Lou Wilson of Bedford, dinner parties are a trend in and of themselves. "People are starting to entertain at home again, and that's kind of nice," she said. "It's different than the way our parents used to entertain, though. A fair number of people are ordering out or catering."
Surprisingly, a catered dinner for eight to 10 guests costs about the same as an at-home prepared meal for 12 or 14, said Wilson.
Wine tastings are often popular ways of entertaining at home, but how about serving different types of cosmopolitans or martinis?
Or get away from the grape altogether and try hosting a coffee tasting. Emeran Langmaid, co-owner with husband Adam of A&E Custom Coffee Roastery in Amherst, will arrive at your home with everything you need for your java jam. She gives a brief introduction about coffee, explains how it was a driving force in much of the world's history and discusses different brewing methods.
"Since many people have not really tasted coffees from around the world, the point of the tasting is to educate the palate," said Langmaid, who had been roasting coffee for years before becoming an Internet retailer of custom-roasted organic and fair trade global coffees at A&E in 2001 and opening a café in 2003.
She also will talk about cooking with coffee and food pairings. For instance, lighter, brighter coffees go well with lighter, fruit-based breakfast pastries while more robust coffees from Indonesia or French-roasted beans will stand up to hearty foods because of their caramel and ashy flavors and longer finishes.
Much like a wine tasting, simple palate cleansers such as a butter cookie are served between cups.
Smaller groups of about six to 10 guests are ideal, said Langmaid. "The best tastings are ones that have a lot of dialogue. That way it's more of a conversation than a lecture."
Another dinner party favorite is fondue, which is enjoying its second 15 minutes of fame. A Swiss spin on this melted cheese dipping affair is the raclette — a two-tier tabletop grill, with a grilling surface for nibbles on top and another heating surface on the bottom for petite "fry pans" to melt the cheese.
Wilson herself tried out a raclette with a few friends at a recent dinner party she gave. "Fondues and raclettes are great for dinner parties because they create conversation and give guests something to do," she said.
She also has noticed a number of other trends in dinner parties. "Asian themes, such as sushi, are very big right now," she said.
Another simple but fun theme is a black and white theme. Wilson describes this type of dinner party as having "black and white decorations, dressing in black and white colors, perhaps serving black and white Russian cocktails, steak and mashed potatoes, with vanilla ice cream and chocolate sauce for dessert."
The chef party is another theme Wilson says can make for a great evening. "Everyone helps to prepare the meal. You might do some of the initial preparations — cube the meat for beef stew, say — then have you and your guests complete the meal."
You can step that idea up a notch and have Liz Barbour of The Creative Feast come to your home to help you host a cooking demonstration dinner party. For $60 per person, Barbour will walk you through selecting a menu and wine, provide all the food, cooking utensils and even china for the dinner, then prepare and serve the food in your own kitchen.
The evening begins with Barbour arriving about an hour and half before guests are expected. She prepares what she calls a "chef's welcome tasting," an appetizer the host and guests can enjoy with their beverages as the evening begins. Barbour will then have the party gather in the cooking area for the meal demonstration, including restaurant-style plating. Guests sit down to enjoy each course as it is completed. She even cleans up at the end of the night.
"Cooking demonstrations at home are so much more relaxed than a formal cooking class," said Barbour, who has been cooking professionally in restaurants and kitchens for nearly 15 years. "There is no pressure on time with a home cooking demonstration."
The Creative Feast cooking demonstrations include an appetizer, main course with a starch, side dish and dessert.
The main point of any gathering is to connect and laugh. Wilson suggested some great conversation starters, such as the "Who Am I?" game in which guests list previous jobs or careers and the others have to match up the job with the guest.
"Another ice-breaker is to have guests share their most humorously embarrassing moment or their most unusual moment," she said. A guest at one of her parties told of his experience attending the wedding of a Hollywood celebrity and dancing with a famous actress.
"A great dinner party is one where your guests walk away having had a good time and the stress has been taken off of you," said Wilson.
For further information:
• Mary Lou Wilson, Party Like A Pro: marylou@partylikeapro.com
• Emeran Langmaid, A&E Custom Coffee Roastery: 131 Unit 1, Route 101A, Amherst, 578-3338, aeroastery.com
• Liz Barbour, The Creative Feast:
465-6929, thecreativefeast.com