Top Shelf: The 'grueling' job of stocking a wine cellar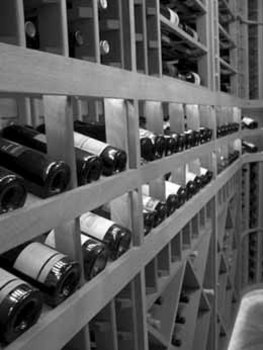 A month ago we talked about the growing interest among homeowners to add a wine cellar. This time let's look at the fun part what wines to choose to stock the cellar.
But because there is a seemingly endless variety of wine out there – and because you'll have to do some research and sample vintages and varietals before you lay in your wine – it can be a grueling experience, if that's the right word. Hey, it's a tough job, but someone's got to do it.
There are great ways to sample wines before committing yourself to filling your racks. Chris Conrad, wine director for Martignetti Companies of New Hampshire suggested going to wine tastings held by vendors. "Also go to one of the charity wine events, such as the Easter Seals Wine Spectacular, held in January. There, you can taste a huge variety of wine and your admission goes to a great cause."
Because a wine's character changes dramatically with aging, Conrad said it would be smart to buy several bottles of the same wine at once, drink one now, and cellar the rest. "Then try a bottle every six months or every year and note the changes. If, say after three years, the wine can't taste any better to your palate, go ahead and consume the rest during that year."
He also said the New Hampshire State Liquor Commission offers case sales — 12 bottles — every month, featuring a different region at sales up to 20 percent off the regular price. "For November, wines from Spain, Italy and Germany are on sale. These kinds of sales are a great way to stock your cellar," Conrad said.
Which brings up another point — inventory control. Most of us probably don't need some DOD RFID-style supply chain management system for the number of bottles being cellared. (If you do, call us and we'll help you get rid of your excess inventory.)
Darren Wood of Vintage Makers, a Hudson-based builder of wine cellars and wine storage systems, suggested just a simple spreadsheet.
"Using something like Excel, something that is easy, works great. Try categorizing your collection by variety, vineyard and vintage."
Conrad took the low-tech approach. He said you might want to consider dividing your rack space into thirds or regions, such as California, France and the rest of the world. "That way, you'll always have a general idea of what wine is where. Then just use some simple white tags with the wine's information hung on the bottle neck," he said.
New Hampshire Liquor Commission 'Picks of the Month'
To help you get started outfitting your new wine cellar, here's a list of the New Hampshire Liquor Commission's November "Picks of the Month." Some are perfect for drinking now, especially the Beaujolais, others can stay nestled in your racks for a bit longer.
• Franciscan Oakville Estates Cabernet Sauvignon ($19.99) — Light the grill and then open this bottle and let it breath. The initial fruity aromas will hook you into your first glass. With hints of cherry and a peppery finish this will compliment your grilled lamb as well as your chocolate dessert.
• Aquinas Chardonnay ($13.99) — This Chardonnay will compliment a plate of strong cheeses. With a buttery texture and slight fragrance of pears this is also a great anytime Chardonnay. After enjoying its buttery texture it has a smooth finish with a great aftertaste.
• Edmund St. John, Rocks and Gravel ($17.99) — A dark reddish purple, when you swirl this wine in your glass and breath in you get a burst of "Rocks and Gravel" on the nose. This wine offers ripe, almost grapey mixed berry and plum aromas with a hint of spice. Juicy plums and fragrant black pepper on the palate, textured and chewy. Good fruit and acid balance. Enjoy with your favorite spicy BBQ recipes.
• Beaujolais Nouveau (price varies) — This popular holiday wine is truly one of the season's greatest treasures. This light fruity red wine is an exceptional entrance into the new vintage year. You must experience this young release to appreciate it. Whether you're bringing the wine or serving it, the festive labels and versatile flavors will fit into any holiday party. So grab a bottle when you see it because when it's gone it's gone and it should be enjoyed just as quickly.
• Adelsheim Vineyard Pinot Gris ($13.99) — A spritzy beginning with a refined finish this wine explodes on your tongue. The citrus flavors zap your mouth before bringing it to a pleasantly soft ending. This wine pairs well with a variety of shell fish.
• Mouton Cadet Bordeaux ($8.99) — This very approachable Bordeaux is perfect with pasta and homemade marinara sauce. With earthy tendencies this easy drinking Bordeaux has blackberry aromas and soft tannins. The attractive price tag intrigued me initially, but the perfect blend of Merlot, Cabernet Sauvignon and Cabernet Franc pleasantly surprised me.