Top Shelf: Portugal wines crafted with big flavors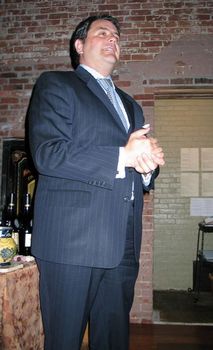 Imagine this: The warm sun blazing down on a sapphire Atlantic Ocean. White-washed cottages and buildings march up rocky cliffs where they meet verdant rolling hills smelling of damp earth. Rows of grape vines trail across the steep slopes, their canes bent low, heavy with fruit.
Now imagine all this captured in a glass of wine.
If you were one of the 30 people at the Business Review's most recent Top Shelf tasting, you didn't have to imagine.
Augusto Gabriel of Signature Imports and Shannon Drake, owner of 55 Degrees Fine Dining & Wine Bar in Concord, were our gracious hosts for a night of visiting Portugal by way of wine.
Portugal's winemaking history predates that of many other countries more famous for their oenophilic skills. In fact, winemakers in Douro in northern Portugal were the first to designate the region as an official wine appellation in 1756, conferring a level of standardization and quality on the region's wine almost two centuries before France applied a system to its wines.
However, it wasn't until Portugal joined the European Union in 1986 that its wines began to be noticed by the rest of world as technological and financial improvements were brought to the country.
Today Portugal's wines are often as easy to come by as your favorite restaurant or grocery store.
2006 Casa de Vila Verde ($9.99): A light white wine from Portugal's Vinho Verde region in the north, the Casa de Vila Verde had a bouquet of floral notes. Crisp, with a refreshing acidity, and flavors apple, peach and tropical fruit, it was similar to a Riesling without the tongue-tingling sensation that sometimes appears with that varietal. Aged in stainless steel to keep the fruit flavor bright, this wine is perfect as an aperitif, one that Gabriel said he sips while mulling over which red wine he wants with dinner.
2004 João Pires "Dry Muscat" ($10.99): This surprisingly dry white wine from the Terras do Sado/Setúbal region in south-central Portugal near Lisbon had all the fruit typical of the Muscat grape but none of the overt sweetness. Floral and pineapple notes in the nose, João Pires possessed a rich mouth feel. Its bold flavors of grapefruit, peach and pineapple shine through as it is made with 100 percent Muscat grapes and aged in stainless steel.
2003 Casa de Santar "Reserva" ($19.99): This red wine hailing from the Dão region in north-central Portugal was bursting with tart berry flavors and a surprisingly strong tannic backbone. Aging in new French oak barrels added some spicy wood notes. Gabriel said this was a prime example of the Portuguese terroir.
Brenda McDougald from Citizens Bank said she enjoyed this wine. "It had a lot of flavor," she said.
2003 Quinta de Ventozelo "Reserva" ($28.99): This red wine from the Douro region in northeastern Portugal was a winner. The huge volume of luscious fruit imparted from Douro's hot, dry climate was exquisitely balanced with tannins for a long, lingering finish. Aging in new French oak barrels mellowed the wine with spice. The Quinta de Ventozelo received rave reviews from many of the Top Shelf tasters. This was my hands-down favorite wine of the evening and worth every penny.
Denise Thompson of Sovereign Bank said she this was her favorite wine as well.
1999 Marques de Borba "Reserva" ($44.99): This silky red from the hot, dry region of Alentejo in southern Portugal had a rich, ripe fruit character, redolent of raisins and cinnamon. A touch of Cabernet Sauvignon added to the Touriga Nacional and other varietals lent a leathery earthiness.
Robert Fox of office solutions provider Indoff in Manchester said the Borba was his favorite wine of the night, as did Jayme and Laura Simos of Louis Karno & Company Communications and Wayne Clark of Jaguar Mining. His wife Elizabeth Clark said she enjoyed both the Borba and the Quinta de Ventozelo.
2000 Quinta de Ventozelo Vintage Porto ($66.99): An inky ruby color, this Porto — a true Port from Douro's sub-appellation of Porto — was sweet with deep layers of raisin and boysenberry flavors. The long finish culminated in a nutty character.