Top Shelf: Making wine in N.H.: not just a dream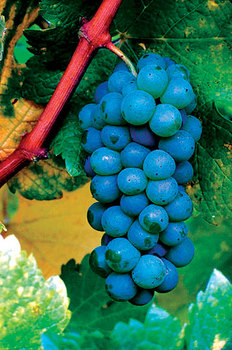 Growing wine grapes in New Hampshire in large enough quantities to produce a quality wine is just about the hardest thing one can do agriculturally. But it can be done — if you have the backbone, the passion, the knowledge, the time and the money to do it.
According to the experts who presented the seminar, "Growing Wine Grapes in New Hampshire as an Alternative Enterprise: No Longer a Dream," held during the February Farm & Forest Expo by the University of New Hampshire Cooperative Extension and the New Hampshire Winery Association, you have to pay attention to several considerations to realize that dream:
• The cost: Producing wine may cost as much as $5,000 to $10,000 per acre over four years — the time it takes for vines to mature enough to yield commercial quantities of fruit — with many of the same costs involved in growing any other crop, such as equipment, outbuilding maintenance and pesticides and herbicides. In addition, you'll need specialized equipment, like trellises, grape crushers and fermenting tanks or barrels, refrigerators, bottlers and labelers.
And you will have to buy grape vines. One catalog puts northern climate grape vines at about $3.50 per vine.
• The right grapes: The more familiar varietals (e.g., Merlot, Chardonnay) don't grow well here, if at all, but a number of French and American hybrids can grow in New Hampshire and are capable of producing award-winning wine.
Just ask Peter Oldak, owner of Jewell Towne Vineyards in South Hampton and one of the presenters at the seminar: His wines have won 92 medals since 1999 — 26 in 2006 alone.
Some of the major red grape French hybrids include Maréchal Foch, Leon Milliot and Landot Noir. White French hybrids that do well in New Hampshire are Seyval, Vignoles and Aurore.
In recent years, the University of Minnesota has developed American wine grapes, such as white grapes LaCrescent and Frontenac Gris and red grapes Marquette and Frontenac, which can withstand temperatures as cold as -40 degrees Fahrenheit.
To really find out if wine grapes will grow well on your property, Oldak suggested staking a thermometer in the area you're considering planting and recording the daily low and high temperatures from Nov. 1 through April 1.
• Soil conditions: Grapes like well-drained loam with a depth of 40 inches to allow for setting down deep roots. Bill Lord, former fruit specialist at UNH Cooperative Extension, recommended taking a year or more in prepping your site, including eradicating weeds, correcting any drainage issues and solving pH problems. He also suggested planting a temporary cover crop.
• Vine care: Pruning and tending grape vines is an art and science in and of itself. Suffice it to say you must prune often and appropriately to bring out the best in your grapes. Fruit yields and even the life of the vine depend on this.
Spacing vines appropriately is important as well. As a rule of thumb, wine grape vine rows are spaced nine feet apart, with vines spaced between six and eight feet from each other within the row.
"When they reach mature fruit production — about four to six years — six vines should give you about five gallons of finished wine," said Oldak.
• Winemaking: Yes, this is where the fun begins, but this step also begins a new stage of very hard work.
The types of yeast used, whether to ferment in stainless steel or oak, what kind of oak, acidity and sugar levels, sanitation methods to reduce unwanted reactions and tastes, and a myriad of other minute decisions all go into making wine.
According to Derek Brock, Jewell Towne's vineyard manager and assistant winemaker, good wine does not happen by accident — rather the wine itself will tell you what it needs by the symptoms or characteristics it displays during the fermentation process.
Even choosing which cork to use is fraught with decisions. Natural, agglomerated, synthetic and screw caps all have their pros and cons. For instance, natural cork is the most expensive, but lasts the longest, something to consider if you're making wines you hope will cellar for years or decades.
• Going commercial: Licensing, bonding, general business forms and more must all be completed to the state's satisfaction before you can sell your wine on a commercial scale. And there also are laws galore stipulating what you can and cannot put on that wine label.
One imperative supported by all those on the panel was the need for a tasting room if you are going to sell your wine commercially. The tasting room is regarded as the primary way of marketing your wine, especially if you have yet to develop a market.
"People buy what they can taste," said Oldak.
The panel also recommended against charging for samples in your tasting room, saying it turns away more people than it offsets costs.