Top Shelf: It's not called 'Spectacular' for nothing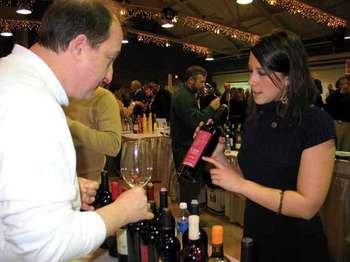 So much wine, so little time…
A spread like this could only be the 2007 Easter Seals of New Hampshire Winter Wine Spectacular held Jan. 25 at the Radisson Hotel-Center of New Hampshire in Manchester.
The Winter Wine Spectacular culminates the New Hampshire Liquor Commission's Wine Week, a week-long celebration of all things vinicultural, including special vintner's dinners, bottle signings with winemakers, seminars and wine tastings held throughout the state.
The annual event, now in its fourth year, is not only Easter Seals' largest fund-raiser of the year, it has also become one of the largest wine events in the country.
Last year's proceeds came to just under $100,000. Christine Hardy, event manager for Easter Seals, said this year's advance ticket sales were at $80,000, with a goal $110,000 for this year.
The granddaddy of them all is the Grand Tasting in the ballroom and Armory Hall at the Center of New Hampshire. With over 1,000 wines to sample and gourmet appetizers from over a dozen of the best restaurants in southern New Hampshire, you'd better have a strategy for what you're going to taste at an event like this or you won't make it past the third table.
This year I focused on white wines from Washington and Oregon.
At the Hogue Cellars table, I met Gary Hogue, the winemaker himself, and tried his Late Harvest Riesling ($11.99). At 4.5 percent residual sugar, this Washington State white wine was full of ripe apple and apricot flavors. Although termed "moderate sweet," my novice palate thought it was quite sweet, maybe a touch more than a Balletore Spumante, a completely different wine, but you get my drift. Expertly balanced with acid, this Riesling could work well as a dessert wine.
I asked Hogue what makes Washington wines different from those of California. "It's all in the fruit," he said. "Think Washington apples. Washington wines also tend to have a higher acidity."
Next I sampled a Big Fire Pinot Gris ($16.99) from the McMinnville sub-appellation of Oregon's Willamette Valley. With a bouquet of floral notes, it had a sprightly acidity and mouth-watering green apple flavors. It was fermented in stainless steel, as oak would overpower the fruit.
Sally McManus, representing Big Fire wines, said Oregon has slightly cooler growing regions than those of Washington, which help to produce wine with leaner fruit flavors but more floral scents.
"Washington's premier grape-growing region, Columbia Valley, is so dry, it's virtually a desert," said McManus.
Perhaps the most famous winery in the Northwest, Ste. Michelle Wine Estates was out in full force with its self-titled and Columbia Crest labels as well as others from its portfolio.
Ste. Michelle holds a fondness in the Kibbe household as one of the first "real" wines I had ever sampled. Its Gewürztraminer and Riesling usually find a place around the holiday ham.
The Columbia Crest Grand Estates Chardonnay ($11.99), a mid-tier wine, is for all you oak-and-butter lovers. Incredibly toasty with rich butterscotch flavors, it's aged in both French and American oak barrels — not that I can taste the difference yet, but an interesting factoid nonetheless.
Columbia Crest's "Grand Estates" Pinot Grigio ($11.99) did indeed have a deeper fruit flavor than the Oregon Pinot Gris. It too was crisp and clean from the unfettered steel fermentation, but had pineapple and other tropical fruit flavors.
Josh Maloney, a winemaker at Ste. Michelle's Canoe Ridge Estate, said the life of a winemaker would be "just as glamorous as you think it would be if it wasn't for all the hard work." He said he always keeps a second change of clothes in the trunk of his car because the job is so messy mucking around all the vineyards and spilled grape juice. He also said this job comes as quite a surprise to all the interns who work at the winery.
"I lose about half before the semester is over," said Maloney.
For something a little different, I tried a Badger Mountain Riesling ($10.99) and a Badger Mountain NSA Chardonnay ($11.99), both from Washington and both organically grown.
Represented by Victoria Simoni of Pine State Beverage Co., these wines are part of a growing trend of organic and sulfite-free wines.
No chemical herbicides, insecticides, fungicides or synthetic fertilizers are used in Badger Mountain's vineyard. Simoni even said the winemaker uses hawks to control the rodent population.
The Badger Mountain Riesling was perhaps the least sweet of the Rieslings I sampled that evening. Melon and apples combined for a sweet-tart finish that was very refreshing.
The Badger Mountain NSA Chardonnay ("no sulfites added") was quite interesting — a bit different from some chardonnays with a deep, rich golden color, an earthy character with fig and raisin flavors.
The biggest differences between sulfite-free wines and those with sulfites is that they won't cause that headache that sometimes comes with the additive and that they really can't be aged for very long because they lack the preservative.
One interesting tidbit I picked up from this year's event was the terrific showing of Malbecs, one of my favorite reds for a few years now. Last year there were only a couple shown. This year, there were closer to 15 available for sampling.
Malbec, a French varietal, has taken to the more southerly climes of Latin America, especially the Mendoza region of Argentina and parts of Chile. California also is beginning to produce this wine now.
A rich, full-bodied red with big fruit and spicy tannins, it's a nice alternative to zinfandel.
Since I worked primarily whites at this year's tasting, I had just one Malbec at the end of the evening — the Catena Alta Malbec ($39.99) from Mendoza. It was shown as part of the premium collection of wine in the Bellman Jeweler's Cellar Select Room, which featured wines costing over $28 a bottle.
My first thought upon sipping the Catena was, "I'm in love!" Explosive and rich in the mouth, it was full of deep red fruit and plum flavors as well as a warming touch of spice. The velvety tannins culminated to a silky finish. It was made from 100 percent Malbec grapes and is worth both of the Andy Jacksons it costs.
One of the best parts of this Easter Seals event is not the incredible offerings of wine, silent auctions items or even the enormous "Tower of Wine" raffle filled with enough grape goodness to jump-start a wine cellar, but simply the fact that this popular and first-class event is all for charity.
Easter Seals provides services to more than 19,000 people with disabilities or special needs and their families in New Hampshire, enabling them to have equal opportunities to live, learn, work and play in their communities.
What goes better with a glass of wine than a good feeling of helping others?