Top Shelf: Giving men the spa treatment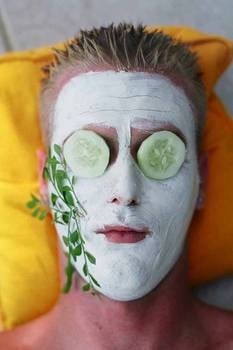 Move over, ladies. Spas are quickly becoming a "guy thing."
According to the International Spa Association, which represents more than 2,500 spa facilities and providers in 73 countries, men make up 29 percent of the $40 billion global spa industry.
"I think men are caring more about their skin. They're not afraid to care about their looks," said Doreen LaPointe, spa manager of Manchester's Not So Plain Jane's salon and day spa. "I think they've always wanted to take of their skin, but it has been more accepted by women."
According to Andra Diamond, spa director of the Wentworth by the Sea Hotel and Spa in New Castle, increased advertising of men's services is really having an impact. "Also, they're advertising more skin-care treatments to reduce the signs of aging as opposed to surgery," she added.
To accommodate men, the spa industry is changing to meet guys' preferences. Spas are using more warm, earthy colors in their designs as well as differentiating the robe colors men and women wear.
LaPointe said branding is important. "We'll list 'men's skin care' instead of 'facial' on our menu of services. Many men are not quite sure what a facial entails and think of the old stereotype of heavy cold cream and make-up."
Diamond said some spas will feature a special men's section in their menu of services. "This way, men don't have to hunt through the treatments to find those appropriate for them," she said.
Spas are beginning to offer more athletic fitness classes, such as golf or tennis clinics, in addition to gentler forms of exercise like yoga.
Bridal showers and ladies' nights have long been a staple of girlfriend get-togethers at spas. Now men are arriving at spas for bachelor parties and to take advantage of "men only" nights at these destinations.
The massage is by far the most requested service by male clients.
"By and large, men are looking for relaxation at a spa," said LaPointe. "They want to relieve stress."
She said she also has seen a dramatic increase in men's facials in the last few months. Diamond said that manicures also are gaining in popularity among her male clients.
The products used for men may have different essential oils with fainter fragrances or more masculine scents.
"Products are also tailored to take into account men's facial hair," added LaPointe.
In addition to offering services and products for men only, spas are hiring a mix of male and female employees and therapists to provide their services.
Both LaPointe and Diamond said they ask clients at the time the service is being scheduled for their preference in therapists and aestheticians.
"While women seem to prefer other women for their treatments, guys don't seem to care," said Jane's LaPointe.
More and more, spas are marketing toward couples as well, encouraging women to bring their husbands or boyfriends to enjoy such treatments as the couples facial at Jane's.
Spa for beginners
For guys (and gals, too) who are spa virgins, here are a few things to keep in mind.
When scheduling a treatment, ask about:
• How many years the spa has been open
• How long your therapist/aesthetician has practiced
• Other amenities, such as complimentary light snacks or beverages
• Special treatments or considerations for any health issues such as allergies, skin problems or high blood pressure
Upon arrival:
• Arrive 30 minutes prior to your treatment in order to check in and begin decompressing.
• Keep the "mouse in the house" or "go commando"? It's up to you whether you wish to remain unclothed under your robe. Spa therapists are professionals and will only expose the portion of the body they are working on.
• Spas are all about relaxation. That means turn off the cell phones, laptops, Blackberries, etc., and leave them at home or in your spa locker. The point is not to work!
• Most spas are co-ed but have separate changing facilities for men and women.
During your treatment:
• The sound of silence – It's up to you if you want to talk during a treatment. The staff takes its cues from you. For first-timers, it's nice to have the therapist "narrate" the treatments as they are applied and their benefits.
• Sales pitch – This is a spa, not a used-car lot. While your therapist may discuss or recommend certain products, there is no obligation to buy anything.
• Hard or soft option – If the therapist is using too light or too soft a touch, speak up! Again, it's all about you.
• Should I stay or should I go now? — Your therapist will tell you when your treatment has ended and will invite you to relax a bit before getting up. That means a few minutes, not a half an hour. Other folks want a turn at the Vichy Shower.
After your treatment:
• To tip or not to tip? Check first. Spas have different policies on tipping, but generally 15 to 20 percent is acceptable.
• Don't be surprised by how hungry and thirsty you feel. Drink plenty of water and eat a light meal at the spa or when you get home to help flush out all those toxins that have been rolfed out of your system.
For more spa specifics and FAQs, visit ISPA's Web site, experienceispa.com.