Top Shelf: A short, and delicious, tour of Italian wines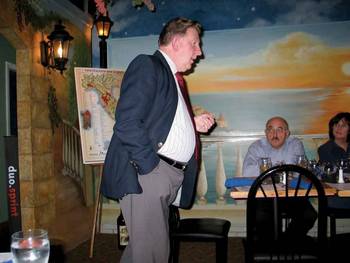 When I think of Italian wines, a red wine usually comes to mind, perhaps a Chianti or that Lambrusco my parents drank in the '70s and still haunts my nightmares. For an Italian white wine, if I could name more than Pinot Grigio or Asti Spumante, I'd be lucky.
Thank goodness wine connoisseur and Italian cultural guru Rufus Boyett can. He led 35 of us on an oenophilic excursion of Italy in our latest Top Shelf wine tasting, Nov. 16 at A Taste of Europe in Manchester, showing us there is far more to Italian wines than what comes in a little straw-lined cask.
The evening's selections were paired with wonderful nibbles provided by Chefs John Paolini and Brian Siembor of A Taste of Europe, a sister restaurant to downtown fave Piccola Italia.
Our first wine of the evening was a Montresor Bianco di Custoza ($10.99*) from the Veneto region in northeastern Italy. I found this white wine, described by Boyett as "a Chardonnay done Venetian-style," had soft vanilla, even pear notes in the nose.
As Boyett instructed, we sipped first, then took a bite of food — in this case, Chef Brian's wonderful scallop and lobster scampi with artichokes — then sipped again. The food/wine combination brought out the vanilla and woodsy notes of the wine and the balsamic vinegar in the dish helped to balance the tastes.
Tracie Stone, fellow Business Review wordsmith, said that, although she generally prefers red wine, "I liked this one. It went really well with the scampi."
Next, we sampled a Bigi Oriveto Classico Amabile ($9.99) from the Umbria region in central Italy. As I learned, "amabile" is analogous to the French "demi sec," or "not quite so dry" — a wine on the sweeter side of things. This white was something on the order of a Riesling, just a touch fruitier than the drier Bianco di Custoza. I liked the hints of citrus and herbs.
While Boyett said most people found the sweetness more noticeable in the first taste, I found it amabile when sipped after the penne with a spicy red sauce. The full fruit flavors perfectly mellowed the heat in the dish. For me, this was arguably the best balanced combination of the night.
The name game
Moving into the red wines, the Carpineto Dogajolo ($11.99) from Italy's north-central Tuscan Chianti region was next. Made from Sangiovese and Cabernet grapes, the powerfully fruity nose hinted at what was inside the glass. The first taste revealed dark berry and cherry flavors and solid tannins. After sampling Chef Johnny's seared pork tenderloin with mushroom demi-glace, the flavors continued to open up and bring out the grill flavor in the meat.
A quick note on price here: normally the so-called "Super Tuscans," a term having more to do with artificially inflated prices than anything else, are very expensive, like $40 a bottle. This Dogajolo, and others if you hunt, was an absolute steal at $11.99.
The final wine of the evening was a Coppi Vinacciero Primitivo ($11.99) from the sunny southern Puglia region, the "heel" in Italy's "boot."
I was surprised to find out that the exotic, if a little rustic-sounding Primitivo grape, is none other than the more familiar Zinfandel. What's more, the Vinacciero Primitivo was 100 percent that grape, no blending here. For me, I love to find pure varietals so I can savor the truest expression of the grape.
Sure enough, the plummy, earthy flavors with a touch of spice just exploded in my mouth. The tannins, strong enough to cleave my tongue to my palate, were brilliantly softened with the petite lamb chop grilled with a heady dry rub of cumin, coriander and chiles. (This one was comin' home with Mama!)
Mike Liston, co-owner of Off the Wall Ideas in Bedford with wife Val Wilson, enjoyed the Primitivo as well. "This pairing was just perfect," he said, remarking on the wine/lamb combo.
Terry Vital of the Manchester public relations firm Vital & Ryze, had a unique perspective on the evening — she's a vegetarian. Seldom partaking of big primal cuts of meat like lamb, she said, "I was really surprised how well the wines controlled the flavors of food."
*Note: Wine prices are based on New Hampshire Liquor Commission list price as of Nov. 16.