Top Shelf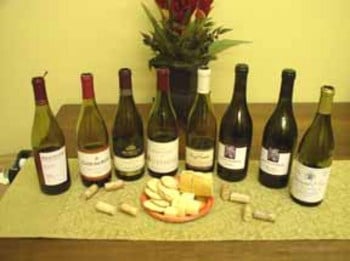 For further information:
OK, let's get one thing straight — I hate pinot noir. Blasphemy, I know, to all the pinot heads out there — as well as pigeon-holing the fact that I don't know my palate from, well, a pigeon hole.
With everyone raving about it from the sleeper Hollywood hit and Oscar-winning film, "Sideways," I thought maybe it was time to re-evaluate the varietal. I found the movie to be charming and bittersweet with an ending that grows on you. I hoped the wine would be the same.
According to Patrick Dunn of Dunn Wine Brokers, pinot noir is the oldest-known cultivated grape, with erstwhile vintners beginning to ferment its juice sometime around 1 A.D. This has led to some 11,000 strains, or clones as Dunn calls them, of the grape. For comparison, Chardonnay has about 20 and Cabernet Sauvignon has just 12.
I have heard that the pinot noir grape is notoriously hard to grow, making a stellar vintage all the more precious. Why is it such a pain in the glass?
Dunn said that pinot noir is just more persnickety about its growing conditions than other grapes. "It loves limestone. It loves calcium. It loves hot days and cold nights. The vintage can be awful one year, then amazing the next. That's part of the magic of pinot noir."
The grape also has a thin skin, making it more susceptible to disease and the vagaries of the weather.
As if that wasn't bad enough, pinot noir is tricky to ferment. "It ferments very quickly," said Dunn, "making it boil over and taste terrible. What's more, those thin skins have a very delicate flavor that's easy to screw up and hard to get color from."
Which brings up an interesting factoid — pinot noir is the major component of champagne. It is actually the skins of grapes that impart the color — or lack thereof — to wine. The juice from even purple or red grapes is basically clear.
All this trouble adds cost to the winemaking as well as the shelf price. In general, you do pay for what you get with pinot noir.
The major growing regions for pinot noir are the Burgundy region in France and the cooler areas of coastal California, like the Carneros region and the Russian River Valley. Some other perhaps more surprising regions are the Willamette Valley region in Oregon and the Marlborough district in New Zealand. South Africa is another up-and-comer for pinot noir.
Enough wine talk. How does it taste?
Ten of us Top Shelf tasters got together to try several pinots from different parts of the world.
First up was the Beringer Founders' Estate ($8.99) from Napa Valley. Looking a deep inky red in the glass, I smelled scents of cherry and subtler hints of wood and smoke. I tasted sour cherries and mild tannins. Many of us said it would be a great everyday wine that would go well with pizza.
Clos du Bois ($11.99) from Sonoma County was a little darker in the glass and had much more fruit in the nose, with scents of raspberries as well as the hallmark cherry. I felt it had a silkier mouth feel. Some of the other tasters said it was more acidic.
The Saintsbury Pinot Noir ($21.99) from California's Carneros region tasted more complex to me with stronger fruit flavors. Most of us said the finish was much longer than the other two. I wasn't quite there, but I was getting closer to finding that elusive pinot noir I was looking for.
Brancott Vineyards Reserve ($13.99) from the Marlborough region in New Zealand was a fun one for me. I happen to like New Zealand wine, and you could smell this was definitely not from California. I actually picked up scents of coffee among the berry and cherry notes. It was silky on the tongue with bright acidity and a mild finish. I will say, I thought it the most unique of the pinots we sampled.
King's Estate Pinot ($19.99) from Willamette Valley, Oregon, was my favorite, hands down. I found it had lots of fruit flavor, with even a hint of leather (a new "flavor" for me), which actually gave me the aged-barrel flavor I was looking for. The silkiness, acidity and tannins were well balanced. I'd even pay the restaurant mark-up on this one. However, I was alone in the group. Several people marked it dead last on the preference list. (Steve Pare´, our director of sales, said it had a bitter taste. I guess not everyone enjoys drinking something that tastes like an old leather boot smeared with sour cherry jam.)
The Robert Stemmler Carneros pinot ($30) was a serious wine. Many of our tasters found themselves picking out subtle flavors like wood. Fellow NHBR reporter Bob Sanders tasted strawberry as well as noting a long finish. This was sale executive Andy Black's favorite for those reasons. NHBR editor Jeff Feingold rated this one his favorite, too.
Another Robert Stemmler, from its Nugent Vineyard ($30) in California's Russian River Valley, also received high marks from the group. It had more pronounced fruit and woody flavors than the Carneros vintage. Wendy Wood, one of our art designers, said it was her favorite, as did McLean Communications event guru Tricia Baker Schmitt. "I like the earthy character," she said.
For a very special treat, we scored a 1998 Francois Ganoux Pommard Premier Cru "Les Epenots" from the Burgundy region of France. I would say this was my favorite pinot of the night, but it was so wonderful, it tasted like a completely different wine. First, its horrible nose, which was called everything from barnyard to feet, actually mellowed and somehow made the darn thing taste even better than if it wasn't there. And the taste. Lordy! It was rich and sweet, and so raisiny, it was actually brownish in the glass. The acidity and the tannins were perfectly balanced and the finish must have stayed on my tongue for half an hour. No wonder it was $45.