Titeflex Aerospace breaks ground on facility expansion
New facility will incorporate green initiatives, reduce waste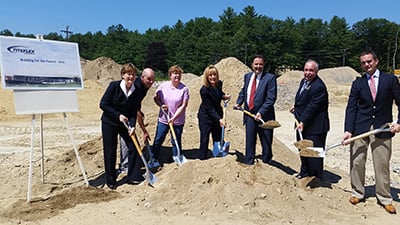 Titeflex Aerospace announced plans to enlarge its facility footprint by nearly 47,000 square feet in Laconia. The expansion will consolidate production activity onto one site and provide space for expansion and improvements to process flows, the company stated in a press release. Senator Jeanne Shaheen and Governor Maggie Hassan attend the groundbreaking for the site expansion on Monday, Aug. 3. Construction is expected to be complete in the first quarter of 2016 with initial equipment moves scheduled for the second quarter.
According to General Manager Graham Thomson, "The project gives us a unique opportunity to build improved process flows into our operations and provide a solid foundation for the future growth of the business."
A key concern for Smiths Group, the parent company, and Titeflex Aerospace is continuing to reduce the environmental impact while increasing renewable energy resources. The company is focusing on integrating best practice environmental considerations into current and future operations. One of the key features of the new space will be a sizable reduction in energy and waste, with the intention to cut water to zero over time, through a state of the art recycling process. Other green initiatives include high efficiency lighting and utilization of natural light with more exterior windows.
The parking lot will also feature a surface with porous pavement, over aggregate layering to filter water run-off and to reduce the risk of flooding in the surrounding area.