Tire distributor shifting Northeast headquarters to Merrimack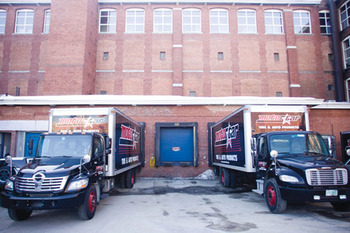 A tire distribution company is moving its Northeast U.S. operations center from Manchester to Merrimack, bringing about 30 jobs into town.
Motostar Tire bought the former F.W. Webb building at 4 Webb Drive for $3.37 million in a deal that closed Friday and plans to move in by March 1.
Company President Gene Bova said Motostar is moving because it needed a central distribution center with more space, which will allow the company to grow.
"It's going to give us the ability to double our capacity," he said.
The 144,000-square-foot Merrimack building is nearly twice the size of the company's Manchester warehouse, at 186 Granite St., in the mill yard. The company also has warehouses in Bangor, Maine, and Buffalo, N.Y.
Motostar buys tires, auto parts and related tools from manufacturers and sells them to tire shops, car dealers and mechanics.
The company, formed in Bedford in 1993, carries products ranging from lawnmower tires to tires for heavy construction vehicles. It also carries products used to outfit tire shops, such as tire machines or balancers.
Motostar has switched locations multiple times in the 16 years since it opened for business, moving each time to a larger building. It traded in the original 10,000-square-foot facility in Bedford for a 25,000-square-foot place in Manchester before moving to its current 78,000-square-foot location.
Initially, the company will bring about 30 employees to Merrimack. But Bova said he hopes the move will allow the company to grow to the point where it can hire additional employees.
The building's former tenant, F.W. Webb, a distributor of plumbing, heating and cooling products, left the building three years ago for a larger facility in Amherst.
Richard Danais, president of Manchester-based Danais Realty Group, represented Motostar in the sale. Rick Ruggiero of Cushman & Wakefield's Boston office was the listing agent.
Although the commercial real estate market has suffered due to the recession, it has not been hit as hard as the residential market.
In Merrimack, 12 percent of the industrial buildings and 5.6 percent of the office buildings are vacant. That's low compared to Nashua, where vacancy rates are 18.1 percent and 22.1 percent, respectively. In Manchester, 8.5 percent of industrial buildings and 11.1 percent of office buildings lack tenants.
Bova said that despite declining auto sales, Motostar is still financially sound because people are putting their money into repairing and maintaining the cars they have.