Time to sell the donuts
Five Guys entrepreneur brings Krispy Kreme to NH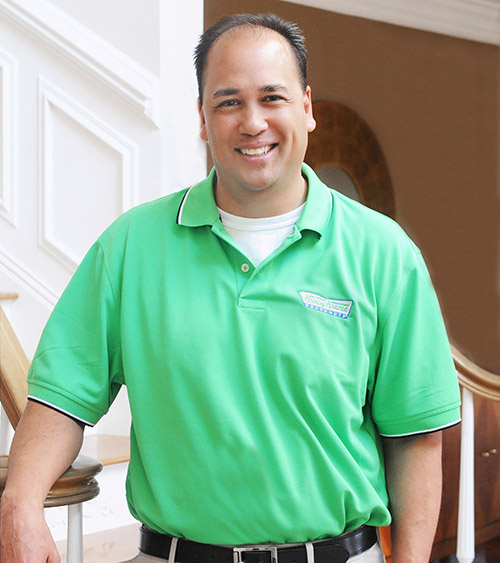 Krispy Kreme is coming to New Hampshire. But that's just half the story.
Just a decade ago, Cort Mendez was planning his exit strategy. The successful medical device salesman had always been drawn to the hospitality industry and was ready to jump into a new career. It just so happened that the Five Guys Burgers and Fries chain had an open territory in Mendez's state of New Hampshire. By January 2008, he acquired exclusive rights to the Granite State and in October 2009, Mendez opened his first Five Guys eatery on Amherst Street in Nashua.
"Fortunately, when we opened up in Nashua," says Mendez, "we opened up to gangbuster crowds. Then Manchester, and I was off to the races."
Inside six years, his Five Guys New Hampshire portfolio exploded to 10 restaurants. Then came a new exit strategy. Last December, Mendez sold all 10 to Bill Gellert, a 14-restaurant Five Guys franchisee from the New York-New Jersey area.
Did Mendez take the money and run? The answer is yes. He ran and acquired exclusive rights to the Krispy Kreme franchises for New Hampshire and Maine. Mendez is now doing business as president an CEO of NH Glazed LLC.
Over 10 years ago, seven Krispy Kremes were launched in New England but were soon closed. After all, this is Dunkin' Donuts territory. But what may appear as a head-scratcher of a business move by some made perfect sense to Mendez who, again, is going all in, as he did successfully with Five Guys just a few years earlier.
Can lightning strike twice?
"I'll be the first to tell you I was asking the same question myself," he said. Since then, I have been asked that question over and over again because they're relevant questions. When it didn't do so well up in New England, why on earth would I believe anything would change now?"
Negotiating leverage
The news that Krispy Kreme was returning sent a small seismic ripple through New England. National media took notice, as David Muir included the story in one of his ABC World News broadcasts following the Krispy Kreme news release.
Mendez speaks highly of the competition, believing that both Dunkin' and Krispy Kreme's vastly different business models leave plenty of room for both to flourish.
"Dunkin' Donuts, of course, owns New England. I am a big fan of their coffee. Their coffee is spectacular, in my opinion and I have reason to believe their success with that [will be] little affected by what I'm trying to bring to New Hampshire and Maine. By that, I mean 60 percent of what Dunkin Donuts sells is coffee, then 30 percent of what they sell are their breakfast sandwiches. They do a great job with both of those things. And then less than 10 percent of what they sell is doughnuts," said Mendez.
"What's interesting is that 10 percent of what Krispy Kreme sells is coffee, 90 percent of what they sell is doughnuts. So it just seems to me that the [two companies] are very different."
With that in mind, Mendez said, "I believe that Krispy Kreme will have a place in the New Hampshire and Maine markets. Krispy Kreme is well aware of the fact that they've got room to improve and grow in the coffee market and they certainly are trying their best to go after that," adds Mendez.
While Mendez hustles to find locations for Krispy Kreme restaurants, he's hopeful that his first New Hampshire site will open before the end of the year. He acknowledged that a soft economy in 2008-09 gave him negotiating leverage as he launched his Five Guys restaurants.
"Oh – most definitely that played to my advantage. Since no one else was really looking for space at the time, it made it much easier for somebody with no name and no previous owner experience in restaurants for landlords to take a chance. It was a leap of faith for a lot of those landlords, but because nobody else was really looking at the time, they didn't have a whole lot of other options and decided to go with me."
While scoring locations during the recession worked in his favor, that same slowdown created a different problem, as Mendez looked for financing. Selling an unfamiliar food chain proposal by an operator with not much restaurant experience was far from easy.
"The first couple banks I went to, because Five Guys was completely unknown, were reluctant to really work with me," said Mendez. "[Then] I went to First Colebrook. I want to say they really saw the passion that I had for the brand and that I was leaving my career and putting a lot of our life savings into this venture."
He got the loan.
"What I really enjoyed about Five Guys is the fact that I would always wear my Five Guys apparel around. It always generated a very positive emotion. As great as a reception as I always saw with Five Guys, I can say that Krispy Kreme struck the same emotion times 10. It's really been great to see how excited people are about Krispy Kreme when I've been in territories where there actually is a Krispy Kreme location."
In New Hampshire and Maine, he said, where there aren't any locations, "the brand is so well known, reaction of people has been so positive. It completely confirmed what I was hoping to see."
Possible locations
Still, there are hurdles to jump to find success in a new market. One thing that encourages Mendez is that the Krispy Kreme business model has changed, with lessons learned due to earlier failures, giving franchisees a much better chance to succeed.
"They were putting them too close together, so unlike what you see in many of the coffee shops [like] Dunkin' Donuts, is they can really place them close together and still be very successful. With Krispy Kreme, the most I'm going to get in New Hampshire will be four to five, because the frequency of the Krispy Kreme guest is more or less coming in for doughnuts versus coffee."
Mendez is looking at prospective New Hampshire locations for Manchester, Nashua, Portsmouth or Newington and maybe Seabrook. Maine targets include Portland or South Portland, Bangor, Lewiston/Auburn and Augusta. Other possibilities are Brunswick, Biddeford and Kittery.
Mendez is carefully watching a test location close to Krispy Kreme corporate headquarters in North Carolina, where, like Starbucks and Panera, guests are encouraged to stay longer, use the Wi-Fi connection and enjoy themselves beyond the food and coffee experience.
"I think they're very inviting, and it certainly would be nice to be able to utilize that model," he said.
But the lure of the fresh, warm, glazed doughnuts continues to be the draw, according to Mendez.
"The biggest thing that brings people in is the Hot Light. When you're driving along a road, and you see the Krispy Kreme sign, if that Hot Light is on, you know the doughnuts are coming right out of the machine off the conveyor belt and they're super fresh. Many people have said to me, 'I don't know what it is about a Krispy Kreme doughnut, but I can't eat just one. I have to have two or three.'"