Time to celebrate the Wright stuff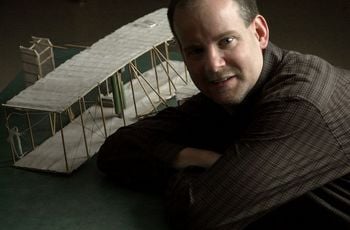 Nashua High School teacher David Price is clear about one thing: Wild horses, probably even wild airplanes, couldn't keep him away from Wednesday's re-enactment of Orville Wright's historic flight on the sand dunes of North Carolina.
"What these two brothers did, I owe my entire life to," says the commercial pilot and former Federal Aviation Administration employee, who teaches (what else?) aeronautics at the north campus of Nashua High. "This is like Halley's Comet if you're an astronomer. It's a once-in-a-lifetime thing that I can't miss."
Price will be among thousands of people assembled at Kitty Hawk, on North Carolina's Outer Banks, to see the re-enactment, the culmination of many months of national celebration marking the centennial of the Dec. 17, 1903, flight of the world's first controlled heavier-than-air craft.
Five days of celebrations, ranging from flyovers of historic airplanes to concerts, are being held in North Carolina. Price is there today and Wednesday.
Also there will be Jack Ferns, administrator of the New Hampshire Division of Aeronautics and president of the New Hampshire Aviation Historical Society.
The centennial has been honored this year in New Hampshire, notably by the Aviation Heritage Festival held at Daniel Webster College in September, but there aren't any Granite State re-enactments Wednesday due to obvious meteorological reasons.
"In this part of the country, we didn't want to bring a lot of people outside (to an airport) on the 17th of December, just in case," Ferns said.
A proclamation will be read at the Statehouse on Wednesday morning, and the Christa McAuliffe Planetarium has scheduled special events for Wednesday, including a chance to "fly" in a Wright Flyer simulator for free. Check the planetarium's Web site (www.starhop.com) or call 271-STAR for information or to make reservations.
The simulator uses software combined with a video projection system and a mockup of the original flyer's unusual controls, including its "hip cradle." The pilot lies face down in this device and controls part of the steering by shifting his weight back and forth.
That odd system, abandoned by the Wrights in later versions, is part of the reason that Price is a little bit nervous about the fact that an exact replica of the Wright Flyer is slated to go airborne.
"This is a nervous thing," he said. "I think a lot of people that know about the Wright Flyer are afraid it won't get off the ground. . . . The Wright Flyer was aerodynamically a really fragile aircraft."
As recently as Dec. 4, in fact, the wood-and-cloth replica crashed during a test run, and its builders had to scramble to fix it.
However, this just adds to the authenticity: The Wright Brothers' own flyer crashed on Dec. 14 – three days before their flight heard round the world.
"There's not a single industry that has an exact start date – no one can pinpoint the exact start of the automobile, you can't do it for the computer, you can't do it for anything – except aviation," Price said. "This is an entire industry that was started by two brothers tossing a coin (to decide who got to be the pilot)."