Thinking about getting organized for the new year?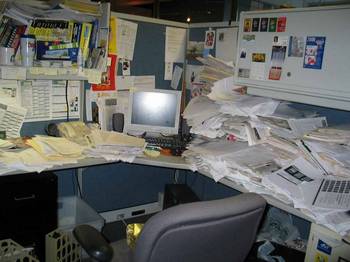 Professional organizers are moving from clearing the closets of homeowners to sorting through the file cabinets and the desks of business owners, with the goal of helping to increase company bottom-lines by recovering time lost to disorder.
Unlike homes, where clutter may not be much more than unsightly or inconvenient, disorganization can cost a company time and money — as much as two days a month for most workers and up to six weeks per year for executives — say organizing professionals.
The reasons behind the piles of paper and enormous amounts of e-mail, however, don't always point to simple laziness, but more often are the result of today's hectic workplace, said Elizabeth Early Sheehan, a professional organizer for over nine years and owner of Organizational Solutions in Deering.
"People are so busy, things just don't get addressed right away. They come back from a meeting, set stuff down, then they're off to the next meeting," she said.
Organizers working with corporate clients often begin by learning about the company's or employee's current processes.
"The process could be right, it just might need to be tweaked," said Sheehan, who is a member of National Association of Professional Organizers as well as its New England chapter.
Managing paper is by far the most common issue business clients ask for help with, said Leslie "Jazz" Barnette of Manchester's Jazz Personal Management.
"Business in the U.S. creates more than 30 billion documents each year," she said. "If you don't have a system for dealing with it right away, it will pile up."
Like most organizers, Barnette, also a professional organizer for over nine years and a member of NAPO and NAPO-NE, works closely with her clients focusing on their responsibilities, deadlines and projects, and learning about their personal styles of organizing.
"Everyone is different. I help them create a system that works for them," she said.
Managing paper often goes hand-in-hand with managing space.
For desks that have become dumping grounds, Sheehan suggests a proximity rule, with projects being worked on placed close at hand and less urgent matters placed further away or stored in a file cabinet.
She often uses what she calls "hot files" — hanging file folders within quick reach.
"That way you can put your hands on any current project. When it's done, it goes in the filing cabinet. Desktops are prime real estate," said Sheehan.
Beyond file folders
Like many who work from a home office, Janet Smart, a Londonderry consultant and patent agent for biotechnology start-ups, found that transforming a spare bedroom to a business space was not as easy as it looked. The awkward space and inefficient filing system prompted her to seek Sheehan's assistance.
"My system was working, but not well," said Smart. "It was kind of a hodgepodge of files."
During three meetings, Smart and Sheehan discussed Smart's needs as well as what worked for her and what didn't. She stressed the fact that she needed a filing system that was unique to her and matched her work style. Together, they sorted through Smart's paperwork — much of which is confidential — deciding what needed to be shredded and what was important information. Then, with Sheehan's help, Smart developed a filing system — not based on numbers or the alphabet, but on the priority and frequency of client contact.
"Invariably, I'd be working on one client file and a different client would call and I'd be searching for the right file," said Smart. "For me, organizing my client files by those I work with the most really helped."
Sheehan also suggested shelving in the room's closet to better suit it for office storage space.
Smart also said she was able draw on Sheehan's contacts with other professionals to help with, for instance, the disposal of an old computer, as well as her experience with a variety of organizing products.
"We found a calendar-type product that also allows me to make to-do lists on separate pages for my clients and organize the items by day and by hour," said Smart. "I would have never found such product on my own."
Barnette also stresses keeping electronic information in its digitized form. "So many people print out their e-mail. Sometimes you need to," she said, "but not all the time."
Sometimes, disorganization issues may extend beyond file folders to the workspace.
"Look at your desktop and just keep out what you really use," Barnette recommended. "Sometimes it is just the little things, such as moving a desk or chair, that can make all the difference in the world."
A matter of discipline
Organizing a business can have more positive impacts than just financial. Employee morale, teamwork, even client relations, can be improved as well.
"When there's a system or procedure that is effective in a professional office, work flow can continue during a co-worker's absence. You never know when someone has to leave to take care of a sick child. At least one other person should know where critical files are kept," said Sheehan. "A lot companies don't think that way and keep departments independent from each other."
Barnette also said one person's successful efforts in getting more organized can often rub off on others in the office.
"Getting organized is really about developing new habits and being disciplined enough to put those new habits into place," she said.
Sheehan and Barnette said that experienced organizers in New England typically charge about $65 to $100 per hour, but the cost of hiring a professional organizer can vary widely depending on the region of the country and the scope of the project.
But before hiring a professional organizer, they suggested several points to consider:
• Ask about experience
• Get examples and references from other businesses for which the organizer has worked with and what services were performed.
• Find out if they belong to a professional organization, such as NAPO. It's not required, but it can show the organizer's willingness to keep up on the latest industry developments.
• A professional organizer should never be judgmental and should possess a high degree of discretion as he or she may see sensitive company documents.
To learn more about professional organizers or to find one in your area, visit the Web sites of the National Association of Professional Organizers, napo.net, or the New England chapter of NAPO, napo-newengland.com.