Theobald associate gets 37 months in Ohio case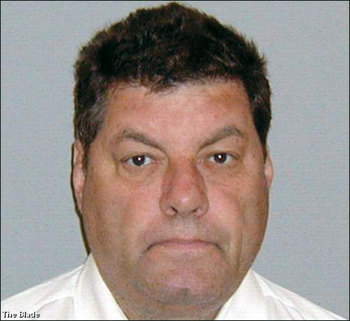 The man who once allowed the former chairman of the New Hampshire Retirement Board to share his office rent-free, was sentenced last month for bribing Ohio officials while he and the former chairman were officemates.
On May 5, Clarke Blizzard was sentenced to 37 months in federal prison after admitting that he paid over $20,000 to benefit Terry Gasper, chief financial officer of the Ohio Bureau of Workers Compensation, with the aim of drumming up business for his clients and his employer, presumably Northwinds Marketing Group.
Gasper himself is a longtime associate of former New Hampshire Retirement Board Chairman Ed Theobald. He was sentenced on May 10 to 64 months in prison after pleading guilty to accepting those bribes, as well as for two other corruption offenses.
Both Blizzard and Gasper have promised to cooperate with state and federal officials. The New Hampshire state attorney general's office – which is conducting an active ongoing criminal investigation of Theobald – would not comment on whether it has questioned the two.
Theobald had "absolutely no knowledge" of [Blizzard's] bribery, and if he knew there was any wrongdoing he "would have severed their relationship," said Theobald's attorney, Lucy Karl.
Karl said that nothing new has been revealed since Theobald lost his post as chairman of the Retirement Board in the fall of 2005, amid a number of conflict-of-interest charges.
An independent report issued for the retirement board, said Karl, "fully vetted the issues, and this matter should have ended. The toll it takes when someone's reputation is at stake, given the ongoing nature of this … Theobald did nothing wrong."
Blizzard admitted paying $20,405 between April 2002 and September 2004 to Gasper, his girlfriend and his children. One $9,005 check – dated July 26, 2004 – was labeled "for Fall Tuition" and was made payable to the college that Gasper's son was attending.
Blizzard also was charged with giving a check of $2,300 to Gasper's girlfriend on April 11, 2002.
During at least some of the period when the bribery was taking place, Blizzard's company, Northwinds Marketing Group, was offering Theobald's company, Maiden Lane Partners, free rent in Northwinds' Boston office.
Although the exact dates are unclear, the two companies were sharing an office by November 2002. That was when American Express told the Retirement Board that Blizzard would be handling the "relationship aspect of American Express Asset Management," a fund that the state retirement system invested in. American Express also told the board to contact Blizzard at his office at 125 Summer St. in Boston. Theobald had been in that office for at least a year and a half by that time.
In September and October 2002 Theobald "met" the new American Express team, including Blizzard in Boston, and in November, Blizzard appeared before the Retirement Board, according to an independent account of Theobald's potential conflicts, which was released last year.
Other legal problems
While Blizzard was bribing Ohio officials, he also was in legal hot water for his role at a former employer – Shawmut Investment Advisers – in marketing money management services to a Teamsters local. The federal Securities and Exchange Commission sanctioned Blizzard in June 2003, fining him nearly $650,000 and suspending his investment adviser's license.
A deal involving the Teamsters and Detroit brokerage East/West Institutional Services — which was part of an alleged kickback scheme — became particularly dicey.
At one point, two of the Detroit brokers, including Christopher P. Roach and Richard S. Tringale, threatened Blizzard for not sending more business their way, according to federal prosecutors. Tringale allegedly said that he would have Blizzard's legs and knees broken, and Roach and Triangle said they would send someone with a baseball bat.
The two also allegedly assaulted Blizzard with a firearm and threatened to kill him.
Both pleaded guilty to federal charges related to the kickback scheme and were sentenced to three years in prison.
Blizzard eventually won an appeal on the matter, but word of the controversy reached Evaluation Associates, which offered advice on potential investments to the retirement board. Evaluation Associates eventually dismissed the controversy because "Clarke was never involved with any asset management responsibilities while with American Express."
(Theobald also had a business relationship with Evaluation Associates outside the New Hampshire retirement system, wooing the company on behalf of Maiden Lane's private clients over lunches for which Maiden Lane would pick up the tab, according to sworn depositions in a lawsuit heard in a New York court involving Maiden Lane.)
Karl said that Theobald was unaware of Blizzard's other legal problems as well.
Meanwhile, Blizzard's relationship with Theobald's firm continued, as evidenced by a $4,000 check from Maiden Lane (still at the Summer Street address) to Blizzard in January 2004.
In August 2004 – a month after writing a check out for Gasper's son's tuition — Blizzard (with the support of Theobald) pitched another company – Technology Venture Partners – before the New Hampshire Retirement Board. The board ended up investing $10 million in the firm, even though Evaluation Associates reported that such an investment would be "a leap of faith." (The Ohio retirement board also invested in Technology Ventures.)
It was shortly after the Technology Ventures investment that Northwinds disclosed it provided Maiden Lane with $4,005.31 of free rent, and some $1,898.09 in meals and entertainment between June 2003 and June 2004. Almost immediately after the disclosure, Theobald, for the first time, disclosed that Maiden Lane shared an office with Northwinds, without mentioning free rent. Neither document mentioned Blizzard by name.
But when Gov. John Lynch replaced Theobald on Oct. 6, 2005, Theobald was mainly faulted for not fully revealing an offer made to him to be appointed to the board of Hermes Technology, even while voting to continue to consider investing in the firm — despite the board's long standing avoidance of investing in a single company. But Theobald never accepted that offer. Instead, he suggested instead that Hermes name to the board his long-term associate, Terry Gasper – the very man Blizzard was at the time bribing.