The youngest, oldest state reps in US hail from Nashua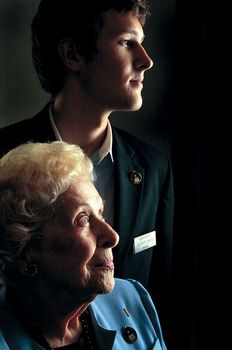 Women couldn't vote when Rep. Angeline Kopka, D-Nashua, was born. Married for 72 years, she remembers World War II and when Hawaii joined the United States.
She remembers Watergate and the fall of the Soviet Union, and she has lived during the reigns of 16 presidents. But she doesn't know what MySpace is and hasn't sent a text message in her life.
Rep. Jeff Fontas, another Nashua Democrat, is a child of the Internet generation, hasn't finished college yet and counts Facebook groups as one of the keys to his election.
Kopka, 92, and Fontas, 21, are the oldest and youngest state representatives in the country, according to the latest issue of the National Conference of State Legislatures magazine.
Both representatives said the diverse viewpoints engendered by that age difference is why the New Hampshire Legislature can make good policy.
Kopka founded Kopka Real Estate, one of the first female-run real-estate offices in the city, in 1953, and ran it for 50 years. She's running for her fourth term representing Nashua's Ward 5.
Although she was always interested in politics and volunteered for several Democratic candidates over the years, Kopka got into the political arena herself late in life. She won her first race in 2002.
"There was an opening, and it was just a natural instinct," Kopka said. "I ran because I felt a need to help. It never entered my mind to retire."
The opposite is the case for Fontas. He's studying political science at Northeastern University. The university allows students to take off two or three six-month periods, called co-ops, to work or volunteer in professional settings for pay and credit.
While most students in his field use the co-ops to work as political aides or in attorneys' offices, Fontas and a friend, Rep. Andrew Edwards, also of Nashua, decided to run for state office.
"We just really felt that our views and our voices weren't being heard on the national or state level," Fontas said. "We really wanted to correct that. It was our responsibility if we felt this way to do something about it.
"It was certainly the best experience you can get from a co-op."
Fontas, who isn't running for a second term, said it took up a lot more time than he expected, but he said he learned how to disagree with other representatives without being confrontational and still get his point across.
"I really thought of things in black and white; conservatives are this and liberals are this," he said. "It really broke a lot of the molds I had created in my mind. It really showed me that there are gray areas on every issue."
Fontas said his biggest success was the passage of a bill that requires the state retirement system to divest itself from any companies doing business in Sudan.
Kopka, a mother of two, grandmother of seven and great-grandmother of "about the same number," said she enjoyed working with Fontas and other young legislators because a mix of perspectives made her job more interesting and her decisions more informed.
"I think the combination is wonderful," she said. "I love to work with young people. I like to hear their ideas. The future leaders will come from our younger people."
Fontas also appreciated the mix of ages and ideas in the Legislature.
"I think that the great thing about it is when you have a diverse group of people in the Legislature, it really exposes you to a lot of views and a lot of ideas," he said. "That's the way to figure out the best policy, to really test everything. I think it's definitely a strength to have that diversity."