The WPA's enduring legacy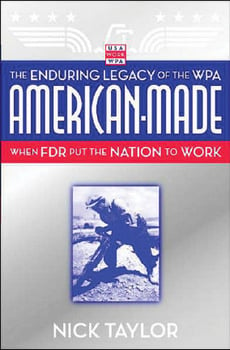 *NOTE: This article was written based on an advanced review copy. Additions, deletions and changes may be included in the published version.
The Great Depression was a time of unprecedented poverty. Few times since the beginning of the nation had so many struggled not just to make ends meet, but simply to live. The only thing seemingly more insurmountable than the Depression itself was how to solve the crisis and put the nation back on the road to prosperity.
One program, with tangled beginnings, unlikely leadership and political vultures on a fiscal feeding frenzy, served as the linchpin in a plan that helped to bring about economic stability: the Works Progress Administration.
"American-Made: The Enduring Legacy of the WPA: When FDR Put the Nation to Work," by Nick Taylor, serves as an in-depth chronicle of the WPA (whose name was later changed to the Work Projects Administration), from its fractious beginnings in 1935 during the height of the Depression to its unceremonious end in 1943, in the middle of America's involvement in World War II.
Taylor opens the book by setting the stage with an engrossing, but sometimes overwhelming, detail of the strained economic situation of America in the 1930s. He minces no words, nor does he hide a deep dislike of the Hoover administration, which preceded Roosevelt's.
Taylor, and many other sources noted in the book, accused Hoover and the Republicans of turning a blind eye to the extreme economic difficulties that occurred in the years following the stock market crash of 1929.
Taylor's exhaustive research illustrates just how precarious the situation was. Not since the Civil War had America came so close to ripping itself apart. Revolution, philosophical and armed, became a distinct possibility.
"When Franklin D. Roosevelt took office as president of the United States in March 1933, as many as 15 million people – a quarter of the nation's workers – had no jobs and no hope of finding one," writes Taylor. "Factoring in their families, this meant that in a nation of 130 million, perhaps 60 million were literally without support."
Within weeks after Roosevelt took office, various relief programs were developed, but these were somewhat temporary in nature and limited in scope. He felt the nation needed something bigger, longer lasting, unprecedented. Enter Harry Hopkins.
Hopkins, a tall, lanky, chain smoker with a penchant for the high life, possessed an unparalleled ability for organization and an almost maniacal work ethic.
Cobbled together from new ideas as well as existing relief programs, the WPA was launched in May 1935, and truly began put a nation back to work.
During its eight years, the WPA built 650,000 miles of roads, 125,000 buildings, served 900 million hot lunches to schoolchildren, presented 225,000 concerts, produced 475,000 works of art — and much more.
Here in New Hampshire, Holman Stadium in Nashua, the terminal building at what is now Manchester-Boston Regional Airport, and Gunstock Mountain Lodge in Laconia are all testaments to the WPA's efforts.
On June 30, 1943, the WPA announced its own demise. America's involvement in World War II more than supplied needed jobs and gave Americans a new cause to rally around.
"One final accomplishment of the WPA's workers must never be forgotten," writes Taylor. "These ordinary men and women proved to be extraordinary beyond all expectation."
An immensely detailed book telling the epic story of an equally immense agency, "American-Made" does an incomparable job of chronicling an important chapter in American history, one which many of us only know from the classroom and some of us know all too well.
Yes, there are flaws. Perhaps fewer pages could have been spent on minutiae, and perhaps a more politically unbiased hand could have been used to separate the devils from the angels in Washington. But there is no doubt the Depression was the greatest disease this country had ever endured and the WPA perhaps its greatest antidote.