The sweet side of New Hampshire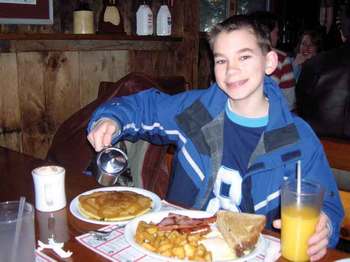 Riding out a New Hampshire winter — happily — takes either a real love for the season or perseverance. Either way, those who choose to do it year after year have undoubtedly adopted their own harbingers of spring – certain signs they look to as promises of warmer weather and longer days.
For some it's the robin's return. For others, it's the growing patches of sleeping earth poking through melting snow. Still others look forward to an annual event that slowly ushers in spring's maple sugar season.
A drive along New Hampshire back roads between late February and mid-April will surely produce scenes of towering sugar maples dressed with silver buckets capturing sap forced through the trees by pressure produced from the freezing and thawing process that takes place when nighttime temperatures fall into the 20s and daytime temps reach into the 40s.
Each year, this clear sugar water yields an average of 90,000 gallons of pure maple syrup in New Hampshire. Each single gallon left over from the steaming of 40 gallons of sap gathered in these buckets or — in the case of larger sugaring operations — through clear tubing running from tree to tree and into sugar shacks.
The sweet runoff is heated in sugarhouses across the state where wood fires cook the sap, leaving behind a sweet and sticky concentration of maple flavor.
Whether it's atop pancakes, drizzled on snow, baked into beans or glazed over a ham, you'll find few foods taste more like New Hampshire than maple syrup. In addition to indulging an ambitious sweet tooth, maple sugar season in New Hampshire presents the perfect opportunity for Granite Staters or visitors to challenge their sense of adventure. It's a time to learn something new, taste something different and visit new places.
The New Hampshire Maple Producers Association lists 78 sugar shacks on its Web site, (nhmapleproducers.com). Each offers maple products, from syrup and candies to mustards and barbecue sauces. A few even offer specialty items, like maple pecans, coffee, pepper and sugar. Gift baskets boasting a collection of maple specialties are common.
Many of the sugar shacks listed on the maple producers' Web site welcome visitors, offering tours of their maple orchards and sugaring operations. Whether the tours are self-guided on foot or conducted from horse-drawn wagons, each offers insight to the process of turning maple sap into maple syrup.
Make a weekend of it
So passionate about maple syrup production are some Granite Staters that, once again, a New Hampshire Maple Weekend is planned.
Organized by the New Hampshire Maple Producers, 50 sugarhouses throughout the state will open their doors to visitors on March 25-26. Many will be offering pancake breakfasts, tours and maple samples during the two-day event.
"March Maple Madness" will be celebrated in the North Country over the weekend, when 10 inns — known collectively as the "Bed and Breakfasts inn Mount Washington Valley" — invite visitors to spend two or three nights with them, indulging their love of all things maple with a weekend of good food, fine lodging and exploration.
"This is a great way to say 'goodbye' to winter and 'hello' to spring and a great reason to really get out and see this part of the state," said Ed Butler, who owns and operates the Notchland Inn in Shelburne with partner Les Schoof.
The two-day event includes a self-guided tour of 10 participating inns, some local small businesses and sugar shacks. Samples of maple-made or related products will be on display at each participating location. Tour tickets and maps are available at participating inns for $15.
Those in need of even more maple madness are encouraged to take part in the "sapanger" hunt, in which participants decipher clues and gather items while touring New Hampshire's North Country with a chance at prizes that include a weekend at one of the participating inns. (For more information visit bbinnmwv.com.)