The sky's the limit for airborne communications firm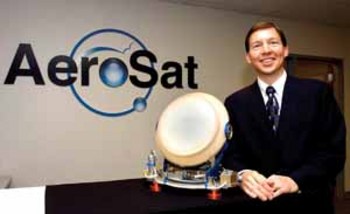 It all started with a simple request from on high: During the Persian Gulf War, President George H.W. Bush wanted to watch CNN on Air Force One – something that was unheard of in 1991.
Fourteen years (and two presidents) later, Bush 41's request has sparked a new concept that could revolutionize mobile TV and the Internet, not to mention emergency communications and air traffic control.
It's all happening inside a nondescript office building on Route 101A in Amherst — the home of Aerosat, a privately held company with 26 employees and a world of upside, according to founder and CEO Mike Barrett. Its big idea is a new technology that would provide broadband access to people on the move — in planes, ships and automobiles.
The Aerosat antenna looks like an extra-clunky set of track lighting mounted on a metal plate. It sells for as much as $500,000 and can transmit incredible amounts of data and withstand the worst weather on earth.
Why does it cost so much? Well, each antenna is custom-built. The copper plate is formed one molecule at a time, around a precision-machined aluminum mold. Each component must meet exacting quality standards, and the same is true for the manufacturing process.
What does it do? It provides the equivalent of 15 T1 lines — a lot of bandwidth. Today, the antennas connect to the existing global satellite network. But in the future, they could be independent, connecting with other planes to form a constantly-shifting yet stable and reliable system, at a lower cost than satellite.
Mike Barrett was a 31-year-old aerospace engineer at Sanders Associates (now BAE Systems) in 1991, when the White House was looking for that airborne CNN. Intrigued by the challenge, he began tackling it on his own time. Five years later, he had a workable antenna.
"I took it to Sanders, but the decision was not to pursue it," recalls Sanders. "So I said, 'Well then, I'd like to do it.'"
He left Sanders and formed his own company with a workforce of one.
Soon thereafter, Barrett took his prototype to Singapore International Airlines. He was given good news and bad news. The airline was impressed, but "they wanted five times the capacity. They said, '88 percent of our communication needs are unmet. Please solve that for us.'" He'd invested five years and $330,000 in his antenna; meeting the new challenge would take another eight years.
For most of that time, "I had no sales, no revenues," he says. "At one point, we ran out of salary. I told my wife we'd have to go on food stamps." His investors bailed him out, either because they cared so much, or because they didn't want their CEO standing in line at the welfare office.
Airline opportunity
Times are better now. Aerosat has some very high-profile customers: several heads of state, and some of the biggest names in the business world. By contract, Barrett is constrained from name-dropping; suffice it to say you'd be impressed.
Now he's trying to bring airlines into the fold. With all the labor disputes and bankruptcies, it might seem like a bad time to be selling a costly feature, but "worldwide, the airline industry is growing at a rapid rate," says Barrett. "The U.S. is a singular market that is frail, and a couple years away from full recovery."
Barrett sees opportunity in the bifurcation of air service. "There are no-frills carriers, but also luxury services for full-fare travelers," he says. "They are offering more amenities, and passenger expectations are increasing."
The low end of the market offers opportunities as well: Barrett points to JetBlue, a carrier that has established a strong brand by offering low fares and frills at the same time.
But there's a lot more to Aerosat than free TV and cheap Internet. Barrett recalls a conversation with the captain of a British Airways flight to London. "He said, 'I have 410 people on board. Heathrow is closed because of bad weather. And every 30 minutes, I get a 30-second weather update by voice. What I want is to see the weather continuously on my screen.' We took it as our mission to meet that need."
Barrett sees broader safety and security applications. Imagine September 11, 2001: "What if you had real-time video in the cockpit, to confirm the right people are in command?" Imagine after an air crash: "Why should you have to dig up the black box to recover the last 45 minutes of information? Why not have the last 45 days, in real time" immediately accessible?
And imagine a new paradigm in air traffic control. "With our system," says Barrett, "six planes could leave an airport within minutes of each other and fly in close formation." Air traffic controllers could "manage one collection rather than six individual planes."
Continuous real-time monitoring "liberates airspace, reduces the workload on the controller and increases safety," says Barrett.
Keep imagining. After Hurricane Katrina, rescue and relief efforts were hampered by broken communication lines. "The planes flying over New Orleans could have provided emergency communication," claims Barrett. Also, "we've been approached about furnishing communications to Inuit villages." They are beyond the reach of land lines, but "they routinely see, every half hour, airplanes flying overhead. You could beam down communications, and they'd have high-speed Internet access."
The upside is huge, but so are the risks. When suggested that in 10 years, Aerosat stock would be selling for either 5 cents or $200, Barrett chuckles and says "That's right." He knows he's in a fiercely competitive, continuously changing business.
Aerosat has been running at capacity for two years, and Barrett is seeking a fresh infusion of venture capital. That effort should get a boost from a recently announced contract with the Federal Aviation Administration: $1.35 million to develop and test the Airborne Internet system. If Aerosat can demonstrate successful performance, it could have a very big partner in the federal government. And there may be a lot more than 26 people working for Mike Barrett.