The public's business: on the NH legislative agenda for March 10-12
Senate to vote on family and medical leave, prescription drugs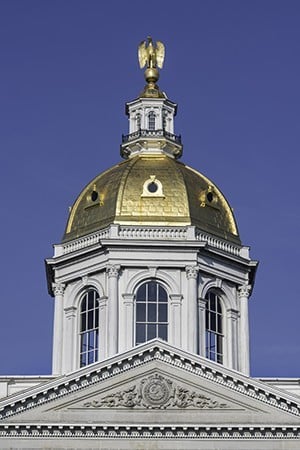 Two visions of paid family and medical leave will be voted on by the full Senate New Hampshire this week. One, a proposal from last year calling for a mandatory program funded by a payroll deduction but free to employers was approved by legislators last year but vetoed by Gov. Chris Sununu is expected to pass. Sununu's version, a voluntary program under which private employers and employees can piggy-back on whatever is negotiated with the state public employees union, will probably be sent to study, a polite way of shelving it.
The Senate will also be voting on such measures as importing drugs from Canada, a bill that has Sununu's support, as well as a number of other prescription drug bills and a $1.50-a-ton trash tax to fund recycling programs.
The House has so many bills to vote on that it will take all day Tuesday just to caucus.   Among the many bills include delaying institution of a single-sales tax factor, which would have helped many New Hampshire companies with businesses in other states, prohibiting providing polystyrene foam and straws to customers without asking, and requiring retailers to collect and recycle plastic bags, allowing municipalities to institute a local rooms and meals tax, requiring landlords to give extra notice for big rent increases, and requiring employers to submit data on gender wage differences so they can be publicized on the state Department of Labor website and requiring vehicles here meet California emissions.
Tuesday, March 10
The Senate Commerce Committee will hold hearings:
At 9 a.m. on Senate Bill 498, which would require the Public Utility Commission to promulgate rules on behind the meter energy storage, including possibly setting a rate that utilities must pay for it if it benefits the grid.
At 9:20 a.m. on SB 499, which would require the Public Utilities Commission to establish electric utility performance incentives and penalty mechanisms, for such things as affordability, reliability and renewable energy.
At 10 a.m. on SB 518, which would expand the benefits low income people of net metering for community solar projects, as well as other provisions encouraging energy storage
At 1 p.m., the Senate Finance Committee will hold a hearing on SB 529, which would establish a workforce development student debt relief program and fund, and authorizes a portion of funds in the New Hampshire excellence in higher education trust fund to be used for this new program.
The Senate Health, Human Services and Elderly Affairs Committee will hold hearings:
At 1 p.m. on SB 420, which would permit qualifying patients and designated caregivers to cultivate cannabis for therapeutic use.
At 2 p.m. on SB 466, which would add sexual orientation, familial status, source of income, source of payment or profession to the patients' bill of rights, meaning that providers can not be denied care because of it. It also allows terminal ill patient to choose who will be able to visit without restriction, including an unmarried partner.
At 2:30 p.m. on SB 647, which would require Medicaid cover telemedicine for substance use disorder
The Senate Commerce Committee will hold hearings:
At 1:15 p.m. on SB 691, which would require that insurers approve prior authorization for prescription drugs, if the process drags on for more than 48 hours
At 9:20 a.m. on SB 531, which would prohibit prior authorization when it comes to emergency room screening and stabilization and transport.
Wednesday, March 11
The Senate Election Law and Municipal Affairs Committee will hold hearings:
At 9 a.m. on SB 457, which would communications districts for bonding (similar to water districts.)
At 9:45 a.m. on SB 424, which would establish a property tax exemption for leased solar energy systems located on residential property.
At 9:45 a.m., the Senate Commerce Committee will hold a hearing on SB 693, which would allow health maintenance organizations to write preferred provider organization products for Medicare Advantage.
The full House will meet Wednesday and Thursday starting at 9 am. Here is what members are expected to vote on:
The full Senate will meet starting at 3 p.m. Wednesday, and 10 a.m. on Thursday Here is the what senators will be voting on: