The Provident Bank
Sullivan Construction showcases new personal banking model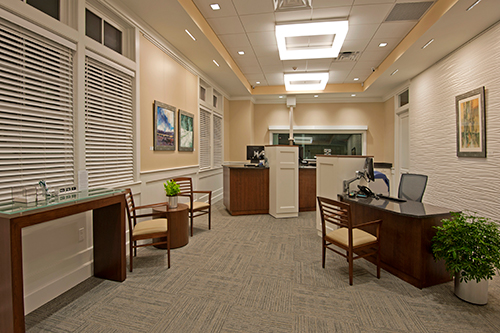 The world of banking is changing, shifting to a much more personal approach to business. So when The Provident Bank began planning its new regional headquarters in Bedford, it needed a forward-thinking construction company to fulfill its vision.
"Working with a forward thinking, innovative construction firm like Sullivan helped us achieve our ambitious goal of building a branch that truly matched today's, and future, requirements of our clients and the experience that we wanted to deliver to them. Additionally, the people at Sullivan were very trustworthy and went out of their way to accommodate our requests as we navigated through the construction and development process. Tom Sullivan and his team come with my highest recommendation," says Chuck Withee, president of The Provident Bank.
Sullivan Construction fit the bill perfectly.
The Bedford company led the design-build role on the unique project, which is located in Goffe Mill Plaza on South River Road. The site was pad-ready when construction began last July, so Sullivan was able to begin digging foundations quickly.
"It's very high-end construction," says Sullivan Construction President Tom Sullivan. "It's a 2,900-square-foot bank with a two-lane drive-through, multiple offices for commercial lenders and refined interior finishes."
An attractive, traditional New England exterior hints at the comfortable, innovative interior. Exceptional millwork and interior trim lent itself perfectly to a new setup for banking. Sullivan said that rather than encountering a traditional line of tellers, customers are greeted by a more personal experience – an open concept retail area designed to make servicing customers easier. This new approach also necessitated different design elements.
"It's personal banking," says Sullivan. "So in that sense it is different. Traditionally, banks have teller lines. This is a new era in banking."
The ribbon cutting ceremony last month was attended by a representative of Sen. Kelly Ayotte's office, Bedford Town Planning Director and Acting Town Manager Rick Sawyer and Bedford Town Councilor Chris Bandazian.
Approximately 150 people were involved in the construction, which was completed early in December. Sullivan credits several project partners with helping it go smoothly. The design-build team included: DeStefano Architects, of Portsmouth, interior designers Stibler Associates, of Manchester, and civil engineers TF Moran, of Bedford.
Working with bank executives also proved to be a welcome experience.
"The cultures of our businesses aligned perfectly – it was a really great mix," Sullivan said of working with The Provident. "There was a good chemistry between our construction and the bank's vision. We helped them to achieve what they were trying to accomplish, as this is the first iteration of their new personal banking model."
Sullivan Construction was founded in 1970, and moved to its 258 South River Road site in Bedford 10 years ago.
"We try to differentiate ourselves and align ourselves with people who see value in the construction process," says Sullivan. "We bring solutions to clients' needs and are proactive in helping them to achieve their goals."
Sullivan Construction is currently working on several projects throughout the state, including the New Morning School in Bedford, a number of projects at the Pease International Tradeport, ongoing projects for Comcast Corp. and Stonewall Kitchen in Dover, NH.
Please visit their website at www.sullivanconstruction.com.