The people's business: On the legislative agenda this week
Senate panel to hold budget hearings, House panels to vote on energy, prescription drugs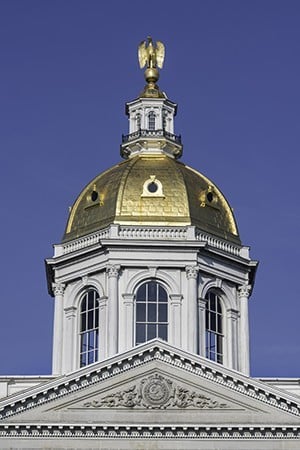 The New Hampshire Senate will hold hearings on the House-passed budget this week as it comes up with its own. It will also hold hearings on legalizing and commercializing marijuana, and a last-minute amendment to save the state's biomass plants. Meanwhile, House committees will be voting on bills on renewable energy and prescription drugs. The full House will be voting on a number of workforce, energy and labor bills, including banning non compete clauses for low wage workers.
Tuesday, May 7
At 9 a.m., The Senate Energy and Natural Resources Committee will hold a hearing on an amendment to House Bill 183 – a microgrid study bill – that would create a "baseload renewable energy credit" to be sold to existing utilities, in order to insure that the biomass plants remain open, in light of Eversource's legal challenge to a law last year that would have forced the utility to buy power at rates favorable to the plants.
Also at 9:
The Senate Judiciary Committee will continue a hearing on HB 481, which would legalize and commercialize recreational marijuana.
The House Science, Technology and Energy Committee plans to vote on
The Senate Commerce Committee will hold hearings:
At 1:15 p.m. on HB 657, which would require health plans offering prescription drug benefits under the managed care law to include on the formulary the drug with the lowest–cost option.
At 2:15 p.m. on HB 703-FN, which requires prescription drug manufacturers to provide certain notice to the office of the attorney general if they are introducing new high-cost prescription drugs.
 From 1 p.m. to 8:00 p.m. , the Senate Finance Committee will hold a hearing on HB 1, the $12.9 billion budget with a $116.7 million rainy day fund and HB 2, the trailer bill. Among the items included:
A rollback of business tax cuts to last year's levels and elimination of future business tax cuts
Extension of the interest and dividends tax to cover capital gains, with increases in the deductions.
Establishment of sports betting via 10 retailers (if approved by the municipality) and online, run by the state Lottery Commission.
Establishment of a mandated paid family and medical insurance program financed though a half percent payroll deduction.
Separating keno from kindergarten funding. Keno money would go into the educational trust fund, and kindergarten would be fully funded from that. There also is an increase in school building aid.
Full funding of the Division of Travel and Tourism budget.
Defining, regulating and taxing the sale of e-cigarettes.
Establishment of a community development fund to provide flexible loan capital for community development initiatives and for one-time capital infrastructure revitalization and strategic investments.
Transfer of the job training program for economic growth from the Department of Business and Economic Affairs to the Department of Employment Security.
An appropriation to the NH Housing Finance Authority for affordable housing.
Extension of the Coos County job creation tax credit until 2027.
An appropriation to the Department of Health and Human Services for rate increases and construction of designated receiving facility beds.
Requiring the Medicaid managed care program to provide dental benefits to covered persons beginning in 2021.
There will also a hearing Thursday evening in Manchester City Hall.
Wednesday, May 8
At 10 a.m., the full House plans to be voting on the following:
Thursday, May 9
The Senate Commerce Committee will hold hearings:
At 9:00 a.m.  on HB 717, which would prohibit prescription drug manufacturers from offering coupons or discounts to cover insurance co-payments or deductibles.
At 9:30 a.m.  in HB 186, which would increase the minimum wage to $12 (and increases the percentage in determining the tipped wage).
Beginning at 10 a.m., the full House plans to vote on:
SB 4, which would put much of the federal Affordable Care Act into state law.
SB 145, which would allows alternative treatment centers, whose main function is providing medical marijuana to patients approved under current state law, to convert from non-profit organizations to for-profit ones.
SB 12, which would establish the New Hampshire college graduate retention incentive partnership (NH GRIP), providing financial incentives to college graduates who are hired by participating employers.
SB 20, which would slightly increase Department of Labor ability to enforce notification requirements for employees and the youth. It would limit youth workers hours during school from 40.25 rather than 48.
SB 146, which would eliminate the waiting period before eligibility to receive unemployment benefits.
SB 22, which would provide an opportunity for municipalities to set their own parameters for construction and rehabilitation economic tax incentives in a place-by-place basis, rather than the whole municipality.
SB 72, which would prevent utilities by getting around the Renewable Energy Certificate (REC) but "sweeping" claiming unclaimed RECs by others. This would increase the price of RECs and help the renewable energy market.
SB 205, which would remove the requirement for legislative approval of system benefits charge changes to increase energy efficiency, but a fifth has to be spent on projects benefiting low-income residents.