The nagging problem of homelessness in New Hampshire
A decade after Manchester's call to arms to end homelessness, the problem has gotten worse statewide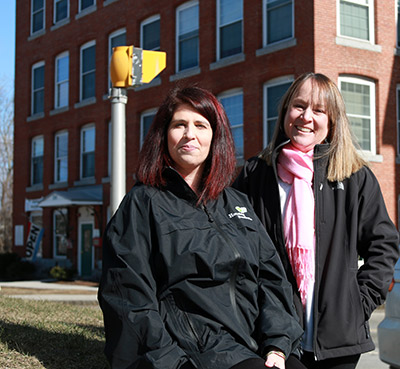 Time flies when you're fighting homelessness. It has already been 10 years since the publication of a report titled, "A Home for Everyone: A 10-Year Plan to End Homelessness in the City of Manchester." The plan was a virtual call to arms to help people living on the streets, sleeping on park benches, under bridges or even staying in emergency shelters into permanent housing and a state of self-sufficiency.
"It is time to take a moral stand in declaring homelessness to be unacceptable in our city," the report declared, in boldface type. While there would always be the need for emergency assistance, the problem of long-term homelessness was described as both solvable and practical.
"Not only is long-term homelessness immoral, it is also unnecessarily costly to communities. Cost studies have demonstrated that it is more expensive to keep people on the streets, incurring the excessive costs of crisis intervention, emergency room health care and revolving-door intervention programs, than it is to provide permanent supported housing that produces much better outcomes."
The report pegged the number of homeless in the city annually at 1,500, "approximately 400 of whom are children."
Significant number
The 10-year plan, outlining a coordinated attack on the problem involving city, state and nonprofit agencies, was issued on Feb. 22, 2008. The decade has gone by, but the problem hasn't. Indeed it may have gotten worse.
"We've actually had the largest number of participants we've ever had," said Tim Soucy, city health officer, who oversees a program of health care for the homeless in Manchester.
The program provides primary health care at the sites of two recently merged nonprofits, Families in Transition and New Horizons for New Hampshire. It deals with a variety of physical and psychological afflictions, along with the all-too-common problem of substance abuse. The city receives "a ballpark figure" of $1.5 million annually for the program, most of it coming from the federal government, with some state funding included.
"That doesn't include the in-kind contributions Catholic Medical Center provides with lab work and other kinds of specialty care," said Soucy.
Just over 1,700 people received treatment of one kind or another in 2017, or a couple of hundred more than the total number of homeless cited in the 2008 10-year plan. Overall numbers, however, are hard to pin down, as various agencies count the homeless differently.
Tim Soucy, public health
director for the City of Manchester.
The city's Department of Health, for example, counts among the homeless those who are "couch surfing" or "doubling up" with relatives or friends for temporary shelter. Other agencies, like the federal Department of Housing and Urban Development, number only those who are unsheltered altogether.
Whatever the count, there are still a significant number of people without homes living in the city. Nashua and Concord are also among the cities that still see chronic homelessness in their communities, despite the adoption several years ago of their own 10-year plans.
In fact, the state of New Hampshire formally adopted a 10-year plan to end homelessness statewide in 2006. Indeed, a national call to end homelessness in 10 years was issued as far back as 2000. The effort was given a boost in 2002, when then-President George W. Bush appointed Philip Margano to head the Interagency Council on Homelessness. Hundreds of cities joined the campaign. Nearly two decades, later chronic homelessness in America persists.
Opioid crisis
"Obviously, we haven't ended homelessness," said Patrick Tufts, president and CEO of Granite United Way. Tufts, co-chair with then-Mayor Frank Guinta of the task force that produced Manchester's 10-year plan, said it did help to focus attention on the problem and spur an increased effort to coordinate the resources of various agencies and programs to address the issue.
"I am very encouraged by the union of New Horizons for New Hampshire and Families in Transition," he said, citing the newly merged nonprofits as a vital component in the "continuum of care" for those in need. Yet during the 10 years since the plan was published, new and unforeseen problems have arisen that have increased the dangers of life "on the street" and likely has increased the number of homeless.
While substance abuse has always been a factor, "I would say that one thing we didn't see on the horizon 10 years ago was the opioid crisis — that's really hit the homeless," Tufts said. "As a city and a state, we're mobilizing around that."
One of the positive results from both state and local efforts to address the problems of homelessness has been a more integrated and coordinated effort among local and nonprofit agencies, said Cathy Kuhn, director of the NH Coalition to End Homelessness.
"Agencies have always collaborated, but over the last 10 years, we've developed a system, an infrastructure, needed for a coordinated assessment of people and their needs in order to get them to the resources appropriate for them," Kuhn said. A key component of that is the 211 phone number that people can dial from anywhere in the state to find where to go in their respective communities to find the help they need.
An unusually severe winter can add to the number of people seeking shelter and strain the resources needed to help them. In warm weather months, the emergency shelter run by New Horizons of New Hampshire might house up to 70 people, said Maureen Beauregard, president of Families in Transition. This winter, more beds had to be added to accommodate as many as 110.
Waiting list
While the New Horizons shelter takes adults only, Families in Transition provides emergency shelter and permanent housing for both individuals and families.
FIT owns or manages 250 units of housing throughout the city. Along with an 11-bedroom emergency family shelter, the nonprofit offers 11 units of intermediary housing and permanent affordable housing for low and moderate-income renters.
Founded in Manchester in 1991, FIT has since branched out to offer housing and other assistance to homeless individuals and families in Concord, Dover and Wolfeboro. Beauregard, FIT's founder, notes that while the number of available units have increased over the years, the number of potential occupants has grown even more. As evidence, she cites "a little over 150 families on a waiting list for 11 units" of housing. While they wait, some are "doubled up" and moving around among homes of families and friends while others, including pregnant women, are "living in cars or living outside in tents."
Providing affordable housing, defined as rents that consume no more than one-third of a family's income, is a formidable challenge in today's housing market, with rents typically at $1,000 or more a month.
While some of FIT's units qualify for HUD Section 8 housing subsidies, the nonprofit relies to a great extent on private donations from individuals and businesses, volunteer work and a variety of fundraising events to keep its operations going. "The community can be very generous to us," Beauregard said.
FIT also runs a Granite Leaders program to enable people who have experienced homelessness to become advocates for others still in need of housing. Chrissy Simonds went through the program after becoming homeless as a result of domestic violence.
"I was pregnant and thinking about leaving when [the child's] father choked me into unconsciousness," she said. Until then, "I didn't know anything about homelessness."
Patrick Tufts, president and CEO of Granite United Way in Manchester.
She stayed with friends for a time, but worried about getting her friends dragged into the middle of her domestic battles. She learned about Families In Transition through Child and Family Services in Manchester. She earned her GED while in transition housing and now has a permanent home on Market Street, in the same building that houses the FIT/New Horizon offices.
'Getting worse'
While domestic violence, mental illness and substance abuse are often cited as contributing causes of homelessness, the extremely tight housing market and soaring rents are pricing many potential tenants out.
"It's a significant problem for any community, especially in southern New Hampshire and the Seacoast where rents are higher," said Patricia Murphy, welfare administrator for the town of Merrimack and president of the NH Local Welfare Administrators' Association.
State law requires municipalities to help people who are destitute, including those who are otherwise unable to obtain shelter. "We do assist people with rent," said Murphy. "That's the number one thing I have to deal with." Despite an expanding economy and low unemployment figures, many employed at $10- or $15-an-hour jobs are unable to pay rents of $1,000 or more a month.
"When the economy is good, rents go up," said Murphy. "It's kind of like a catch-22. You think things are better, but people are still struggling."
"It's definitely getting worse for families," said Ellen Tully, welfare administrator for the city of Portsmouth. "The affordable, available housing in Portsmouth is very minimal."
The vacancy rate in the Port City is less than 1 percent, she said. "We see more homeless families than we ever have before. I look at the amount of money we spent at hotels last year and it was in the $50,000 range. We've spent about $10,000 so far this year, and that's high for us."
The Portsmouth Housing Authority operates most of the more modestly priced rentals in the city, with 600 units of its own and another 400 units of Section 8 housing it administers.
The PHA is, in fact, the city's largest landlord, said Craig Welch, executive director. Demand greatly outruns the supply, however, as Welch reports a waiting list of about 450 would-be tenants.
"Almost all of the new development in Portsmouth has been from private developers, building almost exclusively for a high-rent market," he said.
One new development the housing authority is heralding the construction of a new apartment complex on Court Street for a mix of market-rate and affordable housing among 68 rental units. It is a private development, financed in part by low-income housing tax credits, Welch said.
"The rents there will likely be out of the reach of people who are extremely low-income, but we still think adding to the supply of housing is going to be helpful," said Welch, calling the project the largest development of its kind in the city in nearly 50 years.
Elissa Margolin of Housing Action NH contends the state needs to do more to increase the supply of affordable housing.
"The rental market in New Hampshire has never been this tight or this expensive," said Margolin. "Our message is that workforce retention requires workforce housing and keeping millennials in the state. To do that, we need a more friendly rental market. We need to keep up with the other New England states that provide below-market loans to real estate developers for affordable housing. Rhode Island just bonded $25 million."
According to Margolin, Vermont has bonded $35 million in addition to another $10 million a year. Maine bonded $50 million in 2010, and every year commits between $6 million and $12 million to affordable housing. And Massachusetts bonded more than $1 billion over five years.
As for New Hampshire, "We came in with the chamber of commerce and asked for $25 million and got $2.5 million."
"Surely, across the state there needs to be more housing units to accommodate the need," said Bob Quinn, government affairs director for the NH Association of Realtors. "If not, we're just going to continue to see rising rents."
But Quinn sees some of the problem as the result of local zoning regulations and planning board requirements, including minimum acreage and frontage requirements, that impede or prevent the construction of multifamily housing.
"There's this fear and concern for those sorts of developments, that it will invite more children into the community and that means up go the school costs that get shifted onto the property taxpayer. What we've seen is the exact opposite," Quinn said, contending that an increased housing supply is needed for a growing workforce and expanding business opportunities.
"A lot of communities have had the most vibrant economic development where families and children are moving in," he said.
Same problems
Manchester developer Dick Anagnost, who has built 500 units of affordable housing in the Queen City, said Manchester has done more than most communities to accommodate the construction of multifamily housing.
"Manchester has the highest per capita multifamily units," Anagnost said, but he contends the city could still do better.
"Zoning in certain places could be changed, to accommodate multifamily housing," he said, adding that there are restricted areas where the infrastructure in place could well accommodate the higher residential density that multifamily housing would bring.
Other communities are far more restrictive, he said, though he declined to identify any he considers to be among the worst offenders. "I can't," he said. "Because then I wouldn't be able to develop there anymore."
In developing Manchester's 10-year plan, the task force looked at how cities in other states are dealing with homelessness. Mark Swann, executive director of Preble Street Resource Center in Portland, Maine, did some consulting with the group. Ten years later, he concedes his city is still confronted by the same problems facing Manchester.
"I wish I could tell you we eradicated the problem. Unfortunately, I can't," he said. Record-high and rapidly rising housing costs have added to the challenges of mental health issues, substance abuse, broken homes and what Swann called "the added layer of the opioid crisis."
"Right now, our challenges include a gentrification process in our city, the likes of which I have never seen in over 25 years. Affordable housing is very scarce," he said.
Preble Street runs a network of six shelters with a total of 400 beds, including facilities designated for people with alcohol and substance abuse problems. The resource center works in partnership with the nonprofit Avest Housing, Maine's largest provider of affordable housing, to move people into permanent housing. The partnership works on a "housing first" basis, an effort to get homeless individuals off the street before dealing with addiction issues.
"We're relying on private funding, church support, bake sales, car washes. There's not a lot of public funding available," Swann said. "When we do have an opening, the most challenging exercise the agency has to go through, really, is choosing who gets their own home." In some cases, he said "it's a life-or-death decision. We know if someone is left behind it could be a tragic situation."
One thing Portland didn't do was adopt a 10-year plan, he said, because he said it would raise false hopes and expectations.
"It's frustrating," Swann said. "People see we still have homelessness and they would like it to go away. So would I. I would be very happy if I didn't have a job tomorrow."