The Currier reopens with a full calendar of events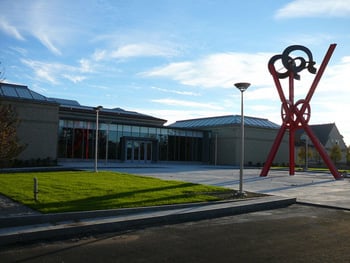 After a 21-month, $21.4 million expansion, the Currier Museum of Art in Manchester is scheduled to reopen to the public on March 30.
In addition to its world-renowned collections of European and American paintings, decorative arts, photographs and sculptures, the museum has nearly doubled its gallery space, allowing it to display more than 11,000 additional pieces, including some by Picasso, Matisse, Monet, O'Keeffe and Warhol.
Other important features of the 33,000-square-foot expansion include the Winter Garden and cafe, illuminated by a large skylight and flanked by a wall drawing commissioned from artist Sol LeWitt, two new classrooms, a 180-seat auditorium, and expanded museum shop.
The Currier also has a new north entrance and outdoor court, which is graced by an enormous abstract sculpture, "Origins," by Mark diSuvero.
Since its original opening in 1929, the Currier has been a community focal point not only for the Queen City, but for New Hampshire as a whole, with education a big part of its mission.
To celebrate the Currier's reopening, a wide variety of special events, programs and classes are planned for the upcoming weeks, including free admission from March 30-April 5.
Here are a few highlights:
March 30-April 5
• Sunday, March 30, 11:30 a.m. and 1:30 p.m., Zimmerman House Tours. Take a tour of the only Frank Lloyd Wright-designed building in New England open to the public. Tours run 11:30 a.m. and 1:30 p.m. daily. Ticketed tours resume April 6.
• Monday, March 31, 1 p.m., "Director's Choice: Intriguing Works of Art at the Currier." Join museum director Susan Strickler for this special public tour focusing on some of her favorites.
• Monday, March 31, 3:30 p.m., "A Curator's Look at Reinstalling a Museum's Collections." Chief curator Andrew Spahr will host this special public tour discussing how new and existing galleries were furnished.
• Wednesday, April 2, 2:30 to 4:30 p.m., Family Studio. Adults and children can drop by one of the new museum studios to participate in an art-related activity. Brief family gallery talks will be held at 3 and 4 p.m. Each Family Studio will focus on a different theme. Visit currier.org for a complete list of upcoming themes and fees.
• Wednesday, April 2, 3:30 p.m., "New Acquisitions in the Contemporary Collections." Assistant curator Sharon Mat Atkins will discuss the museum's new additions to its contemporary collection.
April 6-12
• Wednesday, April 9, 7 p.m., "Speaking of Women." This 45-minute art talk will explore the lives and styles of women artists such as Georgia O'Keeffe, Lila Cabot Perry and Louise Nevelson. Learn how artists have depicted the female subject. Free and open to the public.
April 13-19
• Sunday, April 13, 2 p.m., "ARTalk: Designing the New Currier." Scott Aquilina, project manager from Ann Beha Architects, architects for the Currier expansion, will talk about the firm's approach to the building plan, creating a new look for the museum while still preserving a sense of the past.
• Thursday, April 17, 11 a.m. to noon, New Parent Gallery Talks. These gallery talks are designed for new parents (with baby in tow) to get a personalized tour of the museum. So pack up the baby stroller and stop by for some much needed adult conversation. These talks are offered every third Thursday of the month.
April 20-26
• Sunday, April 20, 1 to 3 p.m., Drawing in the Galleries. Come to the Currier and sketch among the works of art on view. Art educators will be available to offer advice and encouragement. Pencils and paper will be provided, or bring your own. This program is offered every third Sunday of the month.
• Friday, April 25, noon, "Focus Tour: Dutch Art." Currier docent Marilyn Davison will provide an in-depth discussion of works by Dutch artists. These tours are scheduled on the fourth Friday and Sunday afternoons of the month.
April 27-May 3
• Sunday, April 27, tour at 1 p.m., concert at 2 p.m., The Borromeo String Quartet. The critically acclaimed Borromeo String Quartet will perform pieces by Beethoven, Mozart and Bartók. A special tour of works of art made during the lifetimes of these composers will precede the concert, and the quartet will be available for a question-and-answer session after their performance. Tickets: $10 for members, $20 for non-members. Prices include the tour, performance and admission to the museum.
• Sunday, April 27, 3 p.m., "Focus Tour: European and Renaissance Art." Currier docent Fran Gray will lead a tour highlighting pieces from the museum's European and Renaissance collections.
Tickets are $10 adults, $9 seniors 65 and older; $8 students 18 and older; and children 17 years and younger are admitted free. For more information and a complete schedule of events, visit currier.org or call 603-669-6144.