The Currier expansion: on schedule and on budget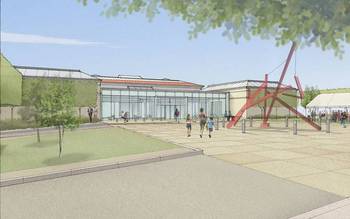 The expansion project currently under way at the Currier Museum of Art in Manchester is on budget and on schedule to reopen in April 2008, according to museum officials.
Still 10 months away from opening, the $21.4 million expansion is better than 60 percent complete, according to Susan Leidy, deputy director of the art museum.
Once completed, the expansion will add 33,000 square feet of space to the facility, allowing museum officials to better address the needs of visitors through more gallery space, advanced educational efforts and expanded amenities.
According to Leidy, the additional gallery space will allow for 50 percent more of the museum's 13,000-piece collection to remain on display for public enjoyment. Two new classrooms will accommodate 120 schoolchildren, and a 180-seat auditorium will provide for larger audiences and presentations.
The towering columns and intricate mosaic located at the museum's original south entrance will add to a dramatic "winter garden" in the center of the museum, creating a backdrop for special events and community programs. This area alone provides the capacity for 125 people for dinner or a cocktail reception for between 300 and 400 people.
New, larger entrances, additional restrooms and a café, museum shop and visitor center also are among the anticipated improvements.
A capital campaign to raise the $13.4 million needed for the project is "getting close" to its goal, according to Karen Tebbenhoff, public relations and marketing manager at the Currier. Museum officials will bond the remaining $8 million needed to fund the project, she said.
A $43 million bequest made in 2001 by Henry Melville Fuller will be used to cover operating costs and add to the museum's collection.
Years in planning, the current expansion project began last summer. Doors closed to the public on June 27, 2006, but since then museum programs have remained active throughout the state. "Currier on the Move" has made more than 300 visits to schools and communities throughout the state, bringing the Currier's art education and events to residents from southern New Hampshire to the Great North Woods.
A "Currier Downtown" branch, located next to the Palace Theater on Hanover Street in Manchester, continues to offer art-making activities and family programs, including "Family Wednesdays."
Tours of Frank Lloyd Wright's Zimmerman House in Manchester are ongoing and leave from Currier Downtown.
Many pieces from the Currier Museum of Art's collection remain on display at the Portland Museum of Art in Portland, Maine, and at the Hood Museum at Dartmouth College in Hanover.
For ongoing updates on the Currier Museum of Art expansion project or for information on ongoing programs, visit the museum's Web site at currier.org.