The business case for 'Making Diversity Work'
Ultimately, attracting and retaining diverse talent matters to all of us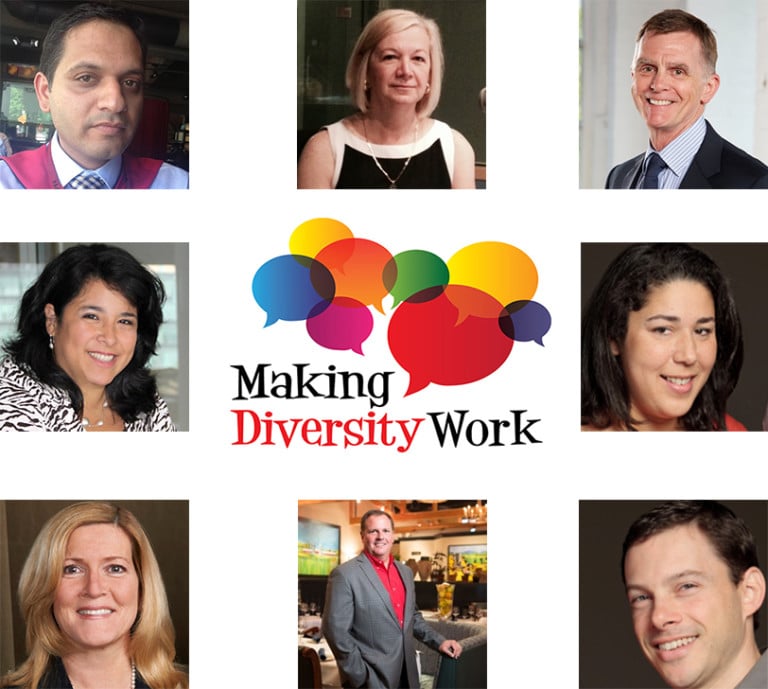 When Manny Content was 5 years old, his parents immigrated to New Hampshire from Haiti, taking jobs in the Manchester Millyard. Both parents worked shifts at the mill, and the family of seven squeezed into run-down millworker housing nearby.
Some of Manny's most vivid memories of those years are of laundry day, when he and his siblings carried dirty clothes to the laundromat, and waited patiently until all the white customers had used the washers first. Once the clothes were clean, Manny and his brother lugged the wet, heavy clothes back to their walk-up, hanging them to dry wherever a free spot could be found.
Manny Content's story sounds like a classic post-war immigrant tale. But Manny and his family arrived in Manchester in 1978.
Today, Content is the multi-cultural segment manager for Coca-Cola of Northern New England. And while his personal circumstances have changed, he still sees immigrants struggling with many of the same challenges he and his family faced when they arrived: language barriers, discrimination, poverty and limited infrastructure – not to mention culture shock.
And while we often think of New Hampshire as a Yankee state whose families have been here for generations, many a Granite Stater has a similar story of immigrant parents and grandparents arriving from Canada, Italy, Greece, Portugal, Vietnam or the West Indies. Though the century of arrival or the country of origin may differ, the outsider experience has a familiar feel.
These stories, and the continuing challenge of including immigrants in New Hampshire's workforce, encouraged us to partner with NHBR to present the forum, "Making Diversity Work: Recruitment and Retention in the Age of Immigration Reform." This event is being held on Tuesday, January 13 at New Hampshire Institute of Politics at Saint Anselm College from 7:30 – 10:30 a.m.
In writing "A Seat At The Table," our NHBR column on diversity and inclusion over the past two years, we've interviewed business owners, managers, workers and advocates. In many of these conversations, frustration over current immigration policy was a common theme.
Economic impact
While the hand-wringing over President Obama's reform efforts suggests definitive change is on the horizon, history suggests that policy shifts around this issue are only just beginning.
If you ask Tom Boucher of Great New Hampshire Restaurants, changes can't come quickly enough. "It has been difficult with the way they set things up way back when," he says. "It's a mess right now."
Though immigration reform is winning headlines today, Boucher has been wrestling with the issue for years. "My job has changed dramatically from 10 years ago. It has become less about running a restaurant and more about how do I run the business side of the business with regard to laws, regulations and oversight. If I sound frustrated, it's because I get frustrated by laws that are passed by people who have never run a business. It makes it challenging."
With complex policies for sponsorships, visa applications and country-specific regulations, navigating the paperwork and practices to legally engage immigrant talent can be tricky.
Yet Jawed Ali Shaikh, co-owner of Ali Baba's Whole Foods Festival in Manchester, sees a real benefit to putting forth the effort to attract and retain immigrant workers. When you hire immigrants, he says, "you get talent that is dedicated. They have left their families, and they are focused on your business. And you do get really good talent. It is a great reward."
An immigrant himself, Shaikh views the process required to attract the right talent and to secure the required visas as straightforward, as long as you pay attention to detail and document your search for local talent.
"You take interviews, you keep good records of your efforts, and you establish the need your company may have for the worker."
His business partner Ali Faraz agrees, and emphasizes that hiring immigrants is as much about being open minded as it is about navigating paperwork.
"No matter who we are, [it's human nature for us to] discriminate," he says. "But we have to give [immigrant workers] a chance. We don't know what anyone is able to do without giving them a chance."
Immigration attorney John Wilson of GoffWilson believes that kind of open-mindedness is critical not only in creating an inclusive workplace, but in keeping New Hampshire's economy growing. Without enough emerging workers in the state to meet the labor demands of the next decade, immigration hiring is a key strategy to securing a talented and global workforce in New Hampshire.
Ultimately, attracting and retaining diverse talent matters to all of us.
"Making Diversity Work" is for business leaders who see these changes on the horizon, and are looking for a way to stay ahead. We've assembled speakers and panelists whose experience and insights can help you maintain your competitive advantage in this changing labor market.
We hope you join us and thank you for working to make diversity work for your business.