The building site as classroom
MCC students complete new home construction project in Manchester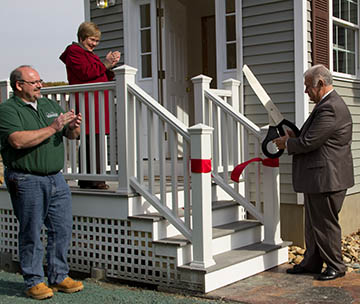 The "For Sale" sign out front is the only piece of this project that is like any other house on the market in Manchester.
Everything else is the result of a one-of-a-kind partnership between the public and private sector. For over a year, Manchester Community College turned the house lot at 308 Straw Rd. into a real-world learning environment.
Over that time, students learned how to build a home from the ground up, every step of the way.
Led by the firm of Manchester-based Duffley Development Corp., a crew of more than two dozen MCC students received both college credit and on-the-job training while building an energy-efficient home on the city's northwest side.
The 2,200-square-foot, Energy Star-rated house is on the market and proceeds from the sale will cover the expenses of the next home project.
"This shows value of public-private partnerships," said Mayor Ted Gatsas, who took part in a ribbon-cutting ceremony at the house.
"The students have enjoyed this from the very start." said David Fischer, professor of building construction technology at MCC. "They got here with nothing but an open area and they worked hand-in-hand pouring concrete and laying steel. They participated in every step. We are trying to build the most energy efficient homes we can to be sold at a reasonable price. This is the first step in a new neighborhood."
Ultimately, the plan is to build eight affordable houses for Manchester families. A new group of students will start the next home as soon as this home sells.
"We are especially thrilled by the partnership of businesses and community leaders that we have forged on this property," says Dr. Susan Huard, President of Manchester Community College. "We look forward to welcoming a family to this house."
Several local businesses donated funds and materials to support the program, including St. Mary's Bank, TF Moran Inc., Milford Lumber Company, Cote Electric, Steve Sarette & Sons Excavation, Alside Supply Center and J&E Walls Systems.