The 2004 guide to holiday gift books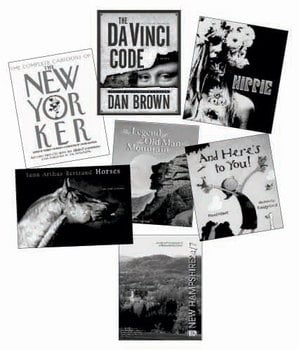 It's time once again for Off The Clock's annual review of gift books for the coming holiday season. Every year I ask booksellers across the state what's new in gorgeous books — books meant to be seen as much as to be read. Always high on the list are books by New Hampshire authors or about our beautiful state, and I have plenty for you.
This year I thought I'd expand the list to include music as well, since listening to boxed sets of CDs by your favorite artists and composers makes a perfect companion to curling up with a beautiful book.
Lois Powers and company from Toadstool Books in Milford came up with these suggestions:
• "Da Vinci Code, Special Illustrated Edition" by Dan Brown (Doubleday, $35): "When you were reading 'The Da Vinci Code' didn't you wish you could see pictures of what he was talking about? … Now you can!" said Powers.
• "Complete Cartoons of the New Yorker" edited by Robert Mankoff (Black Dog & Leventhal Publishers, $60): "At a whopping 655 pages, this tome includes two CDs with all 68,647 cartoons ever published in the magazine. Very oversized … when open, it is the size of a coffee table!" she said.
• "New Hampshire 24/7: Amazing Photographs of an Extraordinary State" (DK Publishers, $24.95): This oversized photography book features a slice of life around the Granite State.
• "The Daily Show with Jon Stewart Presents America (The Book): A Citizen's Guide to Democracy Inaction" by Jon Stewart and the writers of "The Daily Show" (Little, Brown, $24.95): "A satirical look at our democracy, and some truly welcome comic relief in an election year," she said.
• "The Gourmet Cookbook," edited by Ruth Reichl (Houghton Mifflin, $40): Over a thousand recipes – and 1,000 pages — from Gourmet Magazine.
• "Hippie" by Barry Miles (Sterling, $24.95): "The publishers write, 'This fascinating narrative combined with hundreds of photographs, highlights all the social and cultural upheavals of the time as well as quotations from many of the people who lived through and shaped the counterculture,'" said Powers.
• "The Pythons: An Autobiography by the Pythons" by John Cleese, Eric Idle, Michael Palin (St. Martin's Press, $29.95): Powers said, "Monty Python's Flying Circus forever and a day changed the face of television comedy and people are still talking about it."
• "The Surrogate Thief" by Archer Mayor (Mysterious Press, $24.95): The latest from best-selling Vermont author Archer Mayor puts his Vermont sleuth, Joe Gunther, in deadly pursuit of his most elusive nemesis to date. Of Archer, Powers said, "He is the 2004 winner of the New England Book Award for fiction — an award voted on by booksellers all over New England. His books are perpetual best-sellers here at Toadstool."
In addition to "The Gourmet Cookbook" and "The Complete Cartoons of the New Yorker," John LeDonn of Concord's Gibson's Books suggested:
• "Horses" by Yann Arthus-Bertrand (Artisan, $60): "A gorgeous oversized coffee table book from the photographer of the best-selling 'Earth from Above,' with color portraits of horses of all kinds from all around the world."
For the little OTC'ers, Jim Mitchell from Main Street Bookends in Warner recommended:
• "The Legend of the Old Man of the Mountain" by Denise Ortakales (Sleeping Bear Press, $17.95): Written by Laconia resident Ortakales, this illustrated children's book recounts the legend of Mohawk maiden Minerwa, Chief Pemigewasset and New Hampshire's most memorable icon.
• "And Here's to You!" by David Elliott (Candlewick Press, $15.99): "This book, written by Warner author David Elliot, spent three weeks on the New York Times best sellers list this year, reaching No. 3," said Mitchell.
Always great choices for children are works by New Hampshire's poet laureate Marie Harris. Mitchell recommended:
• "G is for Granite: A New Hampshire Alphabet" (Sleeping Bear Press, $17.95).
• "Primary Numbers: A New Hampshire Number Book" (Sleeping Bear Press, $16.95).
Mitchell also suggests several CDs by local artists performing music with a folksy Celtic flare:
• "Beyond the Foothills" by High Range, about $12. "This group of musicians from Strafford plays original Celtic and bluegrass music," said Mitchell.
• "One More Time" by Fat Hands, about $15. Mitchell said, "Brothers Dominic and Walt Kutylowski of Deerfield perform original folk music."
He also recommended the work of musician Steve Schuch of Henniker, who has several CDs of Celtic and Baroque music performed with the Night Heron Consort. Check out his "A Celtic Celebration," volumes 1 and 2, for a British Isles celebration of familiar and lesser-known Yuletide selections. Both albums are about $15.
Toadstool's music guru, Sean Johnson, recommended these boxed CD sets:
• "Martin Scorsese Presents the Blues: A Musical Journey," $69.98.
• Johnny Cash, "Unearthed," $79.98.
• Bob Dylan, "Biograph," $49.98.
• Tony Bennett, "Complete Improv Recordings," $49.98.
• "Broadway: The American Musical," $59.98.
• Beatles, "Capitol Albums, Vol. 1," $69.98.
• "Ken Burns' Jazz: The Study of America's Music," $59.98.
• "Star Wars Trilogy: Episodes IV – VI," $59.98. (And if you know anything about me after reading this column for nearly three years, you KNOW this is at the top of my list!)