Temple soilder uses medical training in Iraq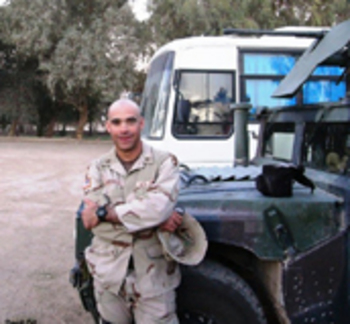 Hours after a snowfall decorated his hometown of Temple, Michael Thibodeau braced for a cold front at his temporary home, Camp Bucca, Iraq.
"The weather's a lot better now. It's in the 90s," the New Hampshire National Guard staff sergeant said Tuesday in a telephone interview.
Triple-digit-degree days are a thing of the past in Iraq, with fall making a push there – a slight push. The rebel insurgency could also feel a lot hotter for Thibodeau, but he is stationed in the southeast near the Kuwait border, a relatively quiet quadrant on the warfront.
Thibodeau, 38, leads four other medics from his military police unit, a detachment of the 172nd Field Artillery. He treats U.S. soldiers and detainees at the camp's prison, assisting a larger active duty unit from Washington state.
He splits time at the MP camp's clinic and the prison clinic, and on occasion he escorts security "We're lucky in this part," Thibodeau said. "We have seen very, very little insurgent activity, and we haven't had any combat-related injuries at my camp."
Since arriving in March as part of an 18-month deployment, Thibodeau said he has treated mostly "the everyday aches and pains" of soldiers, and at the prison he's handled chronic illnesses and any injuries from detainee violence.
"Being where I'm at and doing what we're doing is not at all like what I thought . . . this isn't what we anticipated, working at a prison," he said. "Being in this part of the country, with so little insurgent activity, is a good thing. I'm happy about that."
As his hometown awoke to its first fall snowfall, Thibodeau was winding down his day.
Initially his satellite phone offered poor reception, but then the connection cleared as if he suddenly tied together two hallowed cans and threw one across the globe. He was happy to hear about the powdered flakes, he said when his sentences were no longer distorted.
Temple is where his wife, Heidi, 15-year-old son Nicholas and 14-year-old daughter Gabrielle live. When not serving, Thibodeau would normally drive down Temple Mountain and travel an hour to Southern New Hampshire Medical Center in Nashua.
Thibodeau works as an emergency room nurse, and he credits hospital executives with making his deployment easier. In fact, his nomination won Southern New Hampshire Medical Center a Patriotic Employer Award from the National Guard.
The medical center goes beyond the federal act that mandates soldiers can return to their civilian jobs upon return from duty. The hospital additionally allows soldiers to keep their health benefits and to receive the difference between any military pay and regular base pay for the duration of their active duty.
The hospital changed its policy after the Sept. 11 terrorist attacks, hospital president Tom Wilhelmsen said. Hospital officials realized that reservists would no longer have short domestic commitments but rather extended tours overseas, he said.
"We wanted to do the right thing," Wilhelmsen said. "The right thing is you're called into active duty, and we're grateful to you for making that sacrifice for us."
Thibodeau can "meet my bills and commitments back home. It takes a lot of worry off me," he said.
He joined the Army nearly 20 years ago, serving active duty as a fresh graduate of the former Milford Area High School. He eventually joined the Army Reserve, and has belonged to the National Guard for nine years.
He communicates with his wife using Yahoo! instant messaging, participating in the most revolutionary aspect of this war: soldiers being able to quickly reach out to family and friends.
But the medical unit lacks some of the modern equipment available in the medical center's emergency room, he said.
"The resources are not as good as I have it at work," Thibodeau said. "You make due with a lot less diagnostic equipment, and end up having to make good guesses and assumptions instead of ordering up tests."
Before the larger medical unit from Washington had arrived, Thibodeau's group cared for prisoners with nothing but a stethoscope and blood pressure monitor. "We didn't lose anybody, so we did all right," he joked.
He said the prison is big, but did not specify how many prisoners it holds. Many detainees don't like U.S. soldiers, he said, but "they're not too bad. They realize they're getting taken care of, better then what the former regime ever would have done."
Thibodeau realizes that some prisoners may have attacked U.S. troops, but he goes into "automatic nurse mode" and considers them "human beings that have a problem they need taken care of," he said.
Local residents are happy Saddam Hussein is out of power, Thibodeau said.
"As to how they feel about us, well, we're not getting attacked every day so I guess they are not unpleased."