Teen Center tries to find its place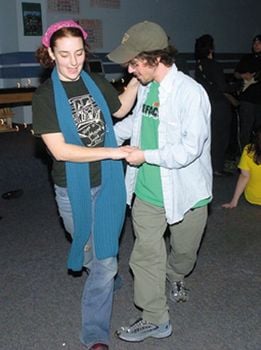 MERRIMACK – Her guitar work didn't wow the crowd, but it was impressive enough considering she taught herself how to play and hasn't been at it very long.
Zoe Dancy, 16, was making her performance debut to a receptive audience of 40 or so fellow teens gathered on a rainy Friday evening. Fearlessly, she dove headfirst into Ani DiFranco's "Both Hands":
i am walking
out in the rain
and i am listening to the low moan
of the dial tone again
and i am getting
nowhere with you
and i can't let it go
and i can't get through . . .
Hoots and passionate applause greeted the Merrimack High School junior when she finished.
"This is really cool," Dancy said to friends who waited to congratulate her.
Yeah, it was. The entire Friday night coffeehouse at the YMCA was cool, considering it was planned and organized by a group of teens working under the light-handed guidance of an adult director and parent advisers.
A dedicated core group of youths form the town's Teen Center. What's remarkable is that there is no center – the Teen Center exists as an organization without a home base and receives no town funding.
Teens have forged ahead, sponsoring coffeehouses, visiting senior citizens, sponsoring floats in parades and all the while hoping that someday they'll have a place to call home.
"The best solution to a problem is to make your own solution, and that's kind of what we're doing here," said Dave LoVerme, 18, a Merrimack High School senior and member of the town's Teen Center board.
LoVerme and other members of the teen board organized and set up the room at the YMCA for the coffeehouse. They ran the show, scheduling the times for performers. They advertised the coffeehouse at Merrimack High School and called or e-mailed 75 to 100 students who responded to a survey distributed this fall at the high school.
The students contacted hadn't participated in an activity but said they might like to. They were personally invited to the coffeehouse.
Of the more than 1,000 students who received the survey, 675 said they would use a drop-in center or attend Teen Center functions.
"The Y is nice to let us use this space," said Tammy Lambrou, the town's teen director. "We try to work with them once a month to have an event."
Lambrou's salary is paid entirely through a Hillsborough County grant awarded to the town. The Board of Selectmen accepted the $13,000 renewable grant and endorsed the Teen Center in principle but has not allocated any town funding.
The center also was awarded a $5,000 grant from Citizens Bank.
When the idea for a Teen Center was proposed to selectmen last year fall, some residents objected. It had been tried in the past and failed, some said. Critics saw it as a potential money pit, draining tax dollars for an unnecessary purpose.
Parents advocating the idea countered that the town needed a center, particularly a place where teens can drop by after school. The center would cater especially to teens who don't participate in sports or band. The idea was to reach out to those kids who typically lack activities outside of school and work, parents said.
The town accepted the grant and Lambrou, 27, was hired for the part-time position overseen by the town's Parks and Recreation Department. She has experience working with Manchester teenagers in a community service and peer mentoring program and also coaches junior varsity volleyball at Merrimack High School.
The board of teenagers and parent advisers who run the center have met at places like the public library, and a meeting is scheduled tonight, in fact. Last year, some meetings were held at the Merrimack Youth Association building, the cramped headquarters for youth sports leagues at Twin Bridges Park.
The MYA building is the first choice for the Teen Center. But the town-owned building needs $75,000 in fire safety and other renovations to bring it up to code.
Lacking money to fund many activities, the teens were left largely to work with the generosity of the YMCA, which donates space for occasional coffee houses and battle-of-the-bands competitions, and to raise money themselves for other projects.
"If we had funding, we'd take bus trips," Lambrou said. She envisions someday taking a group of teens to Nashua Pride baseball or Manchester Monarchs hockey games, or on trips to White Mountain destinations.
In the meantime, teens have hosted events at the YMCA. They've also had a movie night and a Halloween dance, entertained senior citizens and sponsored a float in the town's recent holiday parade, with teens onboard singing carols. So far, the battle of the bands has drawn the most teenagers, with well over 100 attending
"There aren't a whole lot of places for teenagers to go in Merrimack to share music," LoVerme said of the Friday night coffee house.
"It's good, clean fun. Everybody just plays music and has fun," added his friend, Justin Rondeau.
Besides music and dancing, the night included not only free admission but bottled water, pizza and cookies for free.
Rondeau attends Nashua High School North – in fact, he's the Titans mascot. He was one of about a dozen Nashua teens attending the coffeehouse. That's not a problem for Lambrou or parent advisers, who realize friendships don't stop at town borders.
"Nashua doesn't do as much stuff as Merrimack does," Lambrou said.
Early in the evening, most of the Nashua students were huddled together in their own corner of the room. Neither Rondeau nor LoVerme expected that to last.
"By the end of the night, we'll bring them together," LoVerme said.
"We've done it before," Rondeau said.
Parent adviser Betty Mulrey reflected that the coffeehouse seemed a lot more fun than the dances people of her generation remembered, with students lining the sides of school gyms. That was in that era where teenagers didn't attend formal dances in a group. You had to have a date.
"I remember when the prom committee fixed the place up nice, and then half the committee didn't have dates and couldn't go," she said.
This concept was so much more, well, cool.
"To me, the whole point is kids doing something constructive," Mulrey said.
Many Merrimack parents didn't know about the center until they saw the float in the parade or their youngster was called and invited to the coffeehouse, she said.
"A lot of parents were very interested. They'd get on the phone and ask all kinds of questions," Mulrey said. "The response was very positive."
Lambrou believes the Teen Center will really fly once there's an actual center, whether it's the MYA building or somewhere else.
"It all goes back to the building," she said. "We have a lot of creative kids who want to do different things. They want to paint, to hang stuff on the wall.
"Once we have somewhere where they can display what they've been doing, and they know it's going to be available to them every day of the week . . . we're going to see a lot more kids."