TechOut entry deadline: Aug. 28
UNH entrepreneurial studies students to offer due-diligence reports to entrants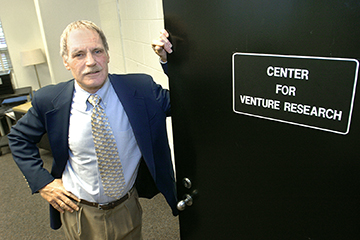 As part of their coursework, students from Professor Jeffrey Sohl's Private Equity/Venture Capital class at the University of New Hampshire's Peter T. Paul College of Business and Economics will perform due diligence on startups vying for a prize through New Hampshire's largest recurring startup competition.
TechOut, jointly organized by the New Hampshire High Tech Council and Alpha Loft, awards $100,000 in funding to three technology startups – and eligible new businesses still have time to apply before the Friday, Aug. 28 deadline.
"TechOut is a great opportunity for the companies who enter because they receive high-level advice and visibility during the selection process, and the top three will walk away with crucial financial support after the competition," said Matt Cookson, NHHTC's executive director. "Working with entrepreneurship students at UNH adds another layer of opportunity via real-life research and an experiential learning opportunity that they otherwise may not get until later in their careers."
The 36 student researchers are seniors in UNH's undergraduate entrepreneurial studies program, which is specifically designed for those who wish to be involved in high-growth ventures as an entrepreneur, employee or investor.
As part of a class exercise, they will provide due-diligence reports back to the companies after the competition and base their reports on not only the documentation provided via the TechOut application and pitchdeck, but also the company's presentation at the competition.
Their goal is for the TechOut competitors to use the reports as they move forward with their ventures.
"TechOut is a great opportunity for our students to gain valuable experience in the world of entrepreneurship and investing," said Sohl, who is also the faculty advisor for the college's entrepreneurship option. "It also affords our students the vehicle to learn more about the robust high tech community in New Hampshire. Our interactions with the business community are a key part of the entrepreneurial studies program and they foster understanding and cooperation between two important parts of our entrepreneurial ecosystem in New Hampshire."
TechOut is open to startups that have been in business for fewer than three years, raised less than $250,000 in funding and have less than $250,000 in revenue. The competition awards $100,000 in prize money: first place receives $50,000, second place $30,000 and third place $20,000. A panel of judges, who take the UNHM students' recommendations into consideration, awards the top two prizes and the third prize, $20,000 cash, is decided entirely by the audience the night of the event, which takes place on Wednesday, Oct. 7, at Dyn in Manchester.
To learn more about TechOut and download an application, visit nhhtc.org.