Technical Needs gives customers workforce flexibility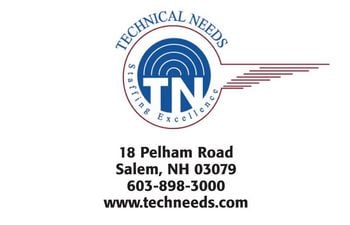 Twice named one of the New Hampshire's five fastest-growing companies, Technical Needs in Salem has put more than 35,500 people to work since 1976, meeting the needs of a wide variety of industries in the four-state region of New Hampshire Massachusetts, Maine and Vermont.
The temporary staffing service provides area businesses with the help they need, when they need it, with a wide range of services, including: administration, customer service, CAD design, drafting, hardware engineering, manufacturing assembly, technicians, networking, help desk and nursing.
To partners Ken and Stephen Gudek, it's no mystery why corporations both large and small continue to partner with Technical Needs.
"It's plain and simple," Stephen says. "Flexibility is what a corporation requires in today's global economy. When a company gets a large order that lasts from three to six months, it's a flexible, contingent workforce that allows them to build their product or perform their service."
Technical Needs employs many talented and highly skilled men and women in engineering and manufacturing facilities, as well as many other disciplines. The company has a core staff of 40, including four who have a combined 130 years of experience in the business. The team is able to recruit the help clients need and to match the skilled labor and professional services with the right companies at just the right time.
"We're sensitive to the needs of our clients," says Stephen. "We respond quickly to their requests and our motto is, 'The job isn't finished until the client is satisfied.' And we have the same commitment to the professional contingent workforce we hire."
The company also has maintained an ongoing commitment to technological as well as professional development in order to serve clients and employees with increasing efficiency.
Its industry-specific software, already the best on the market, will soon offer even greater efficiencies and convenience. By year's end, clients will be able to manage their own accounts with the company by accessing the Technical Needs' own data bank to review contracts, invoices and the number of workers they have on site at any given time.
"We pride ourselves on being ahead of the curve when it comes to technology," Gudek says.
With anywhere from 800 to 1,000 employees at work in four states on any given week, the recruiting, placement and record-keeping responsibilities of the staff are formidable. Yet while other temporary staffing companies suffer high turnover from employee burnout, Technical Needs has retained its employees by recognizing and utilizing their individual skills and by flexibility in managing and scheduling to reasonably accommodate personal and family commitments. The company encourages leadership and initiative by employees and recognizes and rewards achievement.
For the Gudek brothers, it is a matter of carrying on a family tradition that began when their father, Stephen Sr., founded the company 31 years ago. Building the business is about building relationships with both clients and employees.
"When you build relationships on a solid foundation," says Stephen Gudek, "you're bound to be a better partner with your client."
The NHBR Business Profiles section contains content provided by New Hampshire Business Review advertisers.