Tech Tidbits From Around NH
New patent for Resonetics, Dealici app to be launched … and more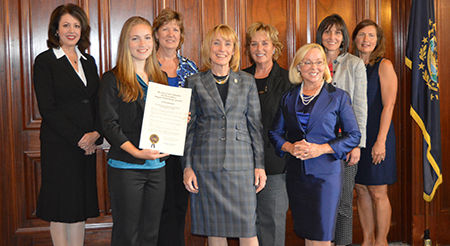 The U.S. Patent Office has granted Nashua-based Resonetics a new patent that aims at addressing the challenges posed by micromachining of medical devices.
Currently, in order to present the work piece to the ablating laser beam, the part must be rotated and translated several times with high precision. The new patent, "Laser Machining System and Method for Machining
Three-Dimensional Objects from a Plurality of Directions," allows the user to switch quickly from one location on a work piece to another by moving the laser beam instead of rotating the work piece. The new method need allows the part to be held steady in one position, making it simpler, lighter and more economical, said the company.
Waterville Valley Resort and Berwick, Maine-based APXnet, a communications service provider, have announced a marketing partnership to bring improved communications to the mountaintop ski area.
Under the agreement, APXnet has delivered the latest in fiber optics to increase the bandwidth serving Waterville Valley Resort by more than 300 percent. The resort now has access to gigabit Internet connections, which were previously not available to the hard-to-reach location.
Dealici, new app created in New Hampshire that offers exclusive discounts on meals from local restaurants, will soon be rolled out nationwide.
Dealici allows users to purchase deals for use right away, during off-peak dining hours. Consumers get to beat the crowds and save money while local restaurants get to fill seats during slow times of the day.
Users who download the app can find deals based on their geo location through different ways. They can search various cuisines, their favorite restaurants or deals on a specific day and time based on their mood and availability. They can also search for the most valuable discount or lowest deal price.
To learn more about dealici and to download, visit dealici.com.
Salem-based Good Leads recently signed Innovation PEI to secure firms interested in outsourcing video gaming development to Prince Edward Island.
Create Digital, a full-service digital marketing agency in Richmond, Va., is now a certified implementation partner with Nashua, NH-based Akumina, a software and web solutions company focused on improving the way clients use Microsoft SharePoint. Create Digital will be able to utilize Akumina's innovative tools to help its clients using Microsoft SharePoint achieve a more efficient, optimized, and valuable experience from their investment.
Manchester-based Dyn has announced the general availability of Internet Intelligence (II), a SaaS-based product that provides companies with a new view of the Internet by looking at performance between a company's customers and its Internet assets. Through a consolidated single view across all Internet assets, II allows companies to accurately manage and deploy to their cloud providers, identify issues in real-time while performing root cause analysis of problems and effects and create plans for how to improve and expand their Internet infrastructure.
Five ski resorts are planning on implementing the New Hampshire-based Adored app – Waterville Valley, Cannon Mountain, Gunstock Mountain Resort, Stowe Mountain Resort and Loon Mountain. Using the Adored beacon, the resorts will be able to gain information about their visitors and tailor different packages and deals towards their interests, and potentially their skill level.
Through Adored, the resorts also will be able to reward their loyal visitors with special deals and get valuable feedback by sending out surveys after the slopes close down.