Tech Tidbits From Around NH
Hyndsight Vision Systems announces headquarters expansion, Dyn plans TechToberFest … and more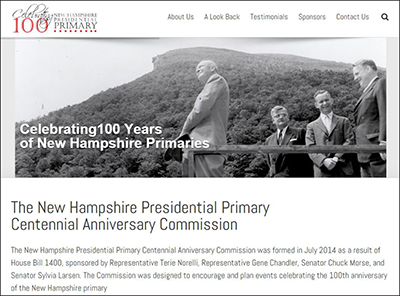 Tonight, at 6 p.m., Alpha Loft and Environment New Hampshire will hold a special Innovation Night, focused on home-grown, clean energy solutions and showcase innovative Granite State solutions in clean energy and green tech. The event will be held at Alpha Loft with refreshments from Milly's Tavern.
The New Hampshire Presidential Primary Centennial Anniversary Commission partnered with the NH High Tech Council to develop a website commemorating the 100th anniversary of the first New Hampshire primary. The site is nhprimary100.org. It contains a history of the New Hampshire primary dating back to 1913, as well as information on past primaries, a photo gallery with images from previous primaries, and a collection of quotes from journalists and past New Hampshire primary participants.
The following businesses served as sponsors to cover the costs of building the website: Boston Finance Group, LLC.; Cookson Strategies; Concord Courtyard by Marriott; Dyn; The Echo Group; Grappone Automotive Group; Foxfire Management; Harvard Pilgrim Health Care; Nanocomp Technologies; Rath, Young, Pignatelli; and Single Digits; Inc.
Dyn will hold a one day Internet-focused event on October 1st, deemed TechToberFest, to bring together industry trendsetters, Internet technology experts and peers for thought provoking discussions on topics ranging from Net Neutrality to CyberSecurity.
Hyndsight Vision Systems, a fast-growing vision technology company located in Peterborough, announced the expansion of its corporate headquarters in order to accommodate continuing growth and future market development plans. The new 7,000-square-foot administrative offices and distribution center are located at 49 Vose Farm Road in Peterborough.
The entry deadline for the startup competition TechOut is Saturday, Aug. 15. Organized jointly by the NH High Tech Council and Alpha Loft, TechOut is a startup competition that identifies talented, hungry tech entrepreneurs and funds them through investment capital awards. $100,000 in funding is awarded at the Oct. 7 competition finale. Applicants can enter at nhhtc.org/nhhtc-events/techout-3/techout-2015/