Tech Tidbits From Around NH
QA Café partners with CounterFlow AI … and more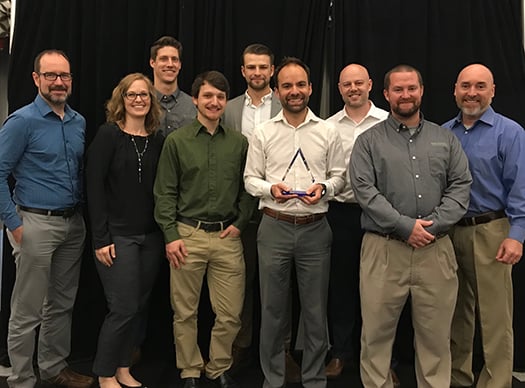 The U.S. House of Representatives recently passed companion legislation to the bipartisan Hassan-Portman Department of Homeland Security Cyber Hunt and Incident Response Teams Act. The bill, introduced by U.S. Sen. Maggie Hassan, D-NH, and Rob Portman, R-Ohio, would bolster cybersecurity by requiring DHS to make permanent the "cyber hunt" and "cyber incident response" teams that work to help prevent cyberattacks on federal agencies and the private sector, and help mitigate the impact of such attacks when they occur.
Adyant Shankar, a 17-year-old junior from Nashua South High School, was awarded Best in Category in Environmental Engineering at the recent Intel International Science and Engineering Fair, a program of Society for Science & the Public. He was recognized for developing a photo catalytic oxidation utilizing doped titanium dioxide for an air purification system, a discovery that he hopes will change the way air and water purity can be more efficiently achieved. Shankar was one of 22 Best of Category winners, winnowed from a field of over 1,800 students. He will receive up to $8,750 in cash awards as a result of his ISEF winnings.
Hudson-based Right Networks' Transaction Pro, a provider of data import/export tools and services for the QuickBooks user community, has launched an affiliate program designed for QuickBooks ProAdvisors, managed service providers and IT consultants. The program features three partner tiers (Silver, Gold and Elite). All partners start at the Silver level, and as affiliates add more referrals, they move up to the next tier. Transaction Pro affiliates can earn 10-to-20% referral fees based on the tier they qualify for through the calendar year, said Joe Dwyer, vice president and general manager of Transaction Pro.
Claro Workforce Analytics of Nashua, a platform that it says helps organizations improve employee retention and hire diverse talent faster, has announced the availability of a new talent market data visualization toolkit that aims to help companies accelerate strategic decisions about talent. Claro said the platform helps organizations perform competitive talent benchmarking and market-mapping, analyze talent supply insights and availability, conduct employee flight risk assessment, enables data-driven workforce planning, and enhances both diversity and veteran recruitment strategies.
Security provider CounterFlow AI of Charlottesville, Va,. has entered into a partnership with QA Cafe, a Portsmouth-based provider of test and analysis software solutions for communication and information technology teams. Under the partnership, QA will integrate its CloudShark technology into CounterFlow AI's solutions, with the goal of improving threat hunting workflows for security practitioners. "We're very excited to work with the CounterFlow AI team," said Erica Johnson, CEO of QA Cafe. "Combining ThreatEye's ultrafast, intelligent capture capabilities with CloudShark's focus on packets and retrospective analysis really creates a seamless, transformative experience for network and security teams."
Hitchiner Manufacturing has received Daimler's top award for quality for supplying the international automobile manufacturer highly complex castings for its turbochargers without a single defect since 2014. In naming Hitchiner the 2018 winner in the Trucks and Buses category, Daimler — owner of Mercedes-Benz and several truck companies that include Freightliner and Western Star – said Hitchiner's record was unparalleled. "These high-precision turbochargers represent the right mix between maximum power gain and high running stability," Daimler said.
Market & Cafe at Emery Farm is the second business to launch a campaign on the IFundWomen crowdfunding platform. The campaign seeks to "kick-start our fresh start" by raising funds for a new space for the business, which is located at the farm – one of the oldest working farms in the country. Funding will be put toward new equipment, furnishings inside and out, point-of-sale systems, marketing initiatives, signage, website improvement – including online ordering capability – and pre-opening salaries, inventory and goods, Market & Café said.