Tech Tidbits From Around NH
Eastern Bank launches Apple Pay, Gemr gets new CEO ... and more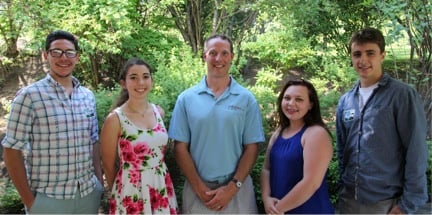 Eastern Bank customers now have access to Apple Pay, Apple's new mobile payments service, of July 28. Apple Pay provides an easy and secure way to pay with an iPhone, iPad or Apple Watch. With Apple Pay, bank customers can add their Eastern Bank Debit MasterCard and use their iPhone 6, iPhone 6 Plus, Apple Watch, iPad Air 2 or iPad mini 3 to pay in person without physically swiping the actual card. Instead, customers can pay by just holding up their device near a contactless reader with their finger on Touch ID or enter a passcode and their transaction will be authenticated in seconds.
"Eastern Bank is committed to making banking easier for our customers by offering innovative technologies such as Apple Pay," said Richard E. Holbrook, chairman and CEO, Eastern Bank. "As more people turn to their mobile device for services of all kinds, we're there to provide the best financial solutions for our customers."
In May 2015, Eastern became the first company in North America and the first bank in the United States to identify callers by the sound of their voice in its Customer Service Center (1-800-EASTERN).
Unified Office, Inc., a managed services provider offering hybrid cloud-based virtual communications services and business analytics, announced that Dufficy Enterprises, a Domino's (DPZ) franchisee with stores in Massachusetts and Rhode Island, has deployed its Total Connect Now service. Dufficy is the first Domino's franchisee to adopt Total Connect Now in the greater Boston area. Total Connect Now is an unified communications service, with a Visual Performance Suite business analytics package, that provides franchise-wide and store-level service performance and actionable intelligence to the franchise owner. Earlier in the year Unified Office signed up Dominos franchisees in the Midwest and in California.
Brannen Huske, former president at Portsmouth-based Gemr, an online collectors marketplace and social community, will now take over the CEO role at the company. Brannen has been working in the startup and mobile space for some time, with companies like Chasma, JumpTap, and Ping4.
Plymouth-based Keene Systems has selected Salem-based Good Leads as their partner to expand its sales pipeline for IT application development services. As a provider of B2B lead generation and IT sales leads, Good Leads will source new business opportunities for Keene Systems throughout the United States.
Dyn's vice president of talent and culture, Colleen Karpinsky Cone, has been named one of Workforce's 25 Game Changers, an award program designed to recognize those in workforce management who are pushing the field forward with innovative people-management practices.
Red River, a provider of IT solutions, recently completed its 9thAnnual Charity Golf Classic at The Quechee Club. This golf tournament raises money for the Red River Technology Foundation, Red River's non-profit charitable organization that focuses on supporting US military veterans' transition into civilian life and encouraging young students to continue an education in Science, Technology, Engineering, and Mathematics (STEM).
The 2015 RRTF scholarship recipients were:
Fall Mountain Regional High School:
Rachel Putnam – Lyndon State College, Major: Graphic Design
Thomas Pilvelait – Harvard University, Major: Computer Science and Physics
Newport High School:
Anthony DiPadova – Dartmouth College
Stevens High School:
Erin Truesdell – Drexel University, Major: Game Art and Production
Erica Pritchett – Suffolk University, Major: Graphic Design
Windsor High School:
Emma Saucier – Vermont Technical College, Major: Mechanical Engineering
Along with monetary awards from RRTF, the students took home new laptops and printers, donated by Dell, to give them a head start in their collegiate studies.