Tech Tidbits From Around NH
Extreme Networks conducts lay offs at Salem location, TwinState Makerspace hosts open house in Claremont ... and more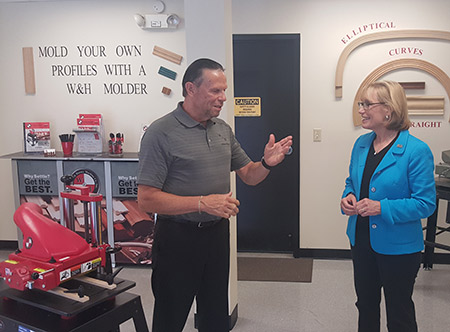 Technology park Gateway Hills will host country singer Tom Dixon for a free outdoor concert today from 5:30 to 7:30 p.m. The concert will take place at 100 Innovative Way in Nashua.
Extreme Networks, a publicly traded company based out of San Jose, Calif., is laying off between 25 and 99 employees at its Salem location at 9 Northeastern Blvd. The company, which provides software-driven networking solutions for enterprise customers, will not comment on the layoffs.
On Tuesday, the IRS announced it is making cybersecurity a priority agenda item for its 2018 Nationwide Tax Forums, publishing a new resource guide to help educate tax professionals on securing client data to thwart security threats. The topic will be addressed at Accountex USA, an independent accounting technology expo that takes place Aug. 22-23 in Boston. At the expo, Dave Kennedy, who once hacked a company in under two minutes on CNN, will perform a live cybersecurity hack. For more information visit https://www.accountexusa.com/.
Rep. Kuster touring the grand opening of the Claremont MakerSpace
Congresswoman Annie Kuster joined Senator Maggie Hassan, Claremont city officials and TwinState MakerSpaces leadership for the grand opening of the TwinState MakerSpace in Claremont, located at the Sawtooth Building. The space received a $250,000 grant from the Northern Border Regional Commission in 2015. The mission of TwinState MakerSpaces is to encourage creativity, innovation, and entrepreneurship, and to empower users with the resources to learn new crafts, explore new technologies, and put form to their ideas. The facility in Claremont, which is joining a growing number of MakerSpaces across the country, offers conventional and hi-tech tools, communal workspace, rentable studio space, training in equipment use and techniques, and events focused on the arts, manufacturing, technology, and entrepreneurship. Kuster is a co-sponsor of the More MakerSpaces Act, which would put in place guidelines for how a federal agency would lease or sell an unused property to be used as a MakerSpace and communicate the potential for MakerSpaces in federal properties.
The New Hampshire Department of Environmental Services invites the public to learn about the air monitoring stations, electric lawn and garden equipment, and electric vehicles. Staff will be available to talk about our statewide air-monitoring network, and to answer any questions about the local ambient air monitoring station. There will be additional displays about the environmental and cost benefits of using electric lawn and garden equipment compared to gasoline-powered lawn and garden equipment, such as 'one hour of use of a gasoline lawn mower is equal to driving 300 miles.' Attendees will have the opportunity to test out NHDES' Kobalt 80 Volt Cordless Electric Lawn Mower, along with the Kobalt 80 Volt String Trimmer. NHDES will also be showcasing an electric vehicle so attendees can experience this exciting technology firsthand.
The events are free and require no registration.
July 11: Concord, 29 Hazen Drive, 10 a.m. to 12 p.m.
July 18: Laconia, Green Street, 10 a.m. to 12 p.m.
July 25: Portsmouth, 20 Pierce Island Road, 10 a.m. to 12 p.m.
August 1: Keene, 140 Water Street, 10 a.m. to 12 p.m.
For more information about these events, contact Emily Collins at Emily.Collins@des.nh.gov or 603-545-7493.
On Wednesday, Senator Maggie Hassan participated in a Senate Commerce, Science, and Transportation Committee hearing, where she questioned Donna Dodson, chief cybersecurity advisor and director of the National Cybersecurity Center of Excellence, in the wake of the cyber vulnerabilities "Spectre" and "Meltdown" that were found in processing chips made by Intel, ARM, and AMD. The vulnerabilities created backdoor ways for hackers to access computer processors produced by these companies, including computers that much of the U.S. government uses. While the computer processor companies were made aware of the vulnerabilities in June 2017, they did not fully disclose the presence of such vulnerabilities to the Department of Homeland Security until January 2018.
SocialWorkGuide.org, a career- and education-focused website that ranks social work degree programs, placed the University of New Hampshire 25th in its list of 49 Best Online Master's in Social Work Programs.