Tech Tidbits From Around NH
Eversound, ValChoice to present at next Entrepreneur Forum, Dell honors Plexxi … and more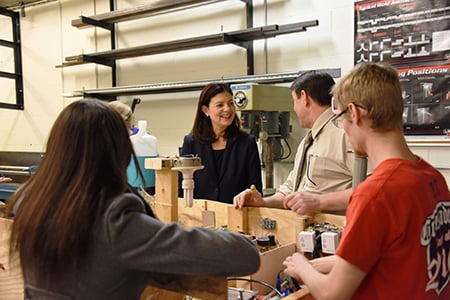 Manchester-based Eversound and Bedford-based ValChoice have been chosen to be the presenters at the NH High Tech Council's next Entrepreneur Forum, which will be held from 5:30 to 8 p.m., Wednesday, Feb. 10, at FIRST Place, 200 Bedford St., Manchester.
Dealici – an ecommerce mobile platform designed to connect local restaurants with customers during off peak dining hours – has been selected as the "SkyDive" presenter.
Each presenting company has 15 minutes to share its business plan, present opportunities and challenges and receive feedback from a panel of experts in their field and the audience. Typically, panelists include at least one investor (angel, venture capitalist, corporate investor or financial institution) appropriate for the stage of the company and the amount of capital being sought. Other panelists are chosen for their familiarity with the industry, technology, marketplace or strategic issues being addressed.
Registration is requested, and tickets are $15 for members, $10 for students and $30 for others. The event includes networking and refreshments, and a cash bar will be available. To register, visit nhhtc.org or call 603-935-8951.
Sponsors for the Entrepreneur Forum are: Autodesk, Cook, Little, Rosenblatt, and Manson, Dyn, Checkmate, TD Bank, the Entrepreneur Foundation of NH, and NH Business Review.
Merrimack-based PC Connection Inc. has declared a special cash dividend of 40 cents per share payable on Jan. 12 to shareholders of record at the close of business on Dec. 29, 2015. The total amount of the special dividend payment will be approximately $10.6 million based on the number of shares outstanding.
CEO Timothy McGrath said, "We believe that this special dividend is an appropriate way to reward shareholders for their support." The company recently reported record third-quarter revenue and net income.
BAE Systems has been selected by the Pentagon to develop protective electronic warfare systems for one of the largest transport aircraft in the military fleet.
The work for C-130J Super Hercules, all of which will be done in at the company's Nashua location, is worth more than $20 million in the first year and is expected to exceed $400 million over the life of the contract.
The Radio Frequency Countermeasures developed by BAE are designed to disrupt the enemy radio signals needed for precision-guided weapons and sensor systems.
The next University of New Hampshire CEO Forum is planned for Thursday, Jan. 21, with guest speaker Suzanne Foster, vice president and general manager of Medtronic Advanced Energy. The session will be held from 8 to 10 a.m. in Huddleston Hall, Durham.
Medtronic is among the world's largest medical technology companies, with more than 85,000 employees worldwide serving physicians, hospitals and patients in more than 160 countries. Their electrosurgical products are designed to assist surgeons in orthopedic, spinal, surgical oncology, plastic/reconstructive, and ENT applications.
For more information, call Barbara Draper at 603-862-1107.
Kevin Cotnoir, senior endpoint specialist for Laconia-based Bank of New Hampshire recently received the 2015 HDI Desktop Support Technician of the Year Northern New England award, which recognizes excellence in technical skill and customer service in the field of desktop support.
HDI is a national organization dedicated to elevating the customer experience through the development of the technical support industry.
The NH Institute of Politics at Saint Anselm College and the NH High Tech Council are teaming up to sponsor on a Jan. 14 program with the Lumina Foundation that will focus on higher education. The Tech Council's executive director, Matt Cookson, Jamie Merisotis, president and CEO of Lumina Foundation and Granite State College President Mark Rubinstein will participate in a panel discussion, moderated by Fred Kocher, owner of Kocher & Company Inc., former president of the NH High Tech Council. For more information, click here.
The University of New Hampshire at Manchester and White Mountains Community College in Berlin are partnering to allow students in certain programs to pay community college tuition rates for a four-year degree.
The program will be available to students with an Associate's degree in criminal justice or information technology from White Mountains Community College. After receiving that degree, students could go on to receive a Bachelor's degree from UNH Manchester while continuing to pay only the Community College tuition costs.
Nashua-based Plexxi Inc. has been named to Dell's Founders 50, a select cohort of startups that are seen as disrupting their respective industries and poised for future success.
Dell recognized Plexxi for the company's high growth and impressive use of innovative technology solutions.