Tech Tidbits From Around New Hampshire
Holt to speak at next TechWomen Power Breakfast, HR Exchange calendar released … and more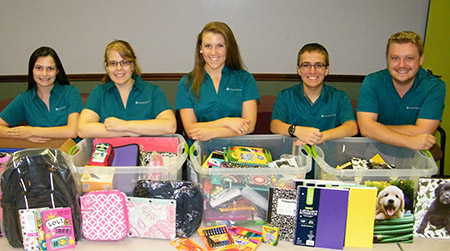 Heat Oracle, a Bedford-based startup that enables consumers to automatically monitor heating oil usage and secure the best pricing available, was among the companies that showcased their products at the 40th annual New England Governors and Eastern Canadian Premiers Conference in August.
The conference feature companies from each state and province in the areas of renewable energy, storage, solar and wind systems.
Greg Hovagim and Louis Trebaol co-founded Heat Oracle in 2015. The company received its provisional international patent in July 2016 and began rolling the product out in August.
Jody Holt, chief financial officer at Single Digits, will speak on "Policies and Practices for a Professionally Fulfilling Life – A Marathon, not a Moment" at the NH High Tech Council's next TechWomen Power Breakfast to be held from 7:30 to 9 a.m. on Wednesday, Sept. 14, from at the Manchester Country Club in Bedford.
The event showcases the different paths many take to finding professional fulfillment in their lives, offers suggestions for setting goals, looks at the benefits of risk-taking and enforces the important lessons that can be learned from peers and colleagues, the council said.
The TechWomen|TechGirls breakfast series is sponsored by Microsoft, TD Bank and Newforma. Tickets are $10 for members of the council and $20 for others, and include breakfast. To register, visit nhhtc.org or call 603-935-8951.
The Live Free or Die Alliance has released its NH Voter Guide 2016 smartphone app for the 2016 state primaries and general election. The free app provides unbiased information about every major candidate seeking state office, from NH House to governor, in the Sept. 13 primaries as well as the Nov. 8 general election.
The NH Voter Guide 2016 mobile app is free and available for Android and iOS mobile devices.
John Whelan, senior director of recruiting for Bedford-based Alexander Technology Group has been named to a three-year term on the board of directors of the NH High Tech Council.
Verizon has launched LTE Advanced technology, which it says can bring 50 percent faster peak wireless data speeds to users, in 461 cities around the country. In New Hampshire, the locations include, Lebanon-Claremont, Keene and Manchester-Nashua.
Tami Erwin, head of operations for Verizon's wireless unit, said LTE Advanced uses software that combines multiple channels to speed mobile data over the network more quickly than ever before.
The NH High Tech Council and the law firm of Sheehan Phinney have announced the dates for their HR Exchange event series.
The Human Resources Exchange breakfast forums are held at 7:30 a.m. at Sheehan Phinney's Manchester office at 1000 Elm St., 17th floor. They are free and open to all HR managers, CEOs, supervisors and other experienced professionals.
The 2016-2017 schedule is:
• Wednesday, Sept. 21: Working Overtime to Comply? Tips on Complying with FSLA OT Regulations with speaker Mark Ventola
• Wednesday, Oct. 19: Does Your Health Plan Need a Checkup? ACA Compliance Update and Guide with speaker Karen Whitley
• Wednesday, Nov. 9: Should you Tip Your Server? HR Guide to Preservation and Disclosure of Electronic Records with speaker J.P. Harris
• Wednesday, Dec. 7: Staying Off the DOL Naughty List: 2016 Top 10 Wage and Hour Violations and How to Avoid Them with speaker Jim Reidy
• Wednesday, Jan. 11, 2017: Less Can Be More: Ten Essential Handbook Policies with speaker Liz Bailey
• Wednesday, Feb. 8, 2017: Are you Following Orders? Compliance with State and Federal Military Leave Laws with speaker Megan Carrier
• Wednesday, March 8, 2017: Do as I Say, Not as You Do: Update on Legal Restrictions on Noncompetition and Related Agreements with speaker Dave McGrath
• Wednesday, April 12, 2017: Getting a Little Spring Back in Your Step? Employers Guide to Light Duty and Related Accommodations with speaker Brian Bouchard
• Wednesday, June 14, 2017: But Wait, There's Still More: Workplace Law Year in Review with speaker Karen Whitley
Registration is required at least one week before the scheduled meeting. Register online at sheehan.com/events, via email to events@sheehan.com or by phone at 603-627-8105.