Tech Tidbits From Around New Hampshire
Single Digits acquires Conn. firm, Nashua Community College adds data analytics degree … and more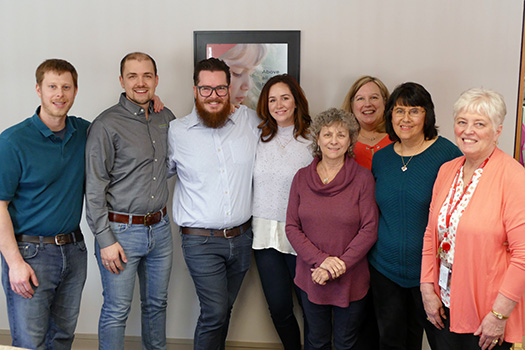 A $299,529 National Science Foundation grant has been awarded to Manchester Community College to support programs to help educate future skilled technical workers, according to a joint announcement from the members of New Hampshire's congressional delegation – U.S. Sens. Jeanne Shaheen and Maggie Hassan and U.S. Reps. Annie Kuster and Chris Pappas.
"I often hear from small business owners in New Hampshire struggling to hire workers with science, technology, engineering and math – or STEM – skills, which is why I'm relieved to see federal funding come back to New Hampshire to help fill that gap in our workforce," said Shaheen.
A survey conducted for financial technology firm Bottomline Technologies of Portsmouth, has found that a majority of bank and a growing number of other businesses will be partnering with fintech firms when it comes to business-to-business payments processing.
According to the 2019 B2B Payments and Working Capital Management Strategies Survey, 76% of banks are either looking to leverage fintech solutions as much as possible for payment-related services and solutions, or are doing so to deliver select niche capabilities to specific customer segments. In addition, 28% of corporations surveyed indicate that they use a non-bank provider for payments, and 32% say they plan to expand their use of fintech payment solutions within the next three years.
The survey polled more than 300 financial professionals from companies of all sizes and industries in North America and Europe.
Bedford-based Single Digits Inc. has completed its acquisition of the guest Wi-Fi business of Resolute Partners of Southington, Conn. As part of the acquisition, Single Digits will be providing high-speed internet access to approximately 100 additional locations in the hospitality, multi-dwelling units healthcare and government sectors throughout.
Single Digits was recently acquired by GI Partners, a leading private equity firm. This is the second acquisition under GI Partners' ownership.
ChartaCloud Robotics today announced that it has begun scheduling reservations for its New England "Summer Time Is Robot Time!" tour for public libraries around the region in July and August. Tour events are provided at no cost to the library. Robotics specialists from ChartaCloud will speak about and demonstrate two robots, a humanoid robot and a telepresence robot during a 60-minute presentation hosted by the libraries. The two featured robots in this year's tour will be the NAO Humanoid and the OHMNI telepresence robots. Libraries interested in using the visit as a fundraising event or donor solicitation event can contact info@chartacloud.com.
The New Hampshire Tech Alliance's 2019 Startup Shindig! will be held from 4:30 to 8 p.m. Thursday, May 30, at the Oracle + Dyn office at 150 Dow St. in Manchester. The event will be a celebration of the 45 startups that have been part of Alpha Loft's Accelerate NH program during its five years of existence. The event will feature pitches from each of the 12 teams in this year's Accelerate NH cohort. For more information, click here.
Jeremy Hitchcock, founder and CEO of Dyn Inc., was recently recognized for his entrepreneurial spirit and commitment to the state and higher education at the 2019 Holloway Innovation-to-Market Competition at the University of New Hampshire. Hitchcock received the Paul J. Holloway Entrepreneur of the Year Award. Hitchcock, who founded the internet infrastructure company in 2001 while a college student, serves as a trustee of Worcester Polytechnic Institute and the Community College System of New Hampshire.
A new certificate in data analytics geared toward working professionals who are considering enhancing their skills or changing careers will be offered this fall at Nashua Community College. The eight-course certificate will be offered in a format that combines classroom and online learning. Five of the courses will have classes on Saturdays and three will have a mixture of online, day and evening classes. The program is currently open for registration, and the deadline to enroll is in early August. To learn more about the contact Christine Morris at 603-578-8900, ext. 1667 or cmorris@ccsnh.edu.