Tech Tidbits From Around New Hampshire
EPTAM acquires Colorado metals company, Vallum receives recognition for interbody spinal fusion device ... and more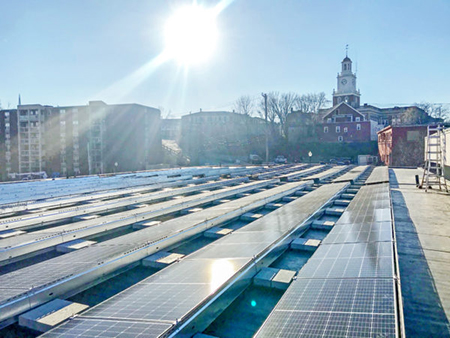 ReVision Energy recently completed a 318-panel rooftop solar array at the New Hampshire Children's Museum and adjacent Dover Indoor Pool, having also donated 103 of the panels. Fifteen municipalities participated in last years's Energize 360 campaign, a grassroots effort aimed at reducing energy use and transitioning to renewable energy. Yankee Thermal Imaging also completed two weatherization projects for area nonprofits.
EPTAM, a full-service precision machining company in Northfield, has acquired substantially all of the assets of Relius Medical, a Colorado Springs, CO-based provider of complex metals machining solutions to the medical device market. The acquisition will broaden EPTAM's core capabilities, enabling the company to better serve its customers with a one-stop-shop solution for precision components. The combined company is being re-branded as EPTAM Precision.
"Introduced to us by a common customer, Relius is the perfect strategic addition to the EPTAM family, allowing EPTAM to offer customers a one-stop-shop for precision manufacturing solutions in both plastics and metals. We are excited to be partnering with Relius and their team," said Dana Waterman, CEO of EPTAM.
Rejjee, a Cambridge-based startup with roots in New Hampshire, has signed a deal with the TSA to help air travelers get their lost items back. Rejjee, an app tied to a lost-and-found database, began four years ago, tracking down stolen bikes for the MBTA. Rejjee has linked with TSA at more than 700 checkpoints in 50 airports across the country, receiving daily information from the TSA. The app does not track lost luggage, which is managed through a different system.
Vallum Corp, a medical device company headquartered in Nashua, has been awarded the 2018 North America New Product Innovation Award from Frost & Sullivan for its interbody spinal fusion device, PEEKplus. Vallum pairs the device with its patented and proprietary Accelerated Neutral Atom Beam technology to augment bone fusion factors. This device plugs the biocompatibility and osseointegration gaps in the current generation of PEEK by leveraging high-performance nanotechnology to enhance bioactivity and catalyze bone formation.
"This groundbreaking innovation is the first and only FDA-cleared nanotextured surface on a PEEK interbody device," said Sowmya Rajagopalan, global program director at Frost & Sullivan.
The Flatley Innovation Center will host its Startup Pitch Night on Tuesday, Jan. 15 from 6 to 7:30 p.m. at the Nashua Tech Park Auditorium, located at 200 Innovative Way. The grand prize is $200 and free incubation space, with $100 and $50 prizes for second and third place. All participants will receive free rent for three months in the Innovation Center. For more information, click here.
The University of New Hampshire is accepting registrations for its Start-Up Career Fair on March 25, from 6 to 8 p.m. in Durham. More info is available here.
Consolidated Communications, Inc., recently announced it has completed more than 500,000 broadband upgrades across Northern New England this year offering faster speeds to residents and small businesses. Upgraded homes and businesses throughout New England will be able to get speeds two to three times faster than what was previously available. Additionally, consumers now have access to the latest, on-demand streaming content including: HBO Now®, DIRECTV NowSM, and fuboTV. The company's MyCCIAccount.com center enables existing customers to place new orders and upgrade services online.
Businesses also are benefiting from new services, such as: Consolidated's Distributed Denial of Service Mitigation (DDoS), a solution that monitors, detects and mitigates the most complex DDoS attacks; SD-WAN, a software-based network technology that provides a simplified management and automation of WAN connections; BusinessOne, a high-speed data and voice solution designed for small and medium-sized businesses; MPLS (Multi-Protocol Label Switching) offering businesses fast, flexible, and secure data transmission for their WAN needs and Cloud Peer Connect, direct, private access to major application service providers.
Lexogen, a transcriptomics and next-generation sequencing company based in Vienna, Austria with a subsidiary in Greenland, NH, is launching a Version 2 upgrade for the TeloPrime Full-Length cDNA Amplification Kit — a method at the forefront of long-read transcriptome-focused studies. Most existing cDNA synthesis protocols lack entirely or have insufficient 5' cap specificity, making analysis of messenger RNA (mRNA) of eukaryotic species incomplete. The 7-methylguanosine cap at the 5' end of mRNA plays an essential role in protecting mRNA from degradation and supports ribosome binding during translation. TeloPrime-amplified cDNA therefore provides a very faithful representation of the mRNA transcriptome, empowering multiple downstream applications such as Next Generation Sequencing, single-molecule sequencing, long-read sequencing, cloning, or Rapid Amplification of cDNA Ends. It enables the detection and correct quantification of splice variants and their true transcription start- and end-sites, in both short and long mRNA molecules.
The Greater Nashua Chamber of Commerce is accepting nominations for its 16th Annual Eminence Awards. Nominations close on Wednesday, January 23. More information available here.