Tech Tidbits From Around New Hampshire
MCC seeks sponsorships for robotics program, Rapid Insight opens second location in Maine ... and more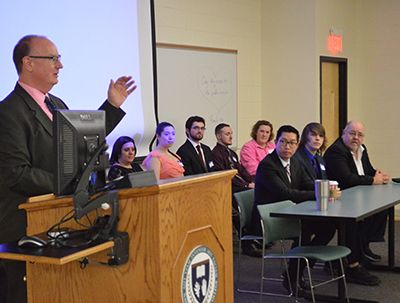 Congresswoman Annie Kuster has brought together both Democrats and Republicans to call for a one-year moratorium on the implementation of an online sales tax for small businesses. The bipartisan call to Speaker Ryan and Leader Pelosi outlines the serious consequences the implementation of an online sales tax would have on small businesses in New Hampshire and across the country. An online sales tax would subject New Hampshire small businesses to more than 9000 separate tax jurisdictions across the country. The letter is signed by Representatives Carol Shea-Porter, Don Young, Peter A. DeFazio, Greg Gianforte and Suzanne Bonamici.
Kuster is a cosponsor of H.R. 6824, the Online Sales Simplicity and Small Business Relief Act, bipartisan legislation that would include an exemption for small businesses that generate less than $10 million in annual U.S. online sales. Kuster has been a vocal opponent of efforts to impose an online sales tax and joined a brief urging the Supreme Court to reject South Dakota's effort to impose sales tax across state lines.
Manchester Community College is seeking tax-deductible donations to assist its Robotics program and community outreach efforts. The college's 2019 goal is to fundraise $8,000 to upgrade the four MCC Robotics VEX U robots to the new V5 control system. It is also seeking other donations to support new IQ robotics teams.
Sponsorship opportunities are listed below:
VEX U Team Sponsorship – $2,000 (4 available)
Teacher or Mentor Sponsorship – $1,500 (8 available)
School VEX IQ Kit Sponsorship – $500 (20 available)
Robotics League Team Registration – $150 (40 available)
Sponsorships are Tax Deductible (Tax ID 90-0531902).
Rapid Insight, an analytics software solutions company based in Conway, has expanded into Maine with a new office in downtown Portland, close to where its new CEO Brett Austin resides. The company will maintain its headquarters in Conway, New Hampshire and recruit top talent for new positions in marketing, sales, data analysis, quality assurance and software development at both offices.
Digital Prospectors, a recruitment, staffing agency in Exeter, has ranked 5th out of the top 50 on GlassDoor's Best Places to Work.
Senator Maggie Hassan has voiced her support for provisions in the 2018 Farm Bill, including increasing funding from $25 million to $350 million per year to expand high-speed internet in rural communities, nearly 15 times the previous amount.
ECT, a Portland, Maine-based firm offering cutting-edge solutions for water and air/vapor, announced today that five of its experts contributed chapters to a groundbreaking new book titled "Perfluoroalkyl Substances in the Environment," which is the first book to provide a holistic view of the complex challenges presented by the emerging compounds per- and polyfluoroalkyl substances (PFAS). In the book, ECT experts details a 2015-2016 pilot test of its technology at the former Pease Air Force Base in Portsmouth. Following the success of the pilot test at Pease, ECT has installed a full-scale treatment system at the base that has now treated more than 12 million gallons of PFAS-contaminated groundwater from the former firefighting training area. ECT currently operates more than 200 sustainable water remediation systems worldwide.
Reflecting on 2018, Comcast announced it has opened seven interactive Xfinity Stores in New England, bringing the regional total to 29. The stores – located from Holyoke, MA to Manchester, NH — are a key part of the company's multi-year strategy to transform the customer experience, and provide a welcoming, state-of-the-art environment for customers to learn to optimize their Xfinity products and services. Items include mobile phones, personalized home Wi-Fi experience with voice control ability and home security and automated home devices and services.
Albany International Corp. recently announced Rick Sharpe as senior vice president of Global Customers and Marketing for Albany Engineered Composites. Sharpe brings more than 20 years of senior leadership experience in the aerospace industry. Prior to joining Albany, he served as Group Vice President and General Manager of B/E Aerospace Consumables Management Division, the world's largest aerospace distributor and supply chain manager, and prior to that as Senior Vice President, Global Customers and Marketing, for Alcoa Fastening Systems, the leading manufacturer of aerospace c-class hardware. Rick has also served as a United States Air Force F-15 fighter pilot, flight commander, and F-15/F-22 fighter training programs manager. Sharpe will emphasize and enhance AEC's brand in the aerospace market, enhance the overall customer experience and accelerate the global growth strategy of the business.
Intelligent.com, an student resource website, has included Southern New Hampshire University in its list of the best online master's in education programs. Southern New Hampshire University was also recently listed by OnlineMasters.com for having one of the Best Online Master's in Forensic Psychology Programs.