Tech Tidbits From Around New Hampshire
National Grid utilizes Nashua company's mobile app platform, NASA awards SBIR grant to Nanocomp Technologies ... and more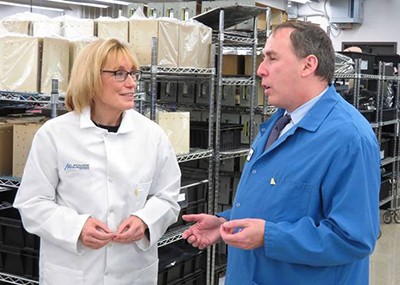 Yesterday, Sen. Maggie Hassan visited Belmont-based Milpower Source, a military power supply technology company, to discuss her efforts to support New Hampshire's innovative businesses and ensure that they have the highly skilled workforce they need to thrive. The senator also highlighted that Congress funded the Defense Department on time this year for the first time in a decade, and how important that is to the country's national defense and defense contractors.
Three-time space shuttle astronaut Richard Searfoss, who was born in Michigan but considered Portsmouth, NH, to be his hometown, has passed away at age 62 at his home in California. Searfoss spent more than 39 days in space. His final spaceflight took place in 1998 via the Columbia space shuttle and focused on the effects of microgravity on the brain and nervous system. For Searfoss' official NASA biography, click here.
Nrby, a Nashua-based company focused on location-based awareness and productivity, announced National Grid is using the Nrby platform to boost efficiencies of its wire down processes. Nrby transformed National Grid's manual, paper-based reports into electronic, automated SmartForms, enabling field technicians to accurately record context-rich information about wire down events in real-time, and for National Grid to report them in accordance with Massachusetts government regulations. Using the Nrby app on their trucks' iPads, National Grid technicians drop a SmartPin representing the downed wire on a map and fill in required information in the SmartPin's SmartForm. That real-time data is automatically collected and stored for reporting compliance.
NASA has awarded a contract to Nanocomp Technologies Inc. of Merrimack for the continued development of high strength carbon nanotube (CNT) material, with the goal of at least doubling the strength of carbon fiber composites in use today. The contract is a Phase III Small Business Innovative Research (SBIR) award funded by NASA's Game Changing Development program, which aims to advance exploratory concepts and deliver transition ready technology solutions to NASA missions and industry. The overall project is managed by the Advanced Materials and Processing Branch in the Research Directorate at NASA's Langley Research Center in Hampton, Virginia.
Southern New Hampshire University has been named by OnlineMasters.com as one of the nation's top 50 programs in the areas of curriculum quality, program flexibility, affordability and graduate outcomes.
Good Leads, a Salem-based technology sales leads provider that supports over 450 tech centric firms, will be attending Autodesk University 2018 held in Las Vegas, NV, Nov. 12-15. Good Leads is a leading provider of outsourced business development services including closing sales, qualified lead generation and qualified voice-to-voice and face-to-face appointments. Autodesk University is home to Autodesk's latest trends and technologies that will have the greatest impact in design and build as well as strategies on driving change through innovation. Many Autodesk partners who Good Leads supports choose to exhibit and announce their latest products for the first time at Autodesk University.
NHADEC, the New Hampshire Aersopace and Defense Export Consortium, will hold a meeting on Thursday, Nov. 1 from 9:30 a.m. to 11:30 a.m., at the Portsmouth Public Library to explain how companies can participate in the direct pipeline to the Irish Defense Forces. To register, click here.
Forbes named Cisco Systems, Oracle, People's United Bank, Thermo Fisher Scientific, Autodesk and Cigna to its Global 2000: World's Best Employers list.