Tech Tidbits From Around New Hampshire
NHADEC announces export financing at members meeting, Dean Bartles accepts position with National Tooling and Machining Association ... and more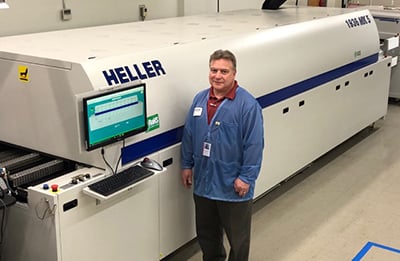 EPE Corporation, a Manchester-based Electronics Manufacturing Services expert since 1965, has continued its strategic investments in technology with the purchase of a new Heller Mark 5 1936 10-zone reflow oven. The Heller 10-zone reflow oven system delivers one of the highest levels of repeatability and temperature accuracies in today's reflow oven marketplace. In addition, it offers high-volume production capabilities with belt speeds up to 1.4 m/min to accommodate the fastest pick and place systems.
Dean Bartles, the former director of the John Olson Advanced Manufacturing Center at the University of New Hampshire, has been appointed president of the National Tooling and Machining Association. Bartles has almost four decades of experience in the manufacturing sector. Previously, he served as a president of the Society of Manufacturing Engineers, president of the North American Research Institute, founding executive director of the Digital Manufacturing & Design Innovation Institute and founding chairman of the Smart Manufacturing Leadership Coalition.
Senet, Inc., a Portsmouth provider of cloud-based software, global connectivity service platforms and network build-out for the Internet of Things, has announced that its Low Power Wide Area Virtual Network (LVN) has been named a 2018 IoT Evolution Product of the Year Award winner by IoT Evolution Magazine. The Senet LVN is an incentive-based 'Connectivity Marketplace' where communication service providers (CSPs), IoT infrastructure providers, solution providers and system integrators partner with Senet to deploy low-cost LoRaWAN gateways and immediately benefit from revenue-share models based on their contribution to the network buildout. This is the second time that Senet has won the IoT Evolution Product of the Year award.
The application deadline for the NH High Tech Council's Product of the Year award is Monday, Sept. 3. The annual event, which is held on Wednesday, Oct. 10, honors outstanding products by New Hampshire's high tech companies. All companies, small and large, are encouraged to submit applications. Winning products will be inducted into the Council's Hall of Fame and will be featured in the lobby of the Manchester-Boston Regional Airport. For information on how to apply, click here.
Alene Candles, a Milford-based full-service contract candle manufacturing, has launched a new employee incentive program as it continues to hire additional team members to meet the demands of its growing business. Eligible current and new employees will enjoy generous sign-on, retention, referral and spot recognition bonuses – ranging from $300 to $1,000.
There are several components to the new employee incentive program, including:
Retention bonus: All full-time, non-exempt employees working in Operations before October 13 will be eligible for a $500 retention bonus awarded in December
Referral bonus: All full-time Alene employees are eligible for a $1,000 referral bonus. An Alene employee must refer a candidate for a full-time, open position, and the hired individual must remain employed for 90 days
Sign-on bonus: New employees hired into "critical positions," such as Production Coordinators, Line Leaders, Zone Owners, Machine Operators, Wax Mixers, Material Handlers, and Quality positions before October 20 will receive a $300 sign-on bonus after 60 days of employment. These employees are also eligible for an additional $200 if they remain employed through December
Spot recognition bonus: Employees who are recognized by their supervisors/managers for going above and beyond are eligible to receive spot recognition bonuses throughout the year
Those interested in learning more about Alene Candles and its open positions can call 603-673-5050 ext. 7210 or email hr@alene.com.
The U.S. Department of Agriculture recently unveiled a new webpage featuring information about the importance of rural e-Connectivity and the ways the USDA is investing to help deploy high-speed broadband infrastructure in rural America.
NHADEC (the New Hampshire Aerospace and Defense Export Consortium) will host a workshop on DFARS and cybersecurity requirements that companies must abide by to conduct business with the Department of Defense or a supplier serving as a prime contractor. Companies must be compliant with 252 regulations under the Defense Federal Acquisition Regulation Supplement. The workshop will be conducted by Pragmatic Consulting and take place on Friday, Sept. 7 from 8 a.m. to 11 a.m., with a cost of $49. To register, click here.
NHADEC will also hold its member meeting on Wednesday, Sept. 19 at the McAuliffe-Shepard Discovery Center in Concord. Members can find out about new market opportunity pipelines — such as a new direct channel to the Irish Defense Forces — a special export finance workshop hosted by the SBA and People's United Bank and more. For more information, contact Dawn Wivell at dwivell@nhadec.com and to register click here.
On Monday, Senator Maggie Hassan (D-NH), a member of the Senate Commerce, Science, and Transportation Committee, led a group of her colleagues from the Committee in urging Chairman of the Federal Communications Commission (FCC) Ajit Pai to maintain focus on maternal health as the Commission moves forward with its proposed Connected Care pilot program. This pilot would support access to care using telehealth. The letter comes after the FCC released a Notice of Inquiry (NOI) on supporting access to health care through telehealth in the Connected Care pilot program.
Jim Wilcox of Granite State Users Group is seeking sponsorships to support Granite State Code Camp, a one day conference held on Saturday, Nov. 3, at Manchester Community College. The event is for the local developer community that focuses on software development. There is no charge for attendees. All speakers volunteer their time to share knowledge with fellow developers. All technology tribes are welcome, and topics are only constrained by what speakers volunteer to present on code. The conference is organized by members of the New Hampshire developer community with the encouragement of the New Hampshire Technical Alliance and fiscal organizational support of Granite State Users Groups, LLC. To contact Jim, email nhcodecamp@outlook.com or visit https://granitestateusersgroups.org/code-camp/
For those considering membership with the New Hampshire High Tech Council, the Council is offering half-year membership fees for July to December 2018. Membership fees are tiered based on company sales, starting at $160 for companies with sales less than $1 million to $350 for companies with sales less than $5 million. For more information on membership fees and what membership entails, click here.
The New Hampshire Joint Engineering Societies will host the 12th annual education conference on Tuesday, October 9 at the Grappone Center in Concord. Afternoon sessions will include presentations by New Hampshire's foremost leaders in the development of the next generation of engineers. Attendance at the all-day conference will earn 7 PDH credits. For more information including registration, contact NHJES President George Fredette at gfredette@sfceng.com.
CanPay, a debit payment solution for the cannabis industry, has spent the last several months rapidly expanding its presence in new U.S. medical marijuana markets, launching its services to 115 cannabis retailers in New York, Pennsylvania, New Hampshire, Massachusetts, Maine, Maryland and Florida, with the goal of extending CanPay's services within these markets and to Rhode Island, New Jersey and Vermont before the end of 2018.
Five New Hampshire companies are asking for votes to help one of them win a year of marketing services from Savoir Faire Marketing/Communications – valued at $75,000. The prize will be given to the company with the most votes. Voting began on Wednesday, August 15.
The five finalists are:
ArgenTech Solutions, Inc., of Newmarket, is a veteran-owned small business providing environmental health assessments, infrastructure inspection, training and security services for the defense and commercial sectors. They utilize high-tech sensors, unmanned aircrafts and software analytics to produce end products crucial to making quality, timely decisions. Vote: https://mymm.co/argentech​
Airex Corporation, of Somersworth, is a third-generation small business offering extensive expertise in engineering innovation and world-class electromagnetic manufacturing. They produce aerospace quality components for military and commercial applications, with the aim of delivering best-in-class technology-based products. Vote: https://mymm.co/airex
​HydroComp, of Durham, creates software products for maritime vehicle designers, which are tested and supported by a team of experienced engineers who demonstrate reliable, detailed results, and a thorough workflow. Designers use the tools to confidently conduct technical calculations to reduce carbon footprints, protect marine mammals, and operate efficiently. Vote: https://mymm.co/hydrocomp
SFC Engineering Partnership, Inc., (SFC), of Windham, is a multi-disciplined engineering consulting firm that provides Structural, Fire Protection and Civil Engineering, Surveying, and Accessibility Consultation to private, commercial, industrial and municipal markets. SFC offers services including roadway improvements, utilities and drainage design, building design, permitting, sprinkler and alarm design, site planning, feasibility studies, infrastructure improvements, accessibility consultation and design, plan code review, and construction administration. Vote: https://mymm.co/sfcengineering
Tech Needs, of Salem, began in a family member's garage and has been serving New England communities by streamlining the job search process for those seeking employment. Tech Needs also assists local employers find talent to grow their businesses and the local economy. Vote: https://mymm.co/techneeds