Tech Tidbits From Around New Hampshire
CVS Health announces MinuteClinic Video Visits, Alpha Lofts to host lunch seminar on R&D tax credit ... and more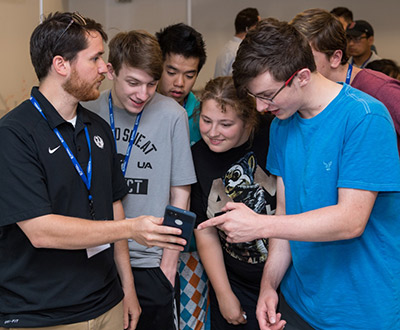 A grant from BAE Systems and the commitment of seven of the company's engineers enabled 14 New Hampshire students to build a driverless remote-control car through the BAE Systems Summer STEM Scholars, a new initiative within Tech Camp at the University of New Hampshire. The students, all entering the 11th or 12th grade from the Nashua and Manchester areas, learned important problem-solving skills and how science and math are applied in real life engineering projects. They also learned important information about the college process and available careers for those studying in the STEM fields. Campers also toured the BAE Systems Electronic Systems headquarters facility in Nashua.
Newington-based Sig Sauer Inc. took home Golden Triggr Awards for two of the three categories in late July at TriggrCon, which showcases the newest, most innovative products in the firearms industry. The SIG SAUER P365 was awarded the Award for Innovation in Firearms. The P365 is an everyday, concealed carry pistol. This micro-compact pistol is smaller and lighter than other pistols in its class. The SIG SAUER Electro-Optic Ballistic Data Xchange (BDX) was awarded the Innovation in Optics award. BDX is a fully integrated rangefinder and riflescope system that utilizes Applied Ballistics Ultralight and Bluetooth to calculate and illuminate the exact holdover dot for the perfect shot.
CVS Health announced yesterday that MinuteClinic, the company's retail medical clinic, is rolling out a new virtual health care offering for patients with minor illnesses and injuries, skin conditions and other wellness needs in nine states including New Hampshire. MinuteClinic Video Visits, a telehealth offering, will provide patients with access to health care services 24 hours a day, seven days a week from their mobile device for $59. Each patient will complete a health questionnaire, then be matched to a board-certified health care provider licensed in their state, who will review the completed questionnaire with the patient's medical history, and proceed with the video-enabled visit.
The New Hampshire Joint Engineering Societies will host the 12th annual education conference on Tuesday, October 9 at the Grappone Center in Concord. Afternoon sessions will include presentations by New Hampshire's foremost leaders in the development of the next generation of engineers. Attendance at the all-day conference will earn 7 PDH credits. For more information including registration, contact NHJES President George Fredette at gfredette@sfceng.com.
Alpha Loft in Portsmouth will host its Lunch & Learn on The Research and Development Tax Credit on Tuesday, Aug. 21 at noon. Until recently, startup companies investing in new or improved products had been unable to take advantage of the R&D tax credit. Tax professional Max Vignola of Bedford Cost Segregation will discuss what the R&D tax credit is and how it can now help startups potentially meet their next milestone in development and business growth. To register for the free event, click here.
The Center for Translation of Rehabilitation Engineering Advances and Technology (TREAT) at Dartmouth College was presented with the 2018 Leadership Award from RESNA, the Rehabilitation Engineering and Assistive Technology Society of North America at the organization's annual conference in Arlington, VA. The Leadership Award, recognizing TREAT for their significant contributions to the advancement of the field of assistive technology and rehabilitation engineering and ongoing recognition and support of RESNA, was presented to TREAT Co-Director Richard Greenwald, PhD, at the awards luncheon on July 14.
NH-INBRE will hold its annual meeting on Monday and Tuesday, Aug. 13 and 14 at the Mount Washington Hotel. Life sciences businesses are invited to meet approximately 90 students from eight New Hampshire colleges and universities, including Keene State College and Dartmouth College, who are doing undergraduate biomedical research funded by the National Institutes of Health through the NH-INBRE program. Students will present poster sessions as well as formal presentations to an audience of about 200 faculty and students. There is no cost to attend the event, though attendees can reference NH-INBRE for reduced lodging rates. For more information about the agenda click here. To register for the free event, click here.
One Source Security and Automation, Inc., a security systems integrator in Merrimack, recently hired Brad Peskovitz as a sales manager and David Rettig as a sales consultant. As seasoned veterans they have almost 30 years experience in the security, access control and video surveillance industry.
Senators Maggie Hassan (D-NH) and Cory Gardner (R-CO) recently introduced the bipartisan AIRWAVES Act in order encourage the federal government to continue to free up spectrum for commercially licensed and unlicensed use and leverage the success of spectrum auctions to help close the urban-rural divide. Recently during a Senate Commerce Committee hearing, Senator Hassan entered a letter into the Congressional Record from 16 different industry and public interest groups who support the AIRWAVES Act, including Cellular Telecommunications Industry Association (CTIA), the American Library Association, and Public Knowledge.
AT&T recently highlighted its investment of more than $60 million dollars into its New Hampshire wireless and wired networks from 2015 to 2017, to boost reliability, coverage, speed and overall performance. Notable New Hampshire network enhancements in 2017 included 63 bandwidth expansions, 53 new additional carriers and one new transmission site. The build out has also layed the foundation for 5G, the next advancement in network technologies.
Alpha Loft is accepting applications for its Startup Fundamentals 6-week course, which provides intensive instruction in many aspects of building a startup including evaluating ideas, business models, value propositions, product/market fit, customers, revenue models, financing, pitching and more. Applications are due by Aug. 20
The Ethernet Alliance, a global consortium dedicated to the continued success and advancement of Ethernet technologies, will be holding The Ethernet Alliance Higher Speed Networking Plugfest the week of August 13, 2018 at the University of New Hampshire InterOperability Laboratory in Durham. The event will focus on improving interoperability of Ethernet equipment at port data rates ranging from 25 Gigabits per second to 400 Gb/s, the testing matrix encompasses technologies based upon both recently completed and soon-to-be ratified IEEE standards.
The Pete Kilpatrick Band will play on Aug. 23 at Gateway Hill's 2018 Summer Concert Series. The technology park holds concerns at its outdoor ampitheatre at 100 Innovative Way in Nashua. The free concert will begin at 5:30 p.m. To register visit www.gateway-hills.com/events.
Atlantic Broadband recently announced the availability of Gigabit internet service and new, faster business internet speeds in New Hampshire. Both GigaEdge (residential) and Pro GigaEdge (business) services are now available for homes and businesses in Atlantic Broadband's New Hampshire footprint, including Alexandria, Bristol, Bridgewater, Alton, Alton Bay, Barnstead, Barrington, Belmont, Center Barnstead, Center Harbor, Center Strafford, Deerfield, Epsom, Farmington, Franklin, Gilford, Gilmanton, Gilmanton Iron Works, Hebron, Laconia, Meredith, Milton, Milton Mills, New Durham, New Hampton, Northwood, Pittsfield, Rochester, Sanbornton, Strafford, Tilton-Northfield, Winnisquam, Wolfeboro, and Wolfeboro Falls. GigaEdge's enables customers to download a two-hour High Definition movie in 32 seconds and send a large file (250 MB) in 40 seconds.​