Tech Tidbits From Around New Hampshire
Manchester Police Department purchases public safety software, DLL Solutions merges with Massachusetts electronics development firm ... and more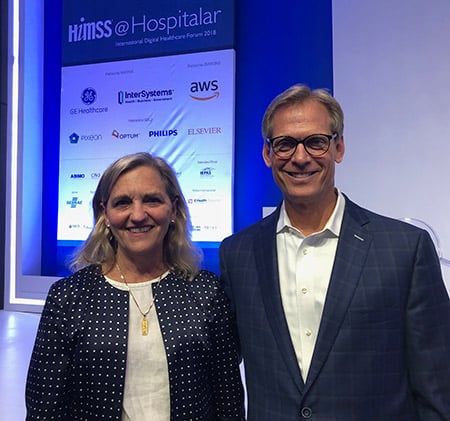 Andy McMillan, chair of the advisory board at Cirtronics, an experienced robotics contract manufacturer located in Milford, NH, hosted a panel of three senior robotics executives at the Inaugural Robotics Summit and Showcase in Boston, MA on May 23rd. The experts shared their perspectives on how Design for Manufacturing (DFx) can assist in facilitating successful outsourced production of robotic devices. Although the three companies design and sell robots for very different markets, all of them rely on DFx to optimize product design, supply chain, and assembly processes to simplify, accelerate and reduce the cost of manufacturing. "The goal of DFx is to achieve alignment between the design of a product and production processes in order to yield optimized cost and quality", said McMillan.
The Provident Bank's President and Chief Lending Officer, Chuck Withee, and Senior Vice President, International Finance Officer, Leanne Spees, presented at three different seminars last month at Hospitalar, one of the largest medical tradeshows in Brazil, attracting 90,000 attendees from 70 countries. "The exporter session was well attended and had some interested parties relative to the Export Import Bank Working Capital offerings, particularly Work In Process inventory financing," says Withee. "Some were unaware of the term loan product for importers and the benefits that accrue to the exporters. They were particularly interested in the predictability of payment and the competitive loan structure and pricing that could help facilitate their Capital Equipment sales. It was a very productive session and we look forward to continuing the conversation."
Earlier this week, 16 organizations, including CTIA, Public Knowledge, the American Library Association and the Competitive Carriers Association, sent a letter in support of Senator Maggie Hassan's bipartisan AIRWAVES Act. The bipartisan measure that Senator Hassan introduced with Senator Cory Gardner (R-CO), would promote innovation by encouraging the federal government to continue to free up spectrum for commercial licensed and unlicensed use and leverage the success of spectrum auctions to invest in broadband in rural areas.
Daniel Cronin of CGI Business Solutions and Michael Schultz of Consolidated Communications have been elected as new officers and board members to the Business and Industry Association.
The University of New Hampshire InterOperability Laboratory has received generous donations from industry partners Dell EMC, Verizon, Alexander Technology Group, Cisco, HPE, Liberty Mutual, QA Cafe and Senet to support the expansion of HighTech Bound, its high school summer internship program. HighTech Bound is a unique opportunity for high school juniors entering their senior year to gain experience working in the laboratory with dedicated mentors. The UNH-IOL, an independent provider of broad-based testing and standards conformance solutions for the networking industry, has hired a record number of 14 interns for the four-week summer internship due to donor support. HighTech Bound can serve as a stepping stone for students interested in computer science or electrical engineering who hope to attend the University of New Hampshire following high school.
Cisco, Colliers International, Comcast NBCUniversal, Fidelity Investments, Medtronic, Meltwater, TD Bank, Thermo Fisher Scientific, UBS and UPS made Mogul's list of top 1000 companies for millennial women professionals worldwide in 2018.
The Manchester Police Department recently purchased the complete suite of fully integrated public safety software solutions from Florida-based Superion. The software, used by nearly 2,000 local governments and more than 80 public safety agencies, assists with mobilizing fast and accurate emergency response while improving safety and livability and advancing digital engagement. The suite purchased by the Manchester Police Department includes computer-aided dispatch, records management, mobile field reporting and mobile computing.
Marshall White, senior information technology manager at the University of New Hampshire, will be one of speakers participating in the June 21st Northeast Regional Computing Program webinar titled "Lessons Learned- Experience With Digital Signage in Higher Education." Along with Ryan Cahoy, managing director of Rise Vision, White will discuss reasons for implementing a digital signage solution, best practices for identifying key campus stakeholders, content management, technology support structures, future digital signage technologies and popular technology systems to evaluate. The session will ultimately provide viewers with insight to implementing and managing an engaging and professional system from start to finish, creating a balance between local and university-wide content, and higher-level strategies for using digital signage as a tool to promote institution-wide strategic initiatives. The webinar will take place from 1– 2 p.m. on July 21. Register for the live webinar at: https://nercomp.org/forms/meeting/Microsite/dss18
​
Last week, Governor Chris Sununu signed legislation that made New Hampshire the 35th state where retailers have adopted the National Precursor Log Exchange, also known as NPLEx, a system that provides law enforcement with real-time data on potential criminal activity in regard to the illegal sale of pseudoephedrine (PSE), an ingredient criminals try to use in the production of methamphetamine. The announcement comes after a recent report from the National Association of Drug Diversion Investigators showing that nationwide in 2018, between January 1 and Mach 31, NPLEx has blocked the illegal sale of 226,670 boxes of medicine containing PSE, keeping 786,753 grams of PSE out of the hands of potential criminals. Medicines with PSE include Advil Cold & Sinus, Allegra-D, Claritin-D, Mucinex D and Sudafed.
The merger between Londonderry, NH-based DLL Solutions and Topsfield, Mass.-based Engement Company has been completed. DLL Solutions is a systems integration firm assisting large companies utilizing the OSIsoft PI System, a complex suite of industrial software. Its customers are in the utility, transmission, distribution, pulp and paper, water management and pharmaceutical industries. Engement Company is a 25-year-old electronics systems development company looking to expand operations into new markets. With the merger, the combined company will advance its offering in turning digitized data into information.
Star Dargin, founder of Star Leadership, is the featured speaker at the New Hampshire High Tech Council's June TechWomen Power Breakfast on Wednesday, June 13. The breakfast will take place from 7:30 to 9 a.m. at the Manchester Country Club, 180 South River Road, Bedford. Tickets are $10 for council members and $20 for others. Tickets are available here or by calling 603-935-8951.
Applications are being sought for NH High Tech Council's 13th annual Product of the Year award. POY provides a platform for entrepreneurs to receive free advice, product promotion and podium time in front of hundreds of tech leaders. Finalists will present their innovations to a live audience on Thursday, Oct. 11, at the Manchester Country Club in Bedford.