Tech Tidbits From Around New Hampshire
FCC to host Concord meeting on mobile broadband, NHHTC to honor Ralph Baer ... and more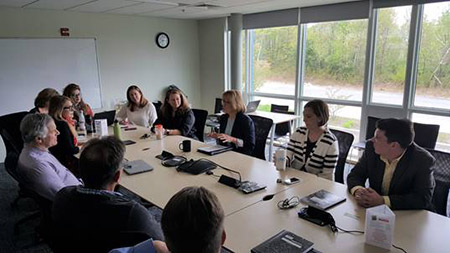 As part of her efforts to expand access to broadband in New Hampshire and close the urban-rural digital divide, Senator Maggie Hassan today announced that the Federal Communications Commission will host a public meeting on Tuesday, May 22 at 10 a.m. at the New Hampshire Public Utilities Commission in Concord regarding the FCC's flawed maps suggesting that most of New Hampshire already has adequate mobile broadband coverage. For more information on the meeting, click here.
The New Hampshire High Tech Council will honor Ralph Baer, the "father of video games" at the 30th Annual Entrepreneur of the Year Awards, which will take place Wednesday, June 13 from 5:30 to 7:30 p.m. at The Crowne Plaza (soon to be DoubleTree by Hilton) in Nashua. The EOY Lifetime Achievement Award is in addition to the selection of the annual EOY winner, which will be announced at the event. Baer is being recognized for his pioneering contributions to the modern-day video game industry. The inventor lived in Manchester up until his death in 2014 at the age of 92. His son, Mark, will accept the award at the event. A campaign is well underway in Manchester to honor Baer more formally with a permanent bench and sculpture of his likeness in the city through a current fundraising campaign.
Intelitek, a STEM education firm based in Derry, and Oracle Academy, Oracle's free educational program that advances computer science education, are supporting the first round of Cyber Robotics Coding Competition for middle schools across West Virginia. The competition provides students and educators with the opportunity to build coding-robotics skills for real or virtual 3D robots. Today, finalists will gather at the Fairmont State University campus for a coding faceoff and an awards ceremony, also supported by NASA's Independent Verification and Validation Educator Resource Center. To date, more than 30,000 students all over the world have participated in CRCC events.
Alpha Loft will host its Startup Shindig on the evening of Thursday, May 31 in sponsorship with a number of high-tech startups. Hundreds of Granite Staters will celebrate entrepreneurship in New Hampshire at the premier event featuring networking and 12 startup pitches from Alpha Loft's Accelerate NH cohort. Millworks Fund II will also be announcing an investment of $300,000 in two of the participating startups at the event! To purchase tickets, click here.
The New Hampshire High Tech Council is seeking applications for its 13th annual Product of the Year award – a prestigious, annual award that showcases New Hampshire's most innovative products developed within the past year. POY provides a platform for entrepreneurs to receive free advice, product promotion and podium time in front of hundreds of tech leaders. Finalists will present their innovations to a live audience on Thursday, October 11 at the Manchester Country Club in Bedford where the audience will help name the winner through a real-time vote.