Tech Tidbits From Around New Hampshire
Sen. Hassan visits Smiths Medical in Keene, Saint-Gobain agrees to cover filters for Merrimack Village District Water Works ... and more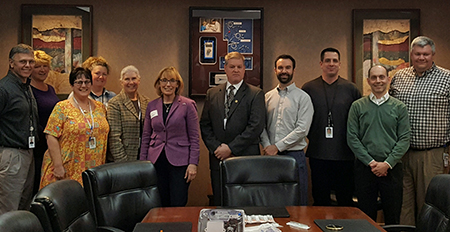 On Tuesday, Senator Maggie Hassan, D-NH, visited Smiths Medical in Keene, where she toured the facility, held a town hall with employees and emphasized the importance of supporting innovative businesses and ensuring that all hard-working Granite Staters have quality, affordable health care. "Innovative businesses like Smiths Medical are helping to boost our economy in New Hampshire, while also ensuring that Granite Staters have the medical devices and products they need to lead healthy, productive lives," Senator Hassan said. Senator Hassan has cosponsored the Medical Device Access and Innovation Protection Act to repeal the medical device tax, and voted for the Continuing Resolution in January of these year, which suspended the medical device tax for two years. Smiths Medical manufactures specialized medical devices and equipment for global markets, focusing on medication delivery, vital care and safety device market segments.
Lincoln Lavoie, senior engineer and industry lead for the executive steering body at the University of New Hampshire InterOperability Laboratory (UNH-IOL), received a Distinguished Fellow Award for his substantial contributions to a wide range of successful Broadband Forum projects. The award was announced at the quarterly meeting of the Broadband Forum in Athens, Greece. Lavoie was recognized for projects that include the G-PON Certification Test Plan, the TR-069 Certification Testing Program, the Gfast Certification Testing Program, the formation of the Open Broadband Labs projects, and countless plugfest testing activities.
The Merrimack Village District Water Works and Saint-Gobain Performance Plastics announced Tuesday they have reached a settlement agreement to fund the labor, services, materials and equipment required to design, install, operate and maintain a Granular Activated Carbon system to remove PFOA and PFOS in Wells 4 and 5 in Merrimack. Under the terms of the agreement, Saint-Gobain agrees to pay for the design, construction and installation of the system; pay over the next five years for future operation and maintenance of the system; and pay to reimburse Merrimack Village District for costs it has reported in relation to the detection of PFOA in the wells. Saint-Gobain has previously connected 18 Merrimack homes to municipal water lines, and has recently agreed with NHDES to connect additional 41 homes in Merrimack to municipal water lines.
Raytheon recently completed a program and technical review for the Lower Tier Air and Missile Defense Sensor, or LTAMDS, with the U.S. Army. Due to demand from the Army, Raytheon is accelerating development of the sensor to prepare for product delivery, said Tom Laliberty, vice president of Integrated Air and Missile Defense at Raytheon's Integrated Defense Systems business. Raytheon's prototype technology test bed in Pelham, New Hampshire, continually tests several systems planned for the sensor, to determine key requirements including: optimal frequency band, prime power capacity, 360 degree surveillance and fire control, resiliency in contested environments, and reliability and maintainability.
The New Hampshire High Tech Council is accepting applications for the 30th anniversary of the Entrepreneur of the Year Award program. The Entrepreneur of the Year Award honors people who have made significant contributions to the advancement of technology-based businesses in New Hampshire. Any founder or senior-level manager of a New Hampshire business who has successfully organized, developed, or managed a technology concept into a commercial product or service is encouraged to apply for the prestigious award, which will be presented at the EOY event in mid-June. The application and full entry requirements are available at nhhtc.org. The application deadline is Friday, May 4.
TechWomen|TechGirls will hold its annual luncheon on Wednesday, April 4 at the Bedford Village Inn. Jessica Gelman, CEO, Kraft Analytics Group will speak about her experience as a female CEO in the world of sports, helping organizations become more data-driven and using analytic insights to grow the bottom line including for the New England Patriots. Tickets can be purchased here.
The New Hampshire Aerospace & Defense Export Consortium is hosting a spring networking event, open to members and their friends. Global partners will be present at the May 17th event, taking place at the Manchester Country Club from 5:30 to 8 p.m. For more information contact Dawn Wivell at dwivell@nhadec.com.
Cirtronics, a Milford-based contract manufacturer that offers mechanical assembly and complex manufacturing services and provides assistance for customers navigating FDA procedures and requirements, will be exhibiting at the upcoming BIOMEDevice show in Boston from April 18-19. Housed at booth #857, Cirtronics will be highlighting how precision engagement accelerates innovation by tailoring manufacturing services to meet the needs of Medtech devices.