Tech Tidbits From Around New Hampshire
BAE Systems honors two NH companies, CF Search Marketing to attend automotive marketing trade show ... and more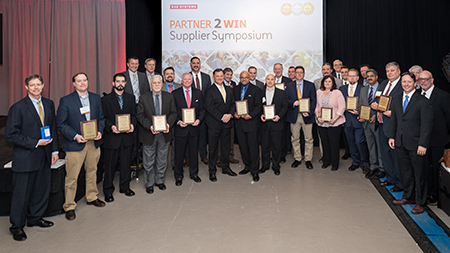 BAE Systems' Electronic Systems sector, based in Nashua, honored its top suppliers at an inaugural Partner 2 Win Supplier Symposium ceremony held in Manchester on March 6. Eleven suppliers were recognized for best-in-class performance for achieving on-time delivery and quality standards in 2017. Two New Hampshire companies were honored: Fulcrum Associates of Amherst — a supplier of construction management services, including mechanical, electrical, and piping utilities — was named Ramp 2 Rate Supplier of the Year and TEMCO Tool Company of Manchester — a supplier of machined parts and mechanical assemblies — was honored for its electronic combat solutions.
CF Search Marketing, a digital marketing company with offices in Deerfield Beach, Fla., and Portsmouth, NH, will be attending NADA 2018, the largest tradeshow in the automotive industry where cutting-edge marketing technology is on display. NADA 2018 is being held at the Las Vegas Convention Center from March 22-25. CF Search Marketing will feature its product AdGen, which utilizes both machine learning tech, as well as direct human oversight to help produce performing paid search campaigns.
The University of New Hampshire InterOperability Lab (UNH-IOL) — an independent, third-party laboratory dedicated to broad-based testing and standards conformance services for networking industries — has joined the LF Networking Fund (LFN), a Linux Foundation initiative focused on bettering networking technology.
The New Hampshire Aerospace & Defense Export Consortium is hosting a spring networking event, open to members and their friends. Global partners will be present at the May 17th event, taking place at the Manchester Country Club from 5:30 to 8 p.m. For more information contact Dawn Wivell at dwivell@nhadec.com.
The Manchester Young Professionals Network is accepting applications from entrepreneurs for the New Hampshire Startup Challenge. Applications are due by March 19 for the business plan competition that connects entrepreneurs and social innovators with seed capital and key services to help them grow. The Challenge is open to founders of for-profit businesses located in New Hampshire that have been in existence for less than three years, have raised under $100,000 in funding, and generated under $100,000 in past year revenue. For more information and to apply today visit: www.mypn.org
The New Hampshire High Tech Council is accepting applications for the 30th anniversary of the Entrepreneur of the Year Award program. The Entrepreneur of the Year Award honors people who have made significant contributions to the advancement of technology-based businesses in New Hampshire. Any founder or senior-level manager of a New Hampshire business who has successfully organized, developed, or managed a technology concept into a commercial product or service is encouraged to apply for the prestigious award, which will be presented at the EOY event in mid-June. The application and full entry requirements are available at nhhtc.org. The application deadline is Friday, May 4.
Gov. Chris Sununu, joined by business leaders and energy experts, will headline the 2nd annual New Hampshire Energy Breakfast on March 15, one of several events happening as part New Hampshire Energy Week. The keynote speaker will be Commissioner Taylor Caswell of Business and Economic Affairs. Commissioner Caswell will discuss clean tech and energy as it relates to our state's economy. The breakfast will be held from 8-9:30 am, at The Grappone Center in Concord. Tickets are free, but registration is required at nhenergyfuture.org.
The full NH Energy Week schedule is as follows:
NH Energy Roundtable – Monday, March 12, 4:30-6:30 p.m. – Keene- Register here
Legislative Lunch – Wednesday, March 14 – Concord
NH Energy Roundtable – Wednesday, March 14, 4:30-6 p.m. – Dover – Register here
Energy Week Breakfast featuring NH Governor Chris Sununu – Thursday, March 15, 8 a.m. – Grappone Conference Center – Concord – Register here
Energy Week Awards Ceremony & Reception featuring former US Senator Kelly Ayotte – Thursday, March 15, 5 p.m. – Concord – Register here